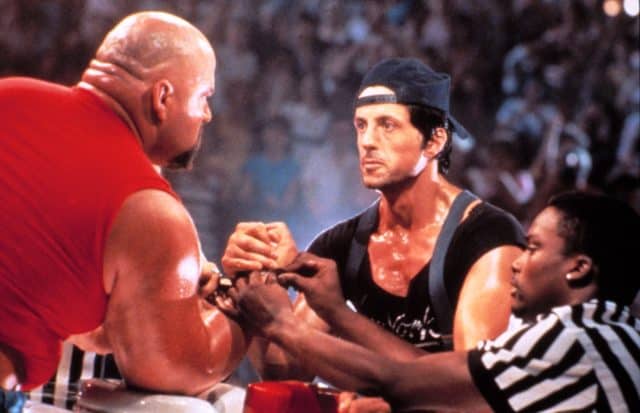 Over the Top is one of those movies you have to be reminded of, otherwise you might never really think about it except for one fleeting moment at a time. It wasn't a terrible movie but it wasn't the best either. The entire plot centers around two points, arm-wrestling and Hawk getting to know his son. By the time the film is almost over the kid finally comes to understand that he loves his father and wants to see him succeed, and Hawk is up against the biggest, meanest guy on the roster that should be able to break his arm without breaking a sweat. But this is a Stallone film remember, and after Rocky he didn't really lose unless he was the bad guy.
Here's a few interesting facts you might not have known.
10. Pro Wrestling legend Terry Funk has a cameo as one of Robert Loggia's thugs.
Pro wrestlers have been making cameos for a while before Stone Cold, the Rock, Cena, the Miz, and so many others. Funk was the henchman that finally got his butt kicked by Hawk when he'd had enough.
9. The movie had its own toy line.
For a brief period of time a line of Over the Top products were available in the toy aisles of many stores. They didn't last all that long though, just like the movie.
8. Stallone literally pinned critic Roger Ebert against a slot machine to talk to him.
Anyone that remembers Siskel and Ebert recalls that these guys were brutal when it came to criticizing movies. They also weren't that nice when it came to describing the actors either. So Stallone actually confronted Ebert and told him it was okay to criticize the movie, but not him.
7. A good deal of the filming was actually done in Las Vegas.
A lot of the film was actually shot on location. That's why everything from the match on looks very real.
6. This role was more demanding for Stallone than any of the Rocky movies.
The physical strain he had to go through after so many takes was a lot more intense than any Rocky scene it seemed. Stallone wasn't faking this, he was doing a lot of it for real.
5. The punch from Bull Hurley in the final match was real.
Stallone didn't know when the punch was coming which was what was wanted so that his reaction to it would be authentic.
4. Stallone beat Bull Hurley for real.
The actor playing Hurley wasn't ready for the fact that Stallone would actually pull out all the stops and go for broke.
3. Stallone actually told Hurley not to go easy on him.
Hurley pretty much laughed and told Stallone that he didn't want to hurt him. But Stallone insisted that they go for real.
2. Both Stallone and Hurley were really injured during the final match.
Stallone strained his forearm and dislocated Hurley's shoulder during the final moment when he won the match. The cry of pain you hear from Hurley is very real.
1. The kid that played his son voiced the part of Daniel in the Transformers Movie.
So at least this wasn't his only acting role. I think he actually went on to do a couple more acting gigs but I couldn't tell you what they are off the top of my head.
So a lot of what went on in the movie was real. That's crazy enough to make a decent movie really.
Save