The Gang is back again this week and it seems they have stopped all their bickering and decided to adopt a democratic way of handling things. Of course, this is It's Always Sunny In Philadelphia so nothing really stays that way. Does a calmer version of the gang lead to success in laughter or should we all be yelling that they weren't yelling? Well Jabroni's, read on and find out.
This weeks story may have been titled "Sweet Dee Gets Audited" but, Sweet Dee (Kaitlin Olsen) had very little screen time in comparison to the rest of the gang. Dee finds herself being audited by the IRS after they noticed that the baby she birthed as a surrogate was being listed as a dependant. This may not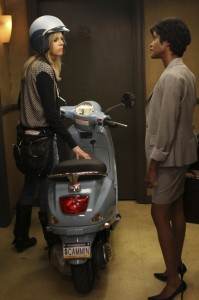 have been front and center for the whole episode but, without this story, the rest of the episode really wouldn't work. Seeing Dee try to scam the IRS had me laughing a moments that I didn't even see coming. From the crucifix baby to the fake funeral (more on that later), this semi side story had just enough laughs and just enough screen time to make the episode flow.
Now, the meat of this story as I said before came from the men of the gang trying to democratically change things that are going on in the bar. Frank (Danny DeVito) doesn't want this to happen because we all know he loves being the on in charge of everything and more importantly the money. I have always been a fan of the old way the gang would get things done by yelling so loud that eventually they would get their way but, seeing them put things to a vote was a hilarious twist to their "normal" business meeting. It wasn't really how they all voted but rather what they were voting on. With Charlie (Charlie Day) and Mac (Rob McElhenney) wanting to use pickles instead of limes in the beers or seeing those very same men argue over how bloody and big a crucifix in the bar would be, I couldn't help but laugh during the entire process. Of course Dennis (Glenn Howerton) tries to assert himself to a higher level in the bar so he tries pitting the two against each other (hence the huge argument over the crucifix) and also become Franks little puppet. All of this happening together really showed me that It's Always Sunny is going back to its roots and creating episode that are reminiscent to earlier seasons. I just hope episode like this are still on the horizon.
As I said above, the show is once again becoming what it used to be and it was no more clear than during the fake funeral during the end of the show. This one scene had everything that makes It's Always Sunny a great comedy. You have Dennis trying to make sure everything goes perfect (which it doesn't), Dee being the one who has to be hurt, Frank almost destroying everything while being "subtle" and pushing his own fake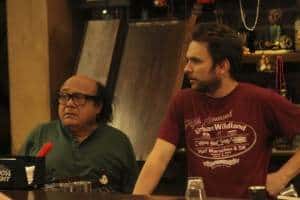 product, and of course Mac and Charlie trying to make themselves more important and in turn ruining the whole scheme. Having all these elements flow together was great but to realize that this all came from Dee getting audited really shows how crazy the gang (and the writers) are.
Of course, this review wouldn't be complete without mentioning what we learned this week. So here ya go everybody.
What We Learned From It's Always Sunny:
– Wolf Cola is great at funerals
– Chilli powder in the eyes will make you cry (and also bleed)
– The Pickle Party could work as a real political party
– Having a licence plate that reads "$camin" in no way shows the IRS what your intentions are
– Rock serve the same purpose as ice in urinals
– If you slice limes thin, people will choke
– A fake funeral will always get rid of the IRS
And there you have it folks. Another episode and another review in the books. With all that happened this week, I have no problem with the saying that It's Always Sunny has the potential to once again to a hot show this season. A
So what do all of you think? Are you in agreement or would you like to have an old-fashioned yell of to tell me I am wrong? Sound off in the comment section below and share your thoughts. As for me, I am off to find some Wolf Cola to quench my thirst.