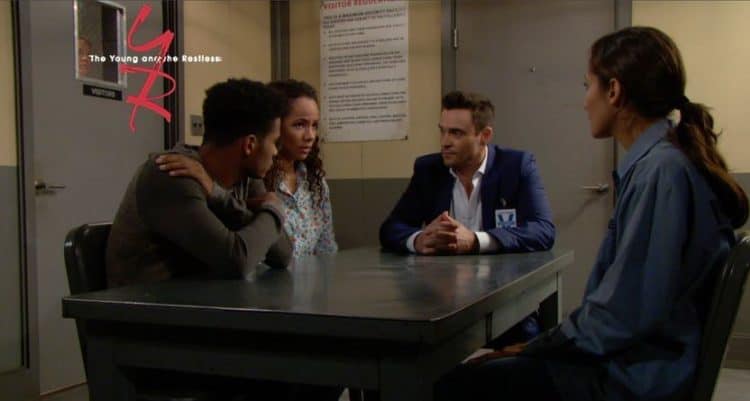 Young and the Restless fans are so sad for Lily. Devon is not going to forgive her, but at least she had a chance to ask him if he might one day consider it. Her life is a mess right now, and she cannot even handle the guilt she's living with. She did not mean to kill Hilary or cause this accident. She did run a red light, and it was a dangerous thing to do, but she's over it right now, and she's made it her mission in life to find a way to try and make things better. She's unhappy and miserable, and she's going to feel that way for the rest of her life. She's sad. She's unhappy. She's miserable. She's a mess. She's someone who wants to feel better, but she will never allow herself to feel better for accidentally taking the lives of the woman her brother loved and the baby they were having together.
Jack is also getting some news this week, and it has to do with the paternity that he is so actively looking to find. He has no real idea who his real father might be, and he is actively looking for a way to find out and to get his life together. He's looking for information to move on and to find a way to get back into what he loves, and that is great news. But there is more than just that going on. There is also a problem that Rey is going to create. He's ready to make his moves, and he's making big ones. He's making moves that will allow him to get his life in order and figure out what kind of revenge he's seeking. He's unhappy with all he's doing, and he's making people miserable — to his own happiness.
What's Happening on the Young and the Restless
We're all smiles because it's the weekend! RT if you are too. ☀️ #YR pic.twitter.com/9LLxzB3PiS

— Young and Restless (@YandR_CBS) September 7, 2018
They were once a happily married couple on the show, and now they are not happily married. He's married to someone else. They aren't together, and things are never what they seem. But we do like to see them together and living it up like it's their job. That does make us happy. And we do like to see them having fun on the weekends, and we love them. Can they get back together now?
What's Next on the Young and the Restless
Nikki covers with Victor today on #YR. pic.twitter.com/UqbWth5B8x

— Young and Restless (@YandR_CBS) September 10, 2018
Nick is going to have a big night that will make him feel all kinds of good about his life, but we suspect it's not going to go well for him. We have a feeling that he is going to have a moment in which he realizes that things might just be a bit too good to be true, and that might just lead him to realize that his own life is a mess more so than he thought in the past. Things are taking an ugly turn for him, and he will not get what he thought he might get out of this night. We also think that Rey is going to step outside of his carefully crafted persona to find out who he really is and to make his presence known with the people that he's befriended and come into contact with since coming back to town.
Then there is the fact that we hear that Summer is going to do something amazing. She's going to forget Billy and her desire to hurt her mother for a moment, and she's going to get passionate with another man. That man is Kyle, and that is not a good idea. These two might actually be a perfect couple with all the messing up they do to their own lives and to one another, but they are truly a mess in their own lives. They have a lot more to worry about than this, and they are taking time to be intimate with one another for fun.
Stay tuned for more Young and the Restless and be sure to check out TVOvermind daily for the latest Young and the Restless spoilers, news, and updates.