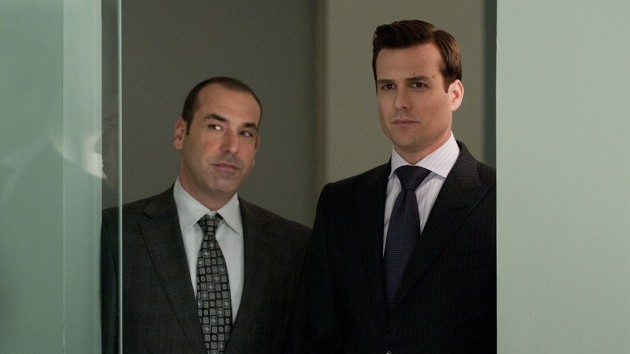 Mike is about to take the biggest test of his life when the associates are paired up with one another in a mock trial exercise in this episode of Suits. The genius associate still has much to learn about being a great lawyer, given that he still trusts people too easily. I knew the minute that Kyle Durant, Mike's opponent in the mock trial, said that he was going to agree to a settlement, that the devious son of a gun was lying through his teeth. I agree with Jessica after she complimented Mike on his quick thinking to retreat and regroup, but he wouldn't have to do that if he wasn't so soft and naive.
I honestly hoped that Mike would've questioned Rachel some more to get the truth out of her, like Kyle did with Jenny when she was put on the stand, but I guess his infatuation with the paralegal got in the way, which caused him to hold back from questioning her further. Jessica even gave him a chance to not lose the mock trial when she asked Mike if he was sure that he had no further questions for the witness. My disappointment in Mike's loss mirrors the look on Harvey's face as he stood behind the crowd, watching the younger lawyer fail at winning the mock trial.
Donna was awesome in this mock trial as she played the role of the defendant. I almost believed that she was crying real tears. Sara Rafferty's performance is truly amazing. I enjoy watching scenes with her in it because it just brings a smile to my face every time she uses sarcasm to mock those around her. She's like Sara Ellis from White Collar in a way (aside from the fact that they're both redheads) in terms of having that sarcastic personality. I'm also amazed that Donna knows everything that goes on within the firm, but I'm not surprised because secretaries know everything that happens in the office.
I didn't quite appreciate the "I'm going to get engaged" speech from Dana Scott, or Scottie, as Harvey called her, at the end of the episode. She shows up as the opposing counsel in what turns out to be a hotel merger case, sleeps with Harvey twice, and then casually informs him that a man named Steve has asked her to marry him. I understand that it might be that Scottie wanted to have one last hurrah with the older lawyer before she gets engaged, but she should've told Harvey of all the facts before they got together. Though I have to admit, the make-out scene at the hotel was pretty steamy.
This episode was interesting to watch. I'm glad that Mike has people like Harvey and Jenny to help him do his best at the mock trial, even though the genius associate lost in the end. It's clear that Mike wants to be a great lawyer like Harvey, but he can't allow his emotions to get in the way of logical thinking. If Mike continues to behave the way he is now, there's no chance that he can last at a place like Pearson Hardman, or any other type of workplace.
[Photo credit: Christos Kalohoridis/USA Network]