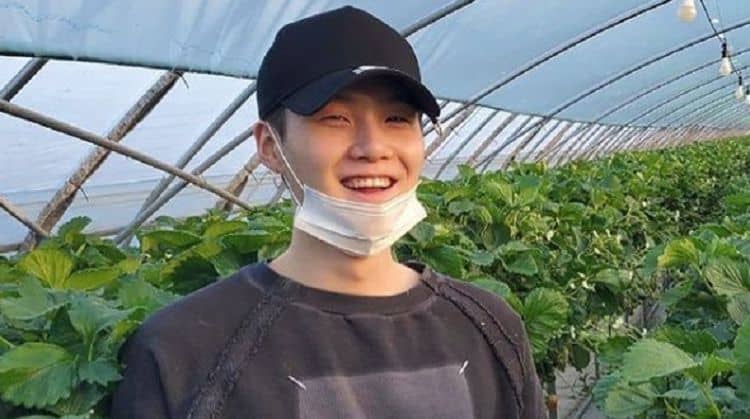 With the hotly anticipated collaboration between IU and BTS member Suga, Eight, freshly released, Suga is bigger news than ever. Since coming to fame with the South Korean pop idol group, Suga has marked himself out as one to watch… and with Eight, he's proving why. Find out more with these 10 fast facts.
1. His real name is Min Yoon-gi
Suga was born Min Yoon-gi on March 9, 1993, in Daegu, South Korea. Before getting signed, he performed as an underground rapper under the name of Gloss but later changed it to Suga. The origins of the name aren't entirely clear… according to the man himself, he got the name because 'my skin is pale, I'm pretty when I smile, and because I'm sweet. I choose this name because I want to promote sweetly." Another explanation that's come about is that the name comes from how he used to play as a basketball shooting guard as a student, with Suga coming from the first syllables of the position.
2. Stony Skunk inspired him to get into music
According to Wikipedia, When Suga first heard "Reggae Muffin" by the South Korean reggae duo Stony Skunk, he had an epiphany. Realizing that the only thing he wanted to do in life was make music, he started soaking up every new sound he could. After discovering Epik High, he decided that rap was where his heart lay; by the age of 13, he was already writing lyrics, and by the time he was 17, he'd started composing and arranging music and performing.
3. He keeps his promises
In 2014, just before he came to international fame as a member of BTS, Suga made a promise to his fans… if they helped him find success as a musical artist, he'd buy them all meat. It may have been a strange promise, and whether or not it had any impact on his subsequent success, who knows? What we do know is that Suga is clearly a man of his word. Almost exactly 4 years to the day of making his vow, he sent 39 orphanages a pile of beef under the name of the BTS fanbase, "ARMY".
4. He's a philanthropist
It's not just meat that Suga likes to give away. Over the last few years, he's become noted for his philanthropic work, given away huge sums of money to worthy causes. On his 26th birthday, he made one of his largest donations yet when he gave the equivalent of US$88,000 to the Korea Pediatric Cancer Foundation. If that wasn't enough, he also donated 329 BT21 Shooky dolls at the same time.
5. He went solo in 2016
In 2016, Suga started making tracks as a solo artist with the release of a free self-titled mixtape. In terms of artistry, the release represented a huge departure from the type of lyrics and sounds we've come to associate with K-Pop, with Suga bearing all about his struggles with depression and social phobia. To further highlight the new direction, Suga abandoned his usual moniker to release the mixtape under the name Agust D, which combines Suga spelled backward with the initials of his hometown in South Korea. The release was widely applauded by fans and critics alike, with Fuse TV rating it among its top 20 mixtapes of 2016.
6. He owns a 3-million-dollar house
You know you've made it big when you get to the point that you can buy a house without even thinking about having to take out a mortgage. In 2018, Suga did exactly that when he purchased a 3.4 billion won luxury villa in cash. The real kick in the teeth to all of us norms struggling to make rent? He doesn't even live in it. The house is currently sitting empty while Suga lives in Hannam-dong, Seoul.
7. He's officially an icon
Suga is an icon. It's official. In 2017, he ranked the 13th most preferred idol of the year in a survey conducted by Gallup Korea. Since then, his legend has only grown in status, with 2018 earning him a place at number 7 on the same list, and 2019 seeing him come in at number 9.
8. He's an award winner
Suga may only be 26 years old, but that hasn't stopped him racking up the kinds of awards and honors that would turn someone three times his age green with envy. As a solo artist, he's won a Melon Music Award in the Hot Trend category in 2017 and a Mnet Asian Music Award for Best Collaboration in 2019. With BTS, meanwhile, he's won a staggering 265 awards (and been nominated for 395) and holds 11 Guinness World Records.
9. He's collaborated with Halsey
In 2019, Suga continued his series of successes when he joined up with Halsey for the track "Suga's Interlude". In an interview with Billboard, Halsey explained that it was the lyrical depth Suga had displayed on his Agust D solo project that had initially drawn her to him. "I had spent time with (BTS) and I had gotten to know a lot of them on an individual level," she explained. "I was looking up lyric translations and I was blown away. I was like, 'This stuff is so introspective.' The content is about mental health and his inner turmoil. And he's a really quiet guy in real life, and I was just moved… Suga probably was the last member of BTS that anyone would've expected me to collaborate with and the one whose lyrical approach I felt the most connected to."
10. He's a multi-millionaire
Suga may only be 26, but boy, is he a rich 26-year-old. Thanks to the insane success he's enjoyed as both a member of BTS and as a solo artist, he's now one of the richest musicians in South Korea. By the latest reckoning of Celebrity Net Worth, he's worth the envy-inducing amount of $8 million.
Tell us what's wrong with this post? How could we improve it? :)
Let us improve this post!