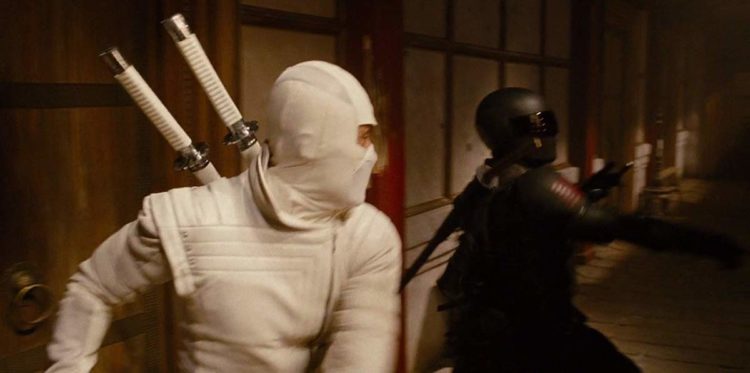 You can't possibly talk about the famous G.I. Joe ninja commando Snake Eyes without talking about his archenemy Storm Shadow. Aside from Cobra Commander, the white ninja warrior is probably the coolest character in Cobra Command. In fact, I would say that those three characters are the coolest in the whole G.I. Joe franchise. It might not be much of a competition, because in my opinion, most of the Joes are generic meathead characters. It did fit for the era where they began, but having Snake Eyes in the mix really shakes things up.
When it comes to Cobra Command, on the other hand, things get weird. I don't really mean that in a bad way, because the characters under Cobra Command are a roster of colorful characters. From Destro, to Baroness, to Cobra Commander himself, it's kind of hard to talk about the main rivals of the Joes without mentioning Storm Shadow. It's actually kind of interesting, because Storm Shadow himself was never fully committed to Cobra Command. He's served as the bodyguard to Cobra Commander, to the faction's top assassin, but he was never a full believer in their cause.
What motivated Storm Shadow to join Cobra Command was to discover the murderer responsible for his uncle's death. Little did he know, the man responsible for his uncle's death was the master of disguise known as Zartan, another top assassin under the employment of Cobra Command. Guess who hired him? Well, it took the rogue ninja a long time to learn the truth about his uncle's killers, but I really enjoyed his time serving under Cobra Command. It has a lot to do with his ongoing rivalry with Snake Eyes.
Speaking of Snake Eyes, the standalone origins movie will be coming out soon and I'm excited for it. The final trailer was released recently and what really stood out to me was Storm Shadow himself. The final part of the trailer was him fully embracing his alter ego as Storm Shadow. We even got to see him in one final shot doing his ninja stuff in full costume. The only thing that was missing was his signature mask that covers everything except his eyes. I seriously hope he puts it on at one point during the movie, but I'm liking what I'm seeing from him so far.
And if you don't know who the actor playing him is, I'll give you some advice: get HBO Max and watch the series Warrior. It's super awesome, especially if you're a martial arts fan. Sadly, it was canceled last year, but time will tell if it can get back on track. I hope it does, but the lead of the series was an unknown actor/stuntman named Andrew Koji. I've never heard of him before I watched Warrior, but several minutes into the first episode, the man got me hooked. Watching Warrior made me realize that Andrew Koji can play some more action roles. So when he was announced to play Storm Shadow in the Snake Eyes movie, I was all for it.
Seeing Andrew Koji just as Thomas Arashikage was cool enough, as the first trailers quickly established his relationship with Snake Eyes. It was all good set up, but I feel like we didn't get enough actual Storm Shadow. Well, the final trailer fixed that, with Andrew Koji even calling himself by the true name of the character. As I said, the only thing missing was the ninja mask. If that isn't in the movie, I will be upset. However, I'm expecting some seriously awesome action from this movie, with Snake Eyes and Storm Shadow at the center of it all.
Now the trailers are all making a point that Snake Eyes began with the Arashikage clan. This is where Storm Shadow began as well, so I'm interested to see some backstory. Of course, this is an origins movie for Snake Eyes, but I'm just as interested in seeing the beginnings of Storm Shadow. Let's face it, there is no Snake Eyes without Storm Shadow. They are the yin and yang that keep the G.I. Joe franchise fun to watch. All common knowledge for fans of the franchise, but it looks like the Snake Eyes movie will finally give us that.
Now I'll give the old G.I. Joe movies some credit where it's due. The rivalry between Storm Shadow and Snake Eyes in those two movies was good. The second one, Retaliation, took it back to the source material where Storm Shadow was a reluctant member of Cobra. After he discovered who really killed his uncle, he joined forces with his rival and helped the Joes save the day. This is ultimately who Storm Shadow is, the anti-hero who shifts between heroism and villainy. Sometimes, he can even be portrayed as a full blown villain. I wonder what kind of iteration the Snake Eyes movie will go for, but I'm confident Andrew Koji will nail the role.
If you haven't checked out the final trailer for the Snake Eyes movie yet, go watch it. It looks cool and Andrew Koji looks awesome as Storm Shadow. Could this eventually lead to a standalone movie for his character as well? His character is worthy of it, but we'll have to see how this version plays out first. The Snake Eyes movie comes out on July 23, so you know what? Yo Joe.