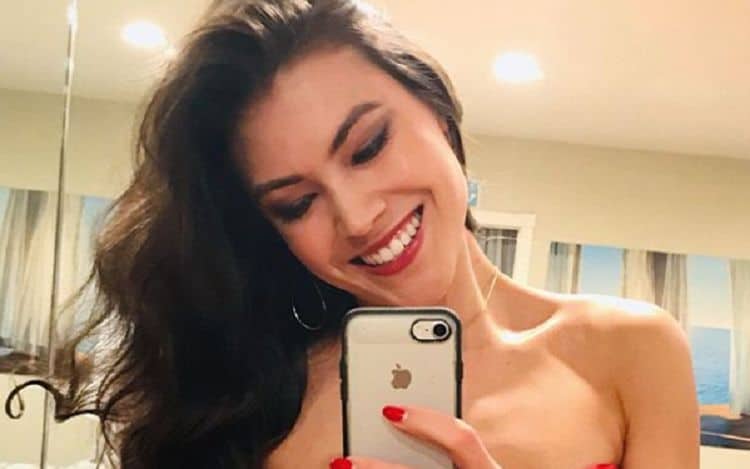 Ever wonder how truly intelligent some actors are? Stefanie Woodburn, who you might or might not know about, is arguably one of the most intelligent in the business at this moment and that's saying something since she's among scholars and those with IQ's that are ridiculously high if you really look and decide to believe what's been said. It does pay to think that a lot of these people in show business aren't dummies since to be where they're at they have to have some level of intelligence that allows them to rise above being just a talented actor or a pretty face, or both. There is a very questionable number of celebrities that seem to get by on talent and not much else, but those that are like Stefanie put some truth into the belief that there are very intelligent people within the ranks.
Here are a few things you might not have known about her.
10. She's a firm believer in education.
This is always great to hear about from those that have the kind of platform that they can preach from and reach the masses with their words and beliefs. Education is seen as a privilege in some cases but it needs to be a common right of the people to obtain and maintain an education that will allow them to reach the goals they set and continue to be an active part of society.
9. She graduated from NYU summa cum laude.
In case you didn't know what summa cum laude means, it's the highest distinction one can earn while in school and she managed to earn it from NYU, a school that is notoriously hard depending one which subjects are studied and how much of a course load one takes.
8. She got a perfect score on her Math in her SAT.
How many of us can even remember what we got on our SAT? Yes, there are several that can recall either with pride or with dismay since the SAT is often used to determine what schools a person can get into and what kind of future they might have when leaving high school. But in Math there are a lot of people that either excel or falter and to get a perfect score means that she's not only an avid student, she's highly intelligent.
7. She's had straight A's since the 3rd grade.
Something or someone got to her as a young girl and made it clear that anything less than the best wasn't acceptable. The kind of pressure this could have put on her as she was growing up was likely tremendous, but so far in life it's served her well since she is a very smart woman.
6. Her favorite book is Dune.
Don't read too much into this since Frank Herbert is a favorite of many people regardless of their intelligence. His books are a bit more geared towards those that are bound to pay close attention and notice the fine details he puts in, but it's also a classic that a lot of folks tend to love.
5. She's a member of Mensa.
This isn't a group you just apply to and get in, Mensa is a group that includes some of the smartest and most intellectual minds that can be found and to be honest it's a great honor to belong to it.
4. She's featured mostly in TV movies.
So far anything and everything she's done has seemed to be under the radar unless a person knows how and where to look. She's starred in a good number of projects at this point but hasn't really starred in anything major that has hit the mainstream and allowed people to get a real feel for her and her acting.
3. She's played the part of Mulan in Once Upon a Time: Rock Opera.
The part of Mulan is typically played by a woman that looks undeniably Asian but in truth Stefani does have a kind of exotic look that is hard to deny. In truth, these days, a lot of people have been selected to play roles that no one would think might ever happen, but it's worked more often than not.
2. She loves macaroons.
Everyone's got their favored snack that they simply can't live without and Stefani's are pretty easy to find since she likes a variety of flavors and can munch on these things pretty much anytime.
1. She's classified as a Eurasian actress.
She's got quite the mix to her DNA if you really want to know. Her ethnicity is half-Chinese and a mix of Danish, Irish, Scottish, German, and English. That's the kind of genetic makeup that can create a rather interesting individual that could be said to belong to each culture but likely chooses to belong to the one that she feels most connected to.
It'd be interesting to see her in something mainstream and more noticeable.