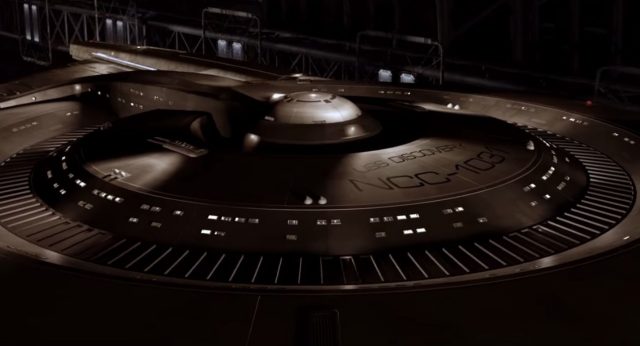 "I didn't want to be a writer. I wanted to write for Star Trek." Bryan Fuller, Executive Producer of Star Trek: Discovery
This was a big day for Star Trek fans.
After the panel for CBS All-Access during the Television Critics Association summer press tour, Bryan Fuller, the creator of the streaming service's upcoming Star Trek: Discovery, finally revealed a ton of information about the highly anticipated continuation of the Star Trek franchise on television. He still can't give us all of the answers (he compared the requirement for secrecy to having an anvil over his head), but we know a lot more now than we did a day ago.
The biggest piece of news is that the lead character on the series will be a female. Along with this, Fuller confirmed that she will be both a human and, interestingly, not the captain of the USS Discovery (the series' primary spaceship). In a first for the franchise, the unnamed lead will be a Lieutenant Commander, but Fuller is quick to point out that the title comes with "caveats." The captain for the series isn't specified as either a male or female in the script, so even Fuller doesn't know the answer to that one. What we do know, though, is that this different title for the series' lead will give us a new and unique perspective on inter-crew relationships for the first time.
The second biggest reveal (and the one that fans have been wondering about the longest) is that the series will take place in the "Prime" timeline (meaning not the timeline of the J.J. Abrams films). Fuller announced this back at San Diego Comic-Con, but he finally gave specifics today, revealing that Discovery is set ten years before the start of Captain Kirk's five-year mission (the event that kicks off The Original Series). Because of this proximity, Fuller isn't ruling out eventual appearances of members of the Enterprise's bridge crew (such as a young Dr. McKoy), but he stresses that he wants to fully introduce the cast of Discovery before re-introducing established characters.
As for the focus of Star Trek: Discovery? It will center around a piece of Starfleet history that was mentioned in The Original Series but was never shown (and, no, it isn't about the Romulan War, Section 31, or Kobayashi Maru). The series will also be more serialized than previous series (Fuller compares it to a novel), but each episode will still have a beginning, middle, and end. Speaking of episodes, the network confirmed that the first season of Star Trek: Discovery will consist of thirteen episodes (with Fuller comparing them to the individual chapters of that novel).
Because of the proximity to The Original Series, Discovery will play around with sets and clothing from that time period. It will also feature more, new, and tweaked aliens, and Fuller mentions that the main cast will probably have more aliens than you're used to on a Star Trek series. The series will feature a bit more graphic content than the typical Star Trek entry, but it will still feel consistent to the brand. Fuller also mentioned that he would love to work with actors from his previous series on Discovery (something he's well-known for already), but it will just depend on their schedules.
The main character will be on a mission with her crew to learn how to get along with others, and Fuller added, "For her to truly understand something that is truly alien, she first has to understand herself." He also revealed that there will "absolutely" be a gay character on the show, sharing an anecdote about receiving hate mail while working on Star Trek: Voyager when fans assumed Seven of Nine would end up gay herself (which proved to be false). My how times have changed.
There's still so much that we don't yet know about Star Trek: Discovery, but production kicks off in October, so more will be revealed in due course. Based on what we know so far, though, I absolutely can't wait to see what Bryan Fuller delivers.
Star Trek: Discovery premieres in January 2017 on CBS before moving to CBS All-Access for the remaining episodes of its first season.
[Photo Credit: CBS All-Access]