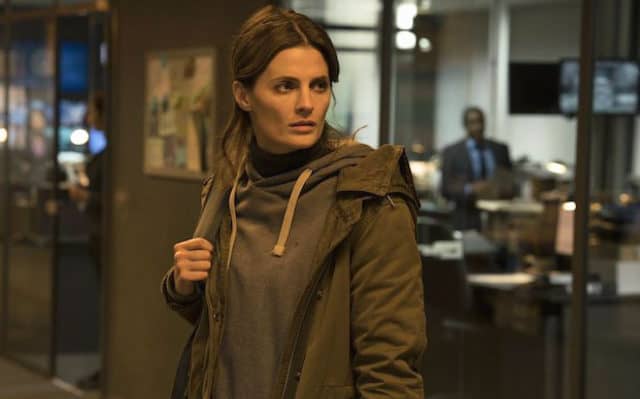 Fans of Stana Katic – and of great foreign television in general – have been waiting for months to learn where the US home for Absentia was going to be. Well, the wait is over! Katic's new show Absentia has a US home – Amazon!
It really has been a bit of wait. News of the show was first announced last fall. It garnered immediate excitement. Fans of ABC's Castle were happy to know Katic would be on a new series. Critics were intrigued by the show's team.
Absentia Has a US Home – the Road to Amazon
Absentia is produced by Tel Aviv based Masha Productions and directed by Oded Raskin – the team responsible for the critically acclaimed Israeli series False Flag. Furthermore the international division of Sony Picture Television was handling the distribution. Adding to the buzz was the gradual rollout of the rest of the principal cast: Patrick Heusinger, Cara Theobold, Bruno Bichir, Angel Bonanni, Ralph Ineson, and Neil Jackson. When it was learned that Absentia would be the opening screening at the June 2017 Monte Carlo Television Festival it solidified the idea that was set to be a stellar TV series.
Not long after that Monte Carlo premiere the news about where it would air started coming out, but not for the US. Then in September Absentia began streaming in many other countries, including Spain, Portugal, Romania, Bulgaria, and Poland. (As a result of that, in the US we've been ducking online spoilers left and right!) Even though there was news that Absentia had an American pickup, who it was or when it would air was unknown.
https://twitter.com/AbsentiaSeries/status/905271059347161088
Why We Love that Absentia has a US home at Amazon!
Today the trades – including Deadline – announced that Amazon will be streaming Absentia – and not just in America!
Amazon also will carry Absentia in several international markets, including the U.K., Australia, Germany, India, Israel, Italy, Austria, Netherlands, Singapore, South Korea, and Turkey.
This Amazon distribution is the final piece of a great hat trick. It means that in just a few months Sony Picture Television has pulled off a near global pickup of Absentia. Although it hasn't aired yet, Canada's Showcase network was an early announcement. Meanwhile, it's already streaming in many markets via Sony's AXN and Crackle.
You guys are amazing! Welcome Latin America to the #ABSENTIA universe. ?? Thanks for watching! ??? #AbsentiaEnCrackle pic.twitter.com/XAfjBUyyDA

– Stana Katic (@Stana_Katic) November 4, 2017
Having a quality product certainly helped Sony in this worldwide movie-like bow. Deadline notes that in its initial rollout (in Spain, Portugal, Romania and Poland) Absentia was number one in its timeslot. If you look at the promo it's no surprise why! (Peter Mihola is the Head of Art & Creative for SPT Networks Central Europe )
Amazon is the home of critically acclaimed shows like The Man in High Castle & Bosch. With Absentia they are adding another excellent drama to its roster – this time with a female lead. In the year of Wonder Woman, the fact that Absentia has a US home at Amazon is another step in the right direction for Hollywood norms – and for women in general.
The Wrap Up
Absentia will be available on Amazon in 2018. For those who don't like starting a series for fear that it won't continue – no worries! It's looks like having a US home for the TV series Absentia means it's greenlighted for a season two! (The picture is from Katic's official Facebook page.)
SEASON TWO YASSS #absentia pic.twitter.com/zNA6Hhu5oS

– Victoria (@xTorix33) November 15, 2017
Are you ready for Absentia in America (and in all the other countries that will be covered by Amazon)? Let me know what you think!