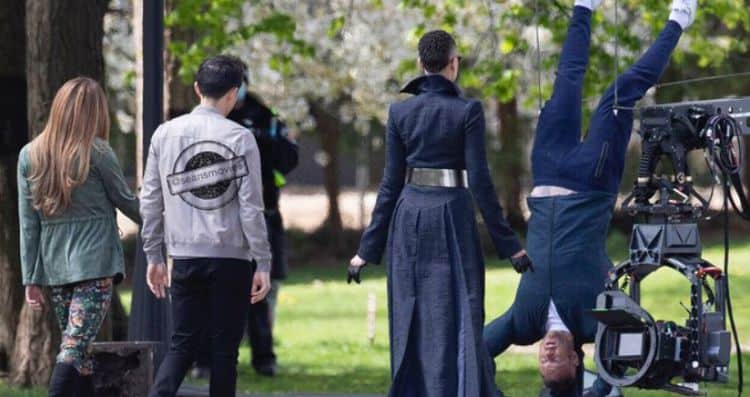 It would appear that season 3 of The Umbrella Academy will be starting off in a big way since the Sparrow Academy will be attacking the heroes, or at least Luther, as these photos show. Fans have been waiting to see what will happen in the next season and while there are no set plot details that have been released yet it would appear that the conflict to come is going to be enough to keep people wondering just how things are going to go. The course of the show has so far been a bit chaotic and even hard to predict, but the story has rolled along nicely enough to gain a loyal fanbase that have been waiting eagerly for each season and have been following the show without fail. Those that might not have been turned on to the show by now might want to at least take a look and see what all the fuss is about since there's plenty of action and over the top material to watching since the show isn't as simple as it sounds and definitely isn't one of the many shows that follows a calm and rational plotline. Quite a few people have had to ask what's going on in this show and it's not hard to see why since the abilities that each one of the kids has and what they do with them cause all kinds of havoc if they're left to their own devices. Season 3 is definitely going to be another fun season to watch no doubt, and it's going to be something that will likely make the fans wonder just what the heck is going on, even if they did watch the last season.
The Sparrows film scenes attacking Luther on the set of The Umbrella Academy. #thesparrows #britneoldford #genesisrodriguez #justinhmin #tomhopper pic.twitter.com/VauBLbYHgQ

— Sean O'Neill (@seansmovies) May 10, 2021
From the pictures, it would appear that Luther is going to take a bit of a beating, but that it might not slow him down that much. One thing about a lot of superhero shows is that the damage they tend to take usually doesn't end up stopping them that easily for many reasons. Some are just tough, some have healing factors, and some are written in as being able to take an inordinate amount of damage before they need to back off. The thing with the Umbrella Academy is that, as a lot of fans know, not every member is insanely tough, but they all have their own abilities that make them special in their own way and can help out the group when there's a need. But in some ways, it is fair to state that the group is a bit dysfunctional, much as many other groups have been throughout the history of heroes. Trying to pull a team together is never an easy prospect and trying to keep them together is even harder.
Tom Hopper hanging out on the set of The Umbrella Academy. pic.twitter.com/gQpkpQSn9K

— Sean O'Neill (@seansmovies) May 11, 2021
Obviously Luther is going to be getting tossed about a bit according to the pictures. But being the strong guy in a group kind of comes with the expectation that a person will be taking the hits and getting tossed around like a child's toy by those that have more power or are just far more skilled. Superhero shows and movies tend to show a lot of action that requires rigs such as this since the immense power that some characters possess is often enough to catapult a person off of their feet. Let alone the fact that in real life a hit that took a person off of their feet would like come with enough concussive force to kill them or at least injure them severely. But this is a TV show and therefore it's fun to see people go flying through the air when they get hit since it means that the stuff is about to go down and someone's bringing the can of whoop-ass.
Tom Hopper in his muscle suit on set of The Umbrella Academy today in Hamilton at Gage Park. pic.twitter.com/36eUJDLk0U

— Sean O'Neill (@seansmovies) May 10, 2021
It does feel as though there might be a bit of controversy that will go along with season 3 but it could be that fans will ignore it for the most part and just get on with their lives and on with the show. Those that don't want to support or see a certain character likely won't watch the show or will grin and bear it and do their best to simply ignore what they don't like. The point of course is that a person is free to watch what could be a stellar season since the show has already managed to gain a very impressive fanbase, but they're also free to not watch it since it won't hurt the bottom line any and won't affect the ratings. If anything it sounds as though people are primed and ready for season 3 to get here already so that they can continue to watch what happens as the Umbrella Academy and the Sparrow Academy meet up and do whatever they're bound to do. We'll just have to wait and see how it goes.