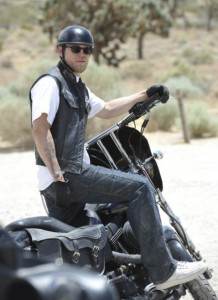 This week the Sons hit Arizona and watched the troubles of a fellow charter echo what SAMCRO itself could find themselves dealing with by working with the cartel to run drugs. Back at home, Gemma gets involved in trying to prevent the Charming Heights land development deal. Over on the other side of the law, Linc Potter became more than just a Fed sitting in a room as he goes out and gets his hands dirty, feeling out where there are people he can use in his investigation to bring down the Sons and every gang around them.Seeing that they weren't the only charter involved in the drug business was a good reality check for the boys as they were able to witness first-hand all the discord and death that being involved with drugs will inevitably bring. It was interesting to see Clay and co. step in and try to rectify the wrongs that the SAMTAZ chapter of the club had inflicted upon themselves.
Clearly Clay hoped that this chapter could see that selling drugs was where the line should be when it comes to a club's involvement in this area. It was a nice expression of Clay's guilt about even letting his club go through the drama that approving the deal brought. Hey, he can't go back with his club, but he thought maybe this one could fix their mistake. Not to mention, after being mocked by one of their charter's members, he needed to reassert his position of authority by forcing SAMTAZ to have another vote in light of the truth coming out. I wasn't at all shocked that the other club still voted it in–after they had lived with that added income from the new product for almost half a year it was no wonder that they wouldn't want to lose it suddenly. Despite the fact that it lead to the death of one member, the retiring of another, and the future ousting of two more. Literally taking one club apart from a bad decision.
Throughout the trip to Arizona there was a tension bubbling under the surface within SAMCRO as Bobby in particular had no problem in voicing his issues with their situation. Pitting him against Clay is a story I'm glad they decided to go with this year. It's something to have such an old friend and comrade of Clay's be against the cartel deal instead of just members of his own family like Jax.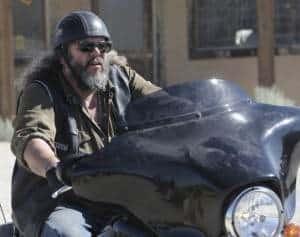 I'm sure it will wind up echoing the very situation they mention with John Teller and his wish to get the Sons out of the gun business years ago. Piney is also against it, but Bobby is an active riding member of the club and his opinion is going to give other members the second thoughts they should be having about doing this. It's also going to put him on Clay's bad side and that will have the kind of repercussions that will likely result in someone winding up in a body bag.
But it's not like the Sons need any help putting targets on their own backs. After watching the massacre on the Russians in the premiere, the scene with the cartel fully outnumbering the Sons during their hand-off was the proper warning it meant to be for the boys. When there are guns and drugs involved there's going to be bloodshed. It would have been very easy for Romeo to use his men to take out the Sons. He's probably only waiting for the Irish to come to town. All they would need to do is make a deal with them and boom, the Sons could find themselves on the business end of the very same weaponry they sold to the cartel.
Gemma meanwhile, following her failed attempt at taking a stand in the Sons' business with Clay last week, has found her way into making a mark in preventing the Charming Heights development deal. The introduction of Rita at the flower shop was welcome as this show really has only three types of women: old ladies, whores, and Gemma Teller (Tara also is a stand out from the mold but she's not really doing much this year so far in terms of making things happen. Also, she's toyed with being both a proud old lady and a take-charge brassy Gemma type.) She's been such a force to be reckoned with over the seasons that it's a relief to see her getting involved with this–really it's where the boys started focusing this season and then sort of forgot about as the cartel deal became their number one concern.
Plus it marked the first meeting of Linc and Gemma–the first of a couple visits Linc Potter made to various people in and around SAMCRO this episode that showed his level of threat to the club. He's smart, never once did he use his own name because, as I've referred to in these reviews before, he's not a creature of ego like Agent Stahl was. Messing with Gemma is risky but visiting the perpetually wounded Otto is an interesting ploy. I know he cared about his wife a great deal, but he also shanked someone in the ear for club retribution.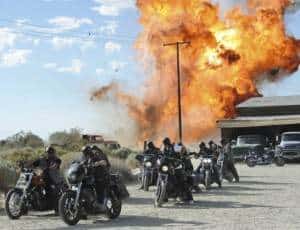 I think they'll likely get more out of coercing Juice to get them information and such than they will Otto. Sure, he's already lost so much physically and otherwise to the club, but his loyalty has always remained intact throughout and I think that will remain. It also was a great scene in terms of showing how Linc isn't always the funny quirky Fed–when it comes down to it he has no problem with tossing horribly graphic crime scene photos of somebody's loved one in their cell with them to help with their cooperation.
After seeing the aftermath of one club's involvement in drugs, I think this episode is going to mark the turning point for the Sons in their conflict with each other. It's gearing up to be the time for Clay to lash out against his own m.c. for their lack of loyalty to him, (and yes it's loyalty to him that's on the line when they disagree, not to the club. This isn't what John Teller had in mind when he and Clay started SAMCRO.) Just like the music in the opening montage of scenes declared, the times they are a changin'for the Sons and everything they hold dear.