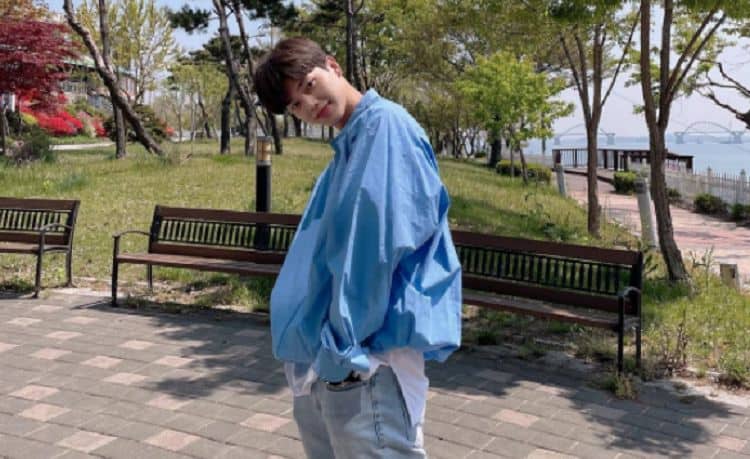 Song Kang is a name that American audiences may not be very familiar with yet, but in his home country of South Korea, he is a major star. Although he is still somewhat new to the industry, Song has already made it clear that he's here to leave a mark. Now, thanks to Netflix he has started to gain recognition all over the world for his role in the TV series Love Alarm. His natural ability to bring stories to life combined with his charming good looks has made for the perfect recipe for success. As his career continues to grow, there's a very good chance that Song could become one of the most successful actors of his generation. Keep reading for 10 things you didn't know about Song Kang.
1. He Has A Massive Social Media Following
You may not have heard of Song Kang, but there are millions of people who have. At the moment, Song has 7 million followers on Instagram and the numbers just keep growing. With a following like that, it's very easy to see why companies have reached out to Song to become an ambassador for their products.
2. He's Been In Music Videos
TV and movie roles are what Song has become most famous for, but he's also dabbled in the music world. Some might even say he's the male version of a video vixen. He has appeared in three music videos since 2017 and one of them, "Love Story" by Suran has more than 8.5 million views on YouTube.
3. He Struggles With Doubt
The world may see someone who is constantly oozing with confidence when they look at Song, but in reality, he feels self-conscious sometimes just like everyone else. Song told Soompi, "There are times when I feel afraid or self-conscious because of all the overwhelming anticipation, but I want to keep going. Since I want to do a good job, I'm going to center myself and move forward."
4. He Loves Fashion
Song's impressive sense of style is yet another thing that has drawn people to him. He loves using fashion as a way to express himself and he isn't afraid to take chances with his outfits. Although it doesn't look like he's done any official modeling, it wouldn't be surprising if he decided to give it a try.
5. He Enjoys Traveling
Technology can take the place of lots of things, but one thing it'll never be a substitute for is traveling. Song's career has allowed him to travel to different parts of the world and he always looks forward to the opportunity to see new places and try new things.
6. He Prefers To Stay Low-Key
Song may be a major star, but that doesn't mean that he wants to be in the spotlight all the time. He is actually the kind of person who prefers his quiet time and he finds the most pleasure in doing the simple things that life has to offer. During an interview with Soompi, he said, "I don't like being surrounded by tons of people on Friday or Saturday nights, so I even go to the gym earlier. My greatest getaway is shopping at my neighborhood market."
7. He's So Passionate About Acting That Sometimes Just Watching Brings Him To Tears
Are you the kind of person who cries whenever you get to the emotional part of a TV show or movie? If the answer is yes then you have something in common with Song Kang. He, too, can't help but be brought to tears sometimes when he's watching a movie that really taps into his feelings.
8. Titanic Inspired Him To Get Into Acting
Song's introduction to acting came a little later than some people's. He didn't find himself interested in the craft until he saw the movie Titanic. He was blown away by Leonardo DiCaprio's performance and he knew that he wanted to be a part of something like that. Stepping into the entertainment industry isn't an easy thing to do, but Song managed to do it and he hasn't looked back since.
9. He Likes To Read
Even though Song enjoys watching TV shows and movies, those aren't his favorite ways to wind down. Instead, he prefers to read. He loves the feeling of curling up with a good book and reading has become one of his favorite ways to wind down at the end of a long day.
10. He Enjoys Meditating
Reading isn't the only way that Song likes to center himself. Song also believes in the power of meditation and it allows him to enjoy some peace and quiet before starting day. In his line of work, those calm moments probably aren't easy to come by so it's important that he make the most of them.
Tell us what's wrong with this post? How could we improve it? :)
Let us improve this post!