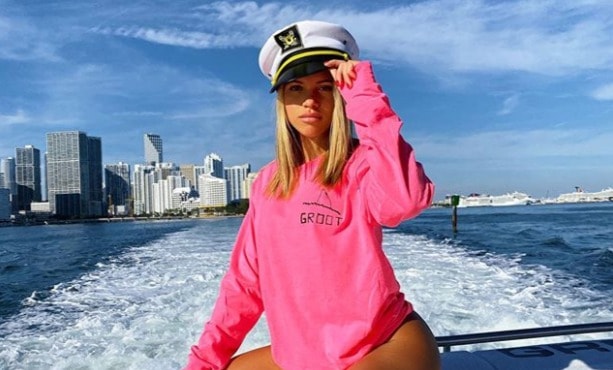 Sophia Richie was born in Los Angeles on August 24, 1998 to the famed singer/songwriter, Lionel Richie and his second wife, Diane Alexander. She is a recognizable face in the fashion and modeling world and has a famous older sister in the fashion business, Nicole Richie, who is also an actress and famous TV personality. Sophia has taken Instagram by storm and has recently been said to be the hottest girl on the social media platform, with her endless hot posts of her in sexy swimwear and other eye-popping fashion. If you're already a fan of Sophia Richie, then you probably know some details about her and her career, but here are 10 things you didn't know about Sophia Richie.
1. She's the daughter of famed song writer/singer
Sophia's father, Lionel Richie is a five-time Grammy winner and is well-known for his easy-listening music and ballads in the 1980's. He was part of the group, The Commodores, and later went off on his own in 1982 with his debut album, "Lionel Richie," which contained three chart-topping songs, including, Truly. Some of Lionel Richie's biggest hits include, Three Times a Lady, Sail On, Still, and Easy.
2. She had a love for music but gave it up for modeling
Richie took after her dad in one big way, and that is, that she can sing and play the piano. She was singing by five and playing the piano by seven and took up vocal lessons to hone in on her talent. Richie wanted to pursue a singing career and even worked in a studio with the lead vocalist of Good Charlotte, Joel Madden, however, one thing began getting her in way of her music pursuit and that was the pressure she felt from her father's popularity and status in the business. Not wanting to feel like she had to live up to her dad's career, Richie switched gears and began pursuing a modeling career.
3. Her modeling career started as a teen
Richie got her first modeling gig when she was 14. Teen Vogue has been a popular teen fashion magazine for years, and many models would love to make it in the magazine, which is exactly what Richie was able to do. She was featured in the magazine when she was 14 years of age, and just a year later, she signed her first contract with a Los Angeles based swimwear company known as Mary Grace Swim. Beyond that, she was signed with a UK modeling agency, Select Model and Management and has been keeping busy representing major brands ever since.
4. Her friendship with Paris Hilton caused tabloid talk
Sofia Richie is opening up about her controversial friendship with Paris Hilton. The two friends raised eyebrows when they were seen hanging out and attending nightclubs together over the summer. Sofia is 18 while Paris is 35 years old, which is a cause for controversy.
5. Has a sister, Nicole, who's adopted and famous in fashion, too
Nicole Richie is the older, adopted sister of Sophia. Nicole was born September 21, 1981 and is a famous model, actress, TV personality, fashion designer and was adopted by Lionel Richie and his ex-wife when Nicole was just three. Her father was the brother of singer, Shelia E., and when he and his wife, Karen Moss could no longer afford her, Lionel took her in, and later adopted her. Though the age difference between the two sisters is quite a few years, they are close and Sophia has even appeared on her sister's TV show, Candidly Nicole, in 2014.
6. She represents some of the biggest fashion brands
When you are as gorgeous and famous as Richie, you can expect you'll be getting calls from some of the biggest brands in fashion to represent them. Richie has been featured in campaigns for major brands, like, Tommy Hilfiger, Chanel, Michael Kors, and many more. She's got the look, the stature and the name to really help brands sell, and it doesn't look like the offers will be likely slowing down any time too soon, as she's only 19 and still very involved with her modeling career.
7. She's got a huge following
Of course she's got an Instagram account. Instagram is booming with beautiful models and Sophia Richie is one of the most popular with over 6 million followers. She is always posting hot, sexy photos on her account and getting thousands of Likes and comments. Her Twitter account is gaining momentum too, with 42.2k followers, but the one social media account she doesn't have, is Facebook.
8. Designed a swimwear collection
What else would a model and fashion designer do but design lines of clothing. Richie has worked with a number of designers, designing a variety of different lines of clothing but one of her most recent and most colorful, is the line of swimwear she designed when she teamed up with Frankie's Bikinis. The line of swimwear is brightly colored and includes floral prints, neon colors and bright tie-dyed bathing suits and they were released July 9, 2019, just in time to get some summer wear this year.
9. Her godfather was a famous Pop-star
Everyone recognizes the name, Michael Jackson. Jackson is the late singer, songwriter, and dancer who passed away in June of 2016 from a fatal concoction of medications. Jackson and the Richie's were close friends, and close enough that Lionel had asked Jackson to be the godfather of Sophia. Being the godfather, it would be fitting that there would be plenty of get togethers and a lot of them took place at Michael Jackson's well-known mansion and property, Neverland. Richie has often talked about her many trips to Neverland and how over time, she got to be good friends with Jackson's daughter, Paris.
10. She's in a relationship
Scott Disick is a name many people recognize as being tied to the Kardashians. He's a television personality and a lot older than Richie, being that he's 34 years old compared to her 19 years of age. Disick is the ex of Kourtney Kardashian and has three children with her, but now, he's the boyfriend of Richie, and her father, Lionel, is not exactly thrilled about the relationship. Other famous guys Richie has been tied to include, Jaden Smith, and Justin Bieber.