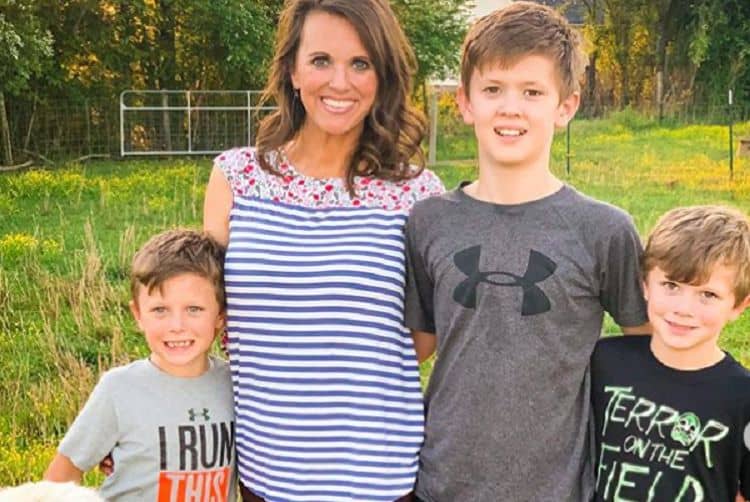 Just the thought of having nine children would be overwhelming to most people. But having a set of twins and a set of sextuplets in the mix adds another layer of complexity. While this situation seems farfetched to most, it is the reality for Courtney Waldrop and her husband, Eric. The couple and their nine children have been featured on the TV series, Sweet Home Sextuplets, since 2018. Even though raising so many children requires a lot of time, money, and attention Courtney feels blessed to have such a large and loving family. Now in its third season, the Waldrops are ready to invite viewers back into their world. Continue reading for 10 things you didn't know about Courtney Waldrop.
1. She Met Her Husband In Middle School
Most middle school crushes fizzle out before they even get serious. However, Courtney and Eric had a much different experience. The couple met when they were in 8th grade and have been inseparable ever since. They decided to tie the knot right after college have been married for over 20 years.
2. She's A Business Owner
Courtney Waldrop is a stay at home mom, but she's also a small business owners. She runs a website called God's Divine Nine where she sells handmade jewelry pieces. At the moment, most of the items on the site are sold out, however, she is accepting pre-orders.
3. She Used To Be A Teacher
Even though Courtney is a stay at home mom now, that wasn't always the case. She used to be a teacher although it's unclear which grade(s) or subject(s) she's taught. Once her children are older, she may decide to return to work. For now, though, her plate is definitely more than full.
4. She Is Very Religious
Courtney is a devout Christian who keeps her faith at the center of her life. She and her husband credit their faith in God with giving them ability to withstand the trials and tribulations of raising so many kids. This strong belief system is something she and Eric hope to instill in their children.
5. She Never Planned On Having Such A Big Family
Courtney and Eric always wanted to have a big family, but they weren't planning on having one as big as the one they ended up with. The couple began doing fertility treatments in 2012 after Courtney was diagnosed with a disorder that made her pregnancies more complicated. The result was the couple's twin boys. They decided to try one more time to add a fourth child to the family. The doctor specifically put Courtney on a lower dose of hormones to help lower the chances of having a multiple pregnancy, however, she ended up pregnant with sextuplets anyway.
6. She Attended Auburn University
Courtney is an Alabama native who also attended college in the area at Auburn University. She graduated in 2004. Courtney hasn't mentioned what her degree is in, but it likely has something to do with education. Eric also attended Auburn and the two got engaged while they were students there.
7. Quarantine Has Been Especially Hard On Courtney
When schools across the world starting shutting down in March to prevent the spread of the coronavirus, lots of parents found themselves overwhelmed. On top of having to adjust to a new work routine, they also had to figure out how they were going to make sure their students were following through on their virtual lessons. This period was especially overwhelming for Courtney who suddenly had all nine kid sin the house at once.
8. She Loves Being Outside
Courtney is a country girl through and through which means she enjoys spending time in the great outdoors. She loves to explore nature and often takes her children outside to do the same. When the weather is nice, the Waldrop family can usually be found outside playing or gardening.
9. She Feels Guilty When She Takes Time For Herself
Courtney doesn't get a lot of time to herself, and when she does, she feels guilty for taking it. She told US Magazine, "I feel guilty if I leave do something for myself. It's all about the kids now." This is something that a lot of moms deal with, but hopefully Courtney is giving herself time to rest and recharge.
10. Having Sextuplets Has Made Her Marriage Stronger
The reality is that many people's marriages would not be able to survive the stress of having so many kids. Surprisingly, Courtney believes that having sextuplets has actually made her marriage stronger. She says, "I think because we went through such a hard time where we doubted and we didn't know what the outcome was gonna be. We really struggled at the beginning of our pregnancy and we both just had to step out on a leap of faith and we had to do it together. We formed a bond from that point on."
Tell us what's wrong with this post? How could we improve it? :)
Let us improve this post!