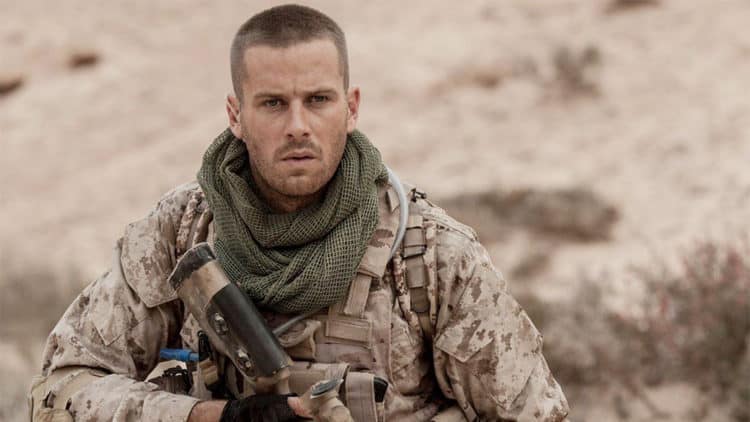 When Armie Hammer's name hit the front page of every news source in America in 2021, it wasn't a good day for the actor. He was accused of some harrowing deeds, including – but not limited to – sexual abuse. His marriage crumbled, his career ended, and no one really knows what he's been up to since. Fortunately, for the disgraced actor, famous people do a lot of shameless things on a regular basis, and it wasn't long before the shocking news of his personal life was overshadowed by other things done by other famous faces across the country. However, many (former) fans have wondered what the former actor is doing with his life post-allegations. Where is he? What's he doing? In fact, what happened to all the celebrities who were once on the road to exceptional fame and are now nowhere to be found?
Armie Hammer Sells Timeshares
You did read that correctly. The disgraced former star now lives in the Cayman Islands after being accused of being a cannibal. His wife took the kids and left him, the entertainment world turned its collective back on the young actor – it seems reasonable given the fact that the man was accused of eating other people – and his own family turned their backs on him. It is important to remember that his family is important. His father is businessman Michael Armand Hammer, and his grandfather (same name) is an important figure in the oil industry. Some call him an oil tycoon. In July 2022, a seemingly innocuous tweet from a woman by the name of Muna Mire shared that her friends' parents were vacationing in the Caymans and Hammer was their concierge at the resort. It turns out, the rumors are true.
Erik Estrada Became A Police Officer
It seems that his fictional life as a police officer in the hit show "CHiPS" left a lasting impression on the star, and he is now working as a police officer in Idaho. He landed the job in 2016 after finishing the police academy and being sworn in to the role of an officer. He currently works as the man protecting kids from predators on the internet. It's a great thing to do, and we are certain he finds a great deal of satisfaction in keeping kids safe.
Jon Gosselin Job Hops
Despite not being a millennial whose entire life is hopping from one job to the next to find happiness, Jon Gosselin is aces at acting the role. He's been job hopping since his days as a reality star on his own hit show "Jon and Kate Plus 8," following their divorce. His wife got the show in the divorce, and he's been waiting tables, cooking menu items at TGI Fridays, working as a DJ, and even working in the IT sector. He's been busy.
Jeff Cohen is an Entertainment Attorney
When he was a child actor in Hollywood, everyone was certain the Goonies star would become Hollywood royalty. Sadly, he left acting behind in favor of college. He obtained a degree, he went to law school, and he's since founded his own firm and become one of the premier attorneys to the stars. He's an entertainment lawyer – and he's an author. He's doing well for himself, and he probably has no regrets.
Cameron Diaz is a Stay-At-Home Mom
We'll be honest and tell you that this is not a job we thought she'd ever take on. The gorgeous star likes to keep us guessing, though, and we aren't entirely sure why her new role in life shocks us. Following the surprise marriage to singer Benji Madden and the even more shocking arrival of their new baby, she retired. To be upfront, she did retire in 2014 following the release of her film "Annie," and she stuck with retirement for some time. However, now she's a stay-at-home mom to her little one, and she and her husband prefer to be hands-on parents rather than hiring help.
Amanda Bynes Went to School for Design
She was the biggest thing on television for a while. She went from child star to young adult star. She was a hilarious comedian, and a talented television and movie actress and the world adored her. That's when she had what can only be described as a complete breakdown. She suffered from both mental health issues and substance abuse issues, and both caught up to her in the most horrific manner. She went through years of bad press, and poor choices, and even accused someone of planting a microchip in her brain to cause her to say things she didn't mean. She's been working on her own mental health and her abuse issues, and she even graduated from the Fashion Institute of Design and Merchandising back in 2019. She's currently focused on getting her life together.