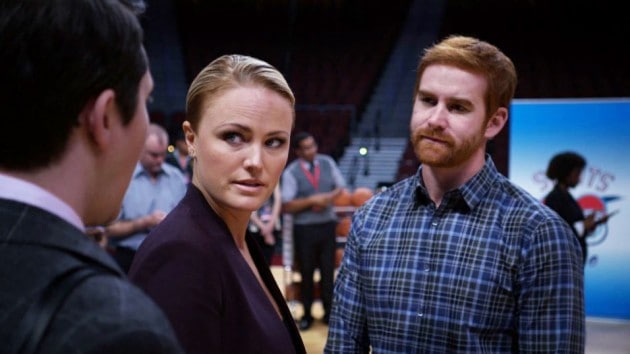 Sin City Saints marks Yahoo Screen's true arrival as a digital network (is that what we're calling these things now?). Yes, it debuted the sixth season of Community last week, but as one of television's most beloved cult comedies, that was a softball entry into the game. Sin City Saints, a sports comedy starring Malin Ackerman, Andrew Santino, and Tom Arnold, is their first in-house creation – and on arrival, the show feels mashed together from a thousand different pieces, many of which don't work, and all of which lack pathos, at least in the initial offerings of the first two episodes (all eight episodes of the first season are currently available on Yahoo). And for a comedy, Sin City Saints isn't all that funny – though it certainly has the parts to do so, hasn't really embraced itself as the off-kilter (and decidedly low-budget) comedy it clearly wants to be.
It just doesn't feel like Sin City Saints knows what story it wants to tell, stuck in the middle of a handful of different characters and stories that are only superficially introduced. Santino is really the center of the show as Jake Tullus, a tech billionaire who owns an expansion NBA team in Las Vegas, who accidentally runs over his All-Star rookie point guard when acting as the mascot during team introductions. To handle the brewing scandal, the league flies in Ackerman's Dusty Halford, a PR exec with a cool name, a cool attitude, and a haircut that wants to be cool, but is really kind of distracting.
She predictably clashes with Tullus' ridiculous, obnoxious nature, and the first two episodes detail their bickering, while throwing in character details that seem more fitting to a multi-cam from 1995: she's failing at quitting smoking, and thinks all guys are either "d****bags or d***heads." Of course, that's because she's going through a divorce, which leads her to accidentally hooking up with an underage guy at a charity event (again, of course). Sin City's first two episodes randomly throw these character bits in between their arguments, which paint the two stars of the show as equally unpleasant, inhumane people – the emotional connection between audience and character just isn't there, no attempts at humanizing either character feeling natural or unique. It's just another entitled, upper-class white guy being a jerk and saying vaguely racist things a lot, with a shrill woman in an unflattering business suit yelling at him, and worst of all, none of it is really funny.
However, there's a little hope for the secondary players of the show, characters whose personalities are more well-defined, and comedic, than anything we're offered from the leads in the first two episodes. Rick Fox as the team's disinterested general manager is amusing, and Justin Chon as the assistant GM/voice of reason gives the coach and team executives someone to bounce jokes off of, at least giving these secondary scenes some type of comedic rhythm, something the other scenes distinctly lack. Outside of being comedic devices, these characters don't add up to much – except for bringing former NBA player Baron Davis into the fold as former stud player/burger joint CEO Bill Crane, whose acting skills are…. subpar, to be kind – and in fact, often act as inconsistent dramatic devices in the first two episodes (like Fox's character, who hates the idea of signing Crane, then all of sudden is on board with the idea, for seemingly no reason whatsoever).
Could Sin City Saints be a good show? Like any young comedy, Sin City is searching for its voice – and when a show is doing that, sometimes it's nice not to have some all-encompassing plot or story to marry itself to early on. However, it lacks in just about everything else a comedy needs to succeed; the characters aren't exactly believable (forget relatable), the plot itself lacks any kind of of unified structure or meaning – and most of all, it's not really that funny. I can forgive the first two early on, but the last one? That could prove to be a killer.
[Photo via Yahoo Screen]