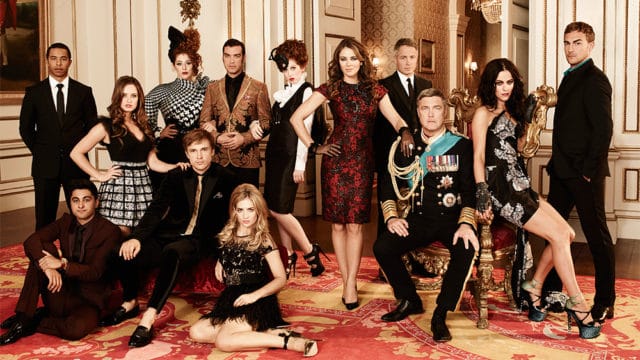 The Royals is a primetime soap opera that started up in 2015 and has continued running since that time. Like its name suggests, it is focused on the British royal family of a contemporary world. However, said royal family is not the Windsors but rather the Henstridges. Moreover, the British royal family on The Royals is a lot more exciting than their real world counterparts, which makes sense considering the soap opera nature of the series. So far, The Royals has managed to make quite an impression, so it will be interesting to see what will happen to the careers of its cast members from this point on.
Here are five of the cast members from The Royals who seem as though they will have the most successful careers:
Max Brown
Max Brown is an English actor who has appeared in a remarkable number of movies as well as TV shows, including some that are rather well-known. However, most of his roles have been secondary in nature, meaning that he has never had much of a chance to step into the spotlight. Now that he has become a main member of the cast on The Royals, it will be interesting to see whether that serves as a springboard for the rest of his career.
Elizabeth Hurley
Currently, Elizabeth Hurley isn't at the height of her career. However, there can be no doubt about the fact that she has had a number of important roles over the decades, with examples ranging from Vanessa Kensington in the Austin Powers movies to the Devil in Bedazzled. As a result, it is no exaggeration to say that she is already having a very successful career, particularly considering all of her non-acting-related activities.
William Moseley
There are some people out there who might actually recognize William Moseley as Peter Pevensie in The Lion, the Witch, and the Wardrobe. Nowadays, he is still involved in a wide range of projects, with The Royals being but one of them. For proof, consider The Little Mermaid, which is an upcoming movie for Netflix that will see him playing the lead character Cam Harrison. The movie has no connection to the better-known version made by Disney, but its synopsis makes it sound different enough that it should have no problems standing out.
Alexandra Park
Alexandra Park's acting career got started in an Australian kids' show called The Elephant Princess. Since then, she has gone on to act in a number of other projects. The latest example is the upcoming drama movie called Ben Is Back, which will be featuring Lucas Hedges and Julia Roberts as the lead characters.
Merritt Patterson
Merritt Patterson is no longer a main member of the cast on The Royals, but she isn't exactly lacking things to do. Currently, she will be playing the lead female role on Unbroken: Path to Redemption, which is intended to be a spiritual sequel to 2014's Unbroken. Furthermore, it hasn't been that long since she did a trio of made for TV movies in 2017, which included two meant for the very successful Hallmark Channel.