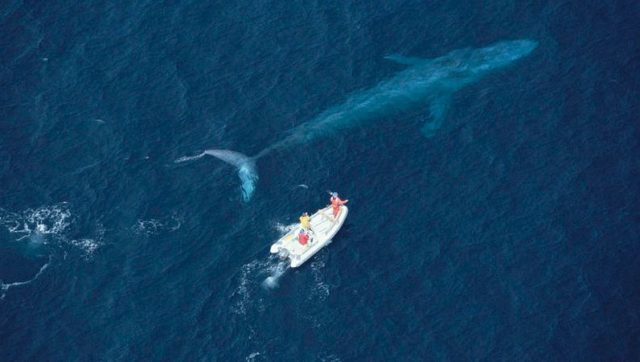 As fascinating as underwater creatures like sharks and killer whales are, I happen to think that blue whales are just as awesome. If only for the fact that they're the only animal left on earth that are just as big as dinosaurs. I mean seriously. How cool is that? Can you even imagine coming across one of these in a real body of water? Personally I think I'd freak out. No matter how harmless a blue whale might be, it's sheer size would scare the crap out of me. Plus I would probably assume the thing was a submarine anyway.
These are animals that can grow up to 150 feet long. Think about that for a second. Imagine seeing an animal that's half the length of a football field. I mean kicking a 50 yard field goal is tough in the NFL right? Imagine kicking a ball that far and just barely making it over the length of an actual animal. Anyway, you get the point. These guys are big.
Since there aren't too many blue whales in the world, getting footage of them is pretty rare. Which is why I'm psyched to present this clip to you. It was recently taken an captured a rare moment of a blue whale surfacing to get some grub. I just wish there was a boat in this clip so we could see the size better. Still though, this is pretty awesome.