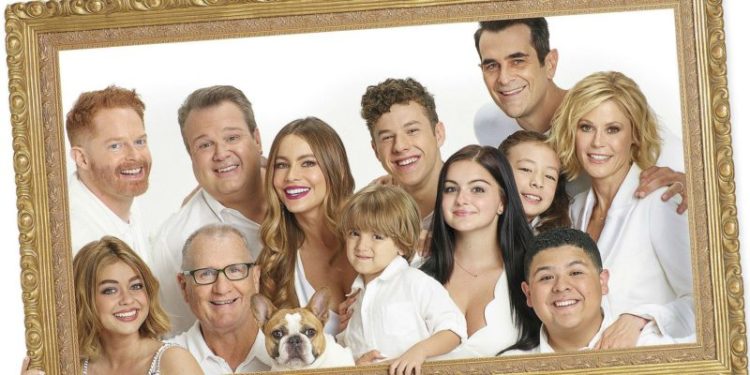 What's a "normal" family set up in this day and age? It's certainly not the biological dad, biological mom, and their three kids. Sure, this could be normal to certain people, but many of them experience a family life that is quite different. So, why are the big, messy stepfamilies or blended families or whatever you call your brood not shown in TV shows and movies more often? Or, why are they not portrayed in a more relatable and realistic way? There's a need for more portrayal of the blended family setup. Here are some movies and TV shows that have paved the way for what is to come in the future, hopefully.
1. Bonusfamiljen (Bonus Family)
So you think the term blended family is the new term to mean stepfamily? Well, not according to Swedes who avoid the negative connotations of "step" and instead use "bonus mom" and "bonus dad." Hence, the title "Bonus Family" for this award-winning Netflix film. The movie follows couples Patrik (Erik Johansson) and Lisa (Vera Vitali), and their exes Katja (Petra Mede) and Martin (Fredrik Hallgren). With three children in the mix, they try to figure out how to best co-parent. Bonus Family is bingeing three seasons with a compelling, reassuring, and emotional storyline.
2. Stepmom
Before you write off this 1999 movie as an unattainable ideal, take a moment. Who says Stepmom and Biomom cannot make good friends? Ok, it may not be so perfect. It's also not supposed to take a cancer diagnosis so that two adults can try to get along with their kids. However, it is refreshing to see the kind of stepmom that is not wicked. Thus, the movie tries to show that the job of a stepmom is not that easy but can be rewarding.
3. This Is Us
The movie This Is Us takes us through the ups and downs that the Pearson family goes through. The issues range from financial stress, unemployment, death, fostering, and so much more. One of the movie's storylines is the experience of Randall as a transracial adoptee. Rebecca and Jack may not always get it right. But, which parent gets it all right? Also, the scene that touches us most is when Jack unearths why Randall wants to box.
4. The Fosters
You know you cannot easily overlook this TV show. The series takes us through the life events of a foster family, The Fosters. If you've not yet watched it, then you are missing out. The bi-racial lesbian couple Lena (Sherri Saum) and Stef (Teri Polo) are parents; to adopted and biological children. The thought-provoking storyline feels fresh. It sheds more light on topics other shows often choose to avoid.
5. Mrs. Doubtfire
The 1993 movie is one of the movies by the late Robin Williams that people have come to love significantly. The storyline takes us through the charming tale of a divorced father. He'll go through whatever it takes to see his children. Wigs, fake boobs, and makeup aside, if you've ever felt like an outsider, then you will relate to this movie. Especially if you perceive that someone else has taken your place. In this case, we see that in the suave and irritating Stu (Pierce Brosnan).
6. Grey's Anatomy
Nope, this is not a typo. On the face of it, Grey's Anatomy is the longest-running medical drama series of all time. Most of the action is always in the ER. But the family is one of its most vital themes. The doctors find their families at their place of work, the Grey Sloan Memorial Hospital. Doctors Jessie Avery and April Kepner went their separate ways before the birth of their daughter Harriet. Despite some challenges, the couple comes off as positive co-parents. As a result of their busy schedules, they keep transferring Harriet collaboratively and positively. They lean on each other for parenting support. Even though both parents are busy physicians, Jackson has equal parenting time. They took a page of Meredith and Derek's book for Harriet's sake and made it work.
7. Modern Family
With the satire aside, there's so much truth about this ABC's multi-award-winning blended, extended Tucker-Pritchett-Dunphy clan. When we focus on the family's everyday events like breakups, graduations, and promotions rather than the crazy scenarios, we realize we can relate to the characters.
8. Parenthood
In the film Parenthood, we see the complicated family issues of the Buckman family. The multigenerational drama deals with dating after divorce, relationships with aging parents, teenagers, and single parenting. Julia and Joel begin to grow apart as they are forced to swap roles in their marriage. Eventually, they figure out their new co-parenting roles. In the show, we also see the effects divorce has on Sarah Braverman's teen children.
9. Grace & Frankie
Often, when co-parenting in a blended family, you need to work out how to interact with your ex's new partner. The interaction is what we see in this Netflix comedy, Grace & Frankie. The name-sharing characters realize that their husbands want to leave them for each other, which has them thrown into an unusual partnership as they figure out forgiveness. Frankie and Grace's grown kids bring a different parenting perspective to the show. One is a mother who doesn't want anything to do with the kids. The other is an overwhelmed mother. But in all this, Frankie and Grace create a bond in the problematic parenting situation. The show gives us a great example of the step-parent the kids will adore and love. We also see how to make your ex's new spouse your ally.
10. Splitting Up Together
Splitting Up Together doesn't focus on the breakdown of the relationship. Instead, the sitcom tells a story about a couple navigating through life after divorce. Jenna Fischer, a star in the show, says the show is all about parenting and relationships. It shows us how to build a life with a different person, even though you're divorced. In the show, we see the introduction of "bird-nesting," where kids live in one house full-time, and the parents rotate depending on the custody schedule. Of course, this type of arrangement comes with its advantages and disadvantages.
Tell us what's wrong with this post? How could we improve it? :)
Let us improve this post!