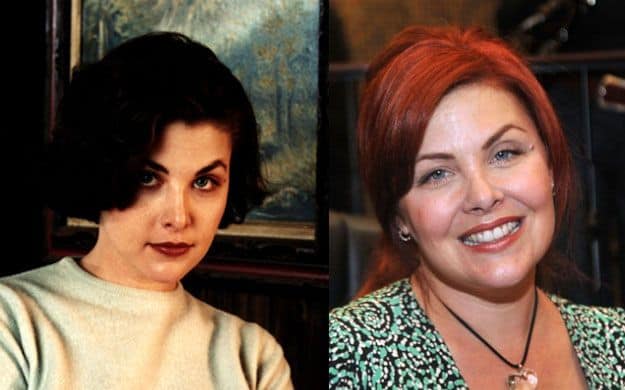 Most remember Sherilyn Fenn for her role as Audrey Horne in Twin Peaks. She portrayed the high school student becoming an adult in as fascinatingly seductive a manner possible in the 1950s period. The TV series received critical praise, and Audrey was a fan favorite. She wore tight sweaters, plaid skirts and saddle shoes-all 50s fashion- and she loved FBI Special Agent Dale Cooper with no return of his love. But, the scene where she danced while knotting a cherry stem in her mouth has become iconic. It also unleashed a decades-long party game where everyone tried to do it just like she did. She became a sex symbol and was photographed by the best for the best publications.
Fenn played many roles in significant films. She became a star because of Twin Peaks and that led to roles in big-screen successes like Fatal Instinct and Boxing Helena. She played opposite Gary Sinise and John Malkovich in a new film version of Of Mice and Men, adapted by Sinise. That film received a huge amount of critical acclaim. She portrayed Elizabeth Taylor in Liz: The Elizabeth Taylor Story, after being selected from at least 100 women who were being considered for the role. She also married and had two sons. From 1996 to 1998 she participated in a range of independent films and TV movies. Then from 1998 to 2001 she took on the lead role in Rude Awakening, portraying the alcoholic Billie Frank, a self-destructive, former soap opera actress.
More recently, the stunning beauty premiered her new personal website, where she had included three main categories about herself. In her Actress section, the playbills for all her successful acting works are included. Of course, Twin Peaks is there. But there are also the fabulous films Two Moon Junction, Boxing Helena, Shameless, Hitman, Wild at Heart, Of Mice and Men, Rude Awakening, Ruby, Liz: The Elizabeth Taylor Story, Gilmore Girls and Saving Yourself.
She's added an amazing Gallery section of headshots and modeling poses-mostly in black and white-which remind viewers of the extravagant beauty she has been. There are two incredibly lovely photos. One is of her face in a wistful gaze. The other is a full-length photo of her-completely nude-lying face down on a fluffy fur- though completely demure with no frontal nudity.
Fenn has become an author of a new children's book called No Man's Land. It was illustrated by Monica Armino and a copy signed by Fenn is available on her website in the Author section for $30.00. There's a No Man's Land Hero Doll for sale, too, and it's also possible to purchase both items in a set.
Fenn Films is an independent non-profit organization which makes films and other artistic works devoted to inspiring and helping people worldwide to build strong, peaceful relationships through creative and enriching initiatives. The organization was founded by SouFiane Fenn when he met Sherilyn Fenn in the movie Just Write. Sherilyn inspired SouFiane to create Fenn Films.
The non-profit is now registered in France. The film company makes movies which work for peace telling stories that are entertaining yet are positive stories about the power of relationships to achieve positive connections between art, peace and people. The company's vision of peace is that everything is dependent upon it, and all things positive are connected to it. Projects include building schools, creating access to water for schools, and developing mobile medical units for remote areas of developing nations.
&app=desktop
Sherilyn currently keeps in touch with her fans and supporters via Instagram and other social media. Her recent Facebook post includes a link to her 2017 performance as Karen Street, Jim Street's incarcerated mother, on the CBS show S.W.A.T.
There are also Facebook photos of the Twin Peaks revival, where Audrey Horne returns unexpectedly and mysteriously. Sherilyn regularly posts her own inspirational quotes and those of other introspective thinkers.
Sherilyn's Instagram posts are decidedly spiritual. She has more than 48 thousand followers. She posts affirmations, Bible scriptures, photos of stars that are positive or have been lost needlessly due to tragedy, quotes from great authors and philosophers, and her own personal insights about living life as a Godly woman. She also includes artwork by famous historical artists and books about various humanistic and healing topics by current authors. Her Instagram is aligned with the vision she shares with the Fenn Films projects in many ways. The Twin Peaks beauty has come to a time in her life, when having reached 53 years of age, she has begun to share the intellectual, philosophical, spiritual, and humanistic beauty within her.