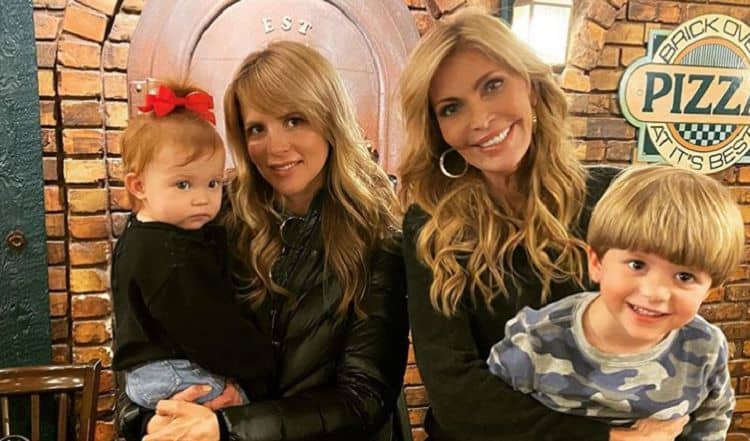 Shawn King may be better known as Shawn Southwick, which is her maiden name. She is best known as the wife of radio icon Larry King, or at least the former wife of the celebrity. Those who don't know her, simply remember her for being married to someone famous, but she has an impressive history that has nothing to do with Mr. King or his influence. We learned some impressive facts about her when we checked into her history, and to help you know her better, here are 10 things that you probably didn't know about Shawn King.
1. Shawn was a backup singer at a young age
Shawn showed a passion for the entertainment industry at a very early age. She's been a backup singer for some of the biggest names in the music business, including Neil Diamond, Bobby Sherman, the Beach Boys, and more. For those of you who didn't already know, Shawn is also a professional singer by trade.
2. She was acting professionally as a child
Shawn was only three years old when she did her first acting gig. It was in a commercial for Oscar-Meyer weiners. She was also in a commercial for the Nat King Cole Christmas special. It was as though she was destined to be an entertainer with both acting and singing talents.
3. King has appeared in film and television
Shawn King advanced her career after college, by landing several acting roles. Her debut film appearance was in the 1974 film "Saturday's Warrior" in the role of Pam Flinders. She also appeared in the film "Starlight" with Larry King, as well as several television shows including "Night Rider," "Hardcastle," "Rip-Tide," "The A-Team" and others. She has a decent portfolio of acting roles.
4. She is Larry King's 7th wife
Shawn's husband, Larry King had been married six times before the two tied the knot. They have two children together and have been married for 22 years. Larry is 85 years old and Shawn is 59. It was Larry who filed for divorce from his wife. They had been experiencing a few ups and downs including health issues and allegations of infidelity. King filed for divorce in 2010, but he retracted the paperwork. It appears that the divorce proceedings are on again and it's left Shawn brokenhearted.
5. Shawn King was a television host
Shawn is a multi-talented entertainer who has done a little bit of almost everything in the entertainment business. In addition to being a backup singer and actress, she also hosted a popular television series. In 1990, she joined the USA Network, where she hosted "Hollywood Insider" which is their weekly entertainment show. She served as host of the show until 1996. This is yet another credit that the versatile King has in her repertoire.
6. Shawn is also an entrepreneur
Shawn co-founded a business with partner Carlos Slim and her then-husband, Larry King. Ora TV is an on-demand video network. This was a brilliant decision as there is always a call for this type of service. The network was officially launched in 2012. Although many of the sources for this digital production network only list Larry and Carlos, we did a little digging and learned that Shawn was also a major part of the establishment of the company, so let's give credit where it's due.
7. She was the target of cruel rumors
There were reports made in gossip columns that said Shawn and Larry's two sons begged him to file for divorce from Shawn. The articles further said that her sons told their father that she was trying to get at their inheritance. Larry King fired back at these insinuations and he denounced them as being false. He even called them "ludicrous." Their son Cannon went further to discredit the allegations by firmly stating for the record that neither he nor his brother had ever said anything of the sort and that they both wished nothing but the best for each of their parents, and that they hoped Larry and Shawn would find happiness in their lives.
8. She has two amazing sons
Shawn and Larry have two amazing sons together. Their names are Cannon, 19, and Chance, 20. At the news of his parents split up, all Cannon could really say was that he loved them both very much. He went further to say how much of a great influence each has been on his life. He also stated that he's thankful for them both and that "We will always be a family no matter what." This statement alone should dispel any nasty rumors that there is a rift in the family because of the breakup of Cannon's parents. It certainly doesn't appear that he's taking any sides, at least not publicly.
9. The divorce is taking a toll on Shawn
When a couple like Shawn and Larry King are well-known celebrities there are always gossip mongers who are out there trying to get a story that digs up all the dirt they can find. Sometimes, they even get creative and make things up, but in most cases, they don't have to because there's usually a busybody who knows one or both of them who is willing to supply their solicited opinion on the matter. This is heartbreaking for Shawn and she's not happy about the ending of her marriage.
10. Shawn is a strong woman
Shawn is no babe in the woods when it comes to life. She's done her share of work in her lifetime. She has the inner strength to carry on even if she and Larry are not able to reconcile their differences. Our sincere hope is that both are able to move forward whether together or apart and have happy lives. We join Cannon in extending this wish.
Tell us what's wrong with this post? How could we improve it? :)
Let us improve this post!