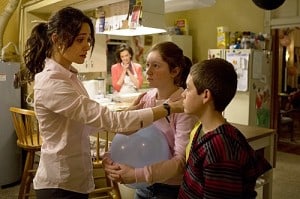 How much stability can a show like Shameless sustain? The entire premise of the Showtime dramedy is that the eldest member of a family of six kids has been tasked with raising her siblings, in lieu of their bi-polar mother and drunkard of a father being unfit to care for them. Along the way, they face financial and emotional difficulties that come with being a house full of either children or those who had to grow up far too early, resulting in a family that is willing to do whatever it takes in order to survive. But as the show ends its third season, the Gallagher family looks to be putting it all together for the first time, potentially outgrowing what Shameless was in the first episode and setting itself in a new direction for season four.
The third season of Shameless hasn't been perfect, but "Survival of the Fittest" continues an extremely strong run of episodes to close out the season and completes the task of giving every character, if not what they want, a fresh start while remaining compelling television. For instance, Sheila may have had to say goodbye to Jody, Karen, and Hymie in the name of her daughter seeking treatment for her condition, but her nest wasn't empty long, as she began selling sex toys rather than only using them in the bedroom. Ever since conquering her agoraphobia, Sheila's the type of person who can't be alone and has to have something to do with herself, so this will be a way for her to feel useful while keeping busy and her home full of people. More importantly, thanks to a gentle (but assertive) talk from Debbie, it'll be full of people her own age.
The finale did an impressive swerve when it seemed that next season would focus on Sheila trying to replace Karen with Debbie, thanks to how close they had grown following Karen's return. It'd make sense and keep Joan Cusack tied to the Gallaghers for another season, which is becoming increasingly harder to do, but it's the bolder move to show her being able to stand on her own. The Sheila of season one would have never thought she could do what the Sheila of season three has done and it's that kind of character growth that Shameless can do quite well that it managed to stuff the finale full of.
In another bit of subverting expectations, Veronica found out that her mother had gotten pregnant during the first encounter with Kev, knew she might be pregnant, and didn't say anything until after the ultrasound. On another show, this would have resulted in the severing of a relationship, Veronica holding it against Kev, and their baby being brought into a world of chaos, resentment, and hatred. However, Shameless manages to let the two women have it out, only to bring them together shortly after in the name of their bond and the future of the baby's relationship to the both of them. It's both a touching moment that shows just how powerful a mother-daughter relationship can be and a prime example of how the show can fuse genuine emotion like that with the most absurd of situations without losing the intent. Yes, Veronica's using her mother as a surrogate and had her screw Kev countless times, but in that increasingly complicated web lies a lot of important issues and valid feelings that the show has touched on throughout the season: familial responsibility, Veronica's insecurity about not being able to have a child, the boundaries of commitment and monogamy, and the importance that children (and the idea of) play in a marriage.
While babies were on the brain for some Shameless characters, the future was the focus for Lip and Ian, with the former getting his high school diploma (and an acceptance letter from MIT) and the latter hopping a bus for basic training two days after Mickey's wedding. Interestingly, their relationships with the Milkovich siblings also went in opposite ways, as Lip thanks Mandy for applying to colleges for him (even though he doesn't know if he's going) and Ian finally (finally!) allows himself to let Mickey go. Lip, especially, had a great episode; now that he's confronting an uncertain future, he has a very delicate line that has he to toe while he decides his fate. He could go to MIT and become the next great engineer, shaking up a field with his fearlessness and forward thinking, or he could become Frank Gallagher, Jr., wasting potential in the name of liquor, drugs, and good times.
It seemed like Lip would very easily veer toward the first option. Despite his fear of success and selling out, he'd be able to help his family out and show the people who had doubted him that he's more than just a kid from the slums. He's never liked Frank and there'd be no way for him to want to become just like his father. However, Frank taking the fall for Carl and pride in Lip's graduation softened the eldest Gallagher boy's feelings for his father up enough where they day drank and spent some time together. Frank getting involved with his children and actually being a father to them would be the best thing for the Gallaghers; Frank leading his children down the path that he went, all in the name of living life to the fullest, is the type of thing that would derail Lip's forward trajectory. It'd be darkly poetic if the Gallagher most vehemently opposed to Frank and with the most potential to becoming something in the world would turn out exactly like his father, a testament to how deeply entrenched addictive behaviors and broken psyches are in the Gallagher family.
However, it might be too dark even for this show. And that's saying something.
But it's Fiona's journey that has been the heart and soul of Shameless ever since it began; it's her journey that's made every too big, too broad, and too gross moment tolerable. All you want is for this woman who sacrificed everything for her siblings to find a sense of peace, a little bit of happiness in a world where her feelings are often at the bottom of list of priorities. Like the rest of the family, she doesn't get a perfectly happy ending, but she gets an ending where she could be happy, as she gets Kev to help her make a sale to land an open sales rep position and arrives at a sense of closure regarding what happened with Jimmy. Selling cups may not be the most fulfilling thing in the world, but right now, Fiona's only concern is having a steady income that won't require her family to hustle to make important payments. She doesn't have the leeway to explore her passions or to take a job more in line with what she wants to do, so as long as she has good benefits, a community of decent co-workers, and a way to get out of the house, it's not such a bad arrangement for her.
It's Emmy Rossum's work in the Jimmy storyline that deserves major commendation, though. I questioned the logic of dragging out his mob connections and keeping making the usually observant Fiona turn a willful blind eye toward her lover's different behavior, but last week's episode combined with last night's finale makes it all worth it. Although it'd be nice for Fiona to have a partner in her quest to raise and provide for the kids, Jimmy's fate gave the finale an unexpectedly tragic air; watching Rossum bringing Fiona from angry about not hearing from him to hopeful that things can be worked out to accepting of her role in driving him away and, later, that his absence would be permanent was a beautiful bit of subtlety in a show that leans so heavily on the extremes. Each person she talked to about Jimmy, each time that she left another message put another hole in her optimism, a trait that she doesn't bring out often due to the environment she was raised in. For her entire life, Fiona's hopes have been dashed – her hopes for a future away from Chicago, her hopes for a good relationship with her parents, her hopes for a peaceful life – and yet, going into the fourth season, despite all the darkness in her life, there's a little bit of hope that things will get better.
Additional thoughts and observations:
-"We used to date. Maybe we still do?"
-"I think I just insulted myself."
-"**** you. You never took me skating."
-"Gallaghers do not puke."
-"He said you were too good for him."
-I didn't mention Frank, but I think the level they had him on during the last couple episodes is how he needs to be going forth. Of course, they can't exactly have him sick or taking the fall for Carl every episode; he just needs to be balanced more between vulnerable vagrant and sociopath, because too often, they push him to extremes that hurts the show.
-Speaking of Frank and Carl, the scene where the boy shaves his dad's head was especially emotional, particularly when you saw that he didn't get the back fully.
-Count me in as someone who doesn't like Ian and Mickey together, so seeing Ian finally smarten up was especially nice to behold. His thing with Mickey is far too toxic and if he's going to do anything with his life, he's got to get away.
-Debbie will indeed get her braces, since Fiona's job has good dental benefits. Will we open season four with her already on the road to straight teeth?
-Kev's "fetus voice" was just the best. As was Frank complaining about there being no Showtime in his hospital room.
-Fiona's final message to Jimmy killed me. So good.