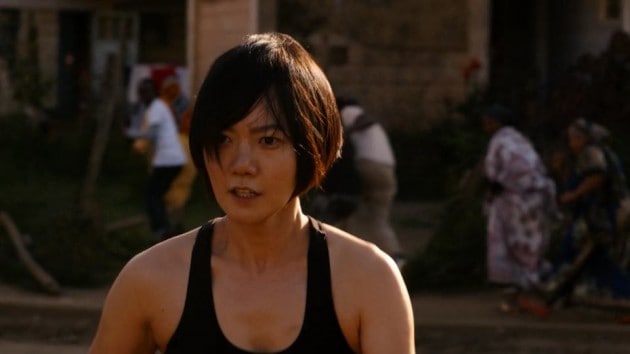 At times, Sense8's ability to effectively communicate its story can be frustrating; however, each episode has stood on such strong thematic foundations, it's difficult not to engage with the material, as obtuse as it may seem. Opening with a vision inside a flashback of Will watching a lobotomy, "Smart Money Is on the Skinny B**ch" certainly opens in this obscure vein; and yet again, "Smart Money" ends up impressing with its amazing ability to convey strong, complex emotional material through visual narrative.
Just like "I Am Also A We" meticulously examines the different components (and barriers) of human connection, "Smart Money" comes in with a distinct agenda; this is an hour for the underdogs, for those who appear weak or influenced to express their intestinal fortitude – strength that comes not just from Sun's mastery of martial arts, but in the growing connection between the eight sensates the show focuses on. The connection is emotional, rather than physical: sure, Capheus and Sun stand over a pile of broken, shocked bodies in the hypnotic climatic scene, but "Smart Money" is less about the conflicts it presents and more about the characters and their reactions to them. Stimulated by images – Riley seeing a man playing piano and thinking of her father, Capheus being robbed of his mother's AIDS medication, Sun ignoring the phone calls of her employer (or father?) – these stories connect to the personal journeys of these characters in quiet, haunting fashion, giving depth to the personal chasms in their lives and how a lost connection in their life has come to define them (or in Capheus's case, a connection he's desperately trying to cling onto, at whatever cost).
"Smart Money" swirls around these stories, refusing to slip into the traditional, satisfying arcs of disillusioned children; instead, the episode uses its final ten minutes to make the opposite argument, to dazzling effect. As Sun gets into the underground MMA ring to work out some frustrations, Capheus takes his Van Damn bus (along with the help of an angry widow) and hunts down the men who just robbed him; and when Capheus falls to the blows of his attacker, Sun steps in and lends a helping hand, Capheus channeling her knowledge and power to beat the crap out of the men around him. This may end up bringing him more trouble than good, of course, but the moment is the most powerful one Sense8 has offered us yet, again bringing great definition to the internal journey these two are on, looking to others to support them through a difficult time in their life (Capheus also employs the help of Jela, loyal friend and expert negotiator, to help procure drugs for his mother that aren't watered down).
How Sense8 expresses these connections between characters is the bedrock of the series; watching Sun and Will open their respective red folders to the past, or Kala going to a presentation about fake medicine we learn Capheus has been receiving, continues to build bridges between characters in evocative ways. It allows Sense8 to express its philosophies quietly, without dragging viewers into preachy, audience-pandering exposition; we may not understand how these eight came to be connected, but the material of the first three episodes has gone a long way to express why these particular people came together, a classic study of the butterfly effect filtered through the lens of an ambitious science fiction series.
"Smart Money" also hints a little more towards the overarching story, with Will's visions of a lobotomy matching up neatly with the frightening world Nomi is living in right now, awaiting a brain surgery that's only delayed when her girlfriend burns down the visitor's room (something Sense8 feels the need to explain through a flashback, the only time this show hasn't trusted the intelligence of its audience). Jonas is also in custody, presumably about to be tortured to give up whatever information the governments of the world think he's hiding; and yet, as Sense8 drops these developments into our laps, it seems to remain almost unconcerned with these things, outside of the emotional tenor each moment adds to the aura of "Smart Money," giving voice to the words that Sun refuses to speak in stunning fashion.
Does this mean Sense8 can't descend into frustrating insanity at any given moment, like some of the Wachowskis' previous projects? Of course not; part of the beauty and the beast of the Wachowskis' alliterative, all-out approach to storytelling is that there's no halfway. Like the visuals of Speed Racer or the savior allegories of The Matrix, the Wachwoski siblings are steadfastly dedicated to their emotional and literal priorities; and this doesn't always lead to clear-headed, engrossing television like "Smart Money is on the Skinny B**ch." Yet when they do – as most of the first three episodes have – they are able to access powerful truths about the human experience, quickly establishing Sense8 as one of the most thought-provoking shows on television (and something I can't wait to see more of).
[Photo via Netflix]