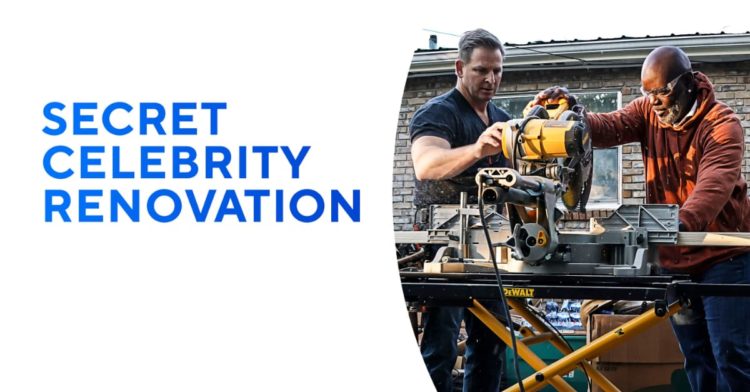 Celebrities often have a reputation for being out of touch with what's going on in the lives of 'regular' people. However, CBS' new series Secret Celebrity Renovation is proof that they aren't always as disconnected as they seem. During each episode of the show, a celebrity will help complete a home renovation project for someone who has had a major impact on their life. In some cases, this person will be a family member; in others, it'll be a teacher or mentor. Not only will the show have all of the elements of a great home design show, but it'll also tap into the emotional aspect of doing something nice for someone you care about. Keep reading to learn 10 things you didn't know about Secret Celebrity Renovation.
1. The Show Will Feature Some Big Names
Let's be real, usually when a show features the word 'celebrity' the celebrities on the show are people who aren't really all that famous. Fortunately, that won't be the case with Secret Celebrity Renovation. The series will have some very well-known guests including Wayne Brady and Chris Paul.
2. Nischelle Turner Isn't Just The Host
Every great renovation show needs a host who is likable and entertaining, and Secret Celebrity Renovation has hit the jackpot in that department. Nischelle Turner from Entertainment Tonight is the show's host and she brings something very special to each episode. Nischelle is also a producer on the show which marks her first time in that role.
3. Show Extras Are Available On The CBS Website
These days, fans expect more from a TV show than just episodes. The internet has made it possible for producers to come up with all sorts of companion content, and it's become the norm over the last several years. Viewers will be happy to know that they can visit the CBS website to find clips from the show.
4. Viewers Get An Intimate Look At The Celebrities' Roots
Everybody has to start somewhere, and for these celebrities, their journeys started with the people whose homes their renovating. Thanks to Secret Celebrity Renovation, fans will be able to learn more about the backstories of the people who are featured on the show. Nischelle Turner told CBS, "You're getting them with their origin story in their hometowns…We're really getting to see them in spaces and meet people that we've never met before and really tell their stories of how they became the people that we love."
5. There's A Similar On HGTV
If the concept of Secret Celebrity Renovation sounds familiar to you, that's because there's a show that's almost identical on HGTV. Celebrity IOU, which also debuted in 2021, is essentially the same show but on a different network. Some may see this as redundant, but on the bright side, if you enjoy these kinds of shows you have double the amount of content to enjoy.
6. There's A Wide Variety Of Celebrities
One thing that's really cool about Secret Celebrity Renovation is the fact that the show doesn't just focus on one kind of celebrity. This means that it can appeal to a variety of viewers. Actors, musicians, and athletes will get the chance to surprise their loved ones with a special renovation project.
7. It's Unclear Who Pays For The Renovations
Anyone who has ever tried to do a home renovation project knows that it isn't cheap. Needless to say, a pretty penny definitely goes into doing the projects we see on the show. We weren't able to find any information on who pays for the home projects. This information will likely become available once the show has been on the air for a little longer.
8. Jason Cameron Helps With The Projects
Since none of the celebrities on the show are contractors, CBS has enlisted one of the best in the business to help. Jason Cameron, who has worked on several other home design shows, will assist in all of the renovation projects. His expertise will definitely be a nice addition to the show.
9. The Show Doesn't Have Its Own Social Media Profiles
Unfortunately for the people who like to follow shows on social media, that won't be an option with this one. As of now, Secret Celebrity Renovation doesn't have any verified social media accounts. If the show sticks around for several seasons, this could be something that gets added in the future.
10. The Show Features Some Cool Design Ideas
Sure, Secret Celebrity Renovation is going to tug on your heartstrings and show you a different side of some of your favorite stars, but it might also give you some great renovation ideas. You may find yourself feeling inspired to make some changes to your own living space after watching the show.
Tell us what's wrong with this post? How could we improve it? :)
Let us improve this post!