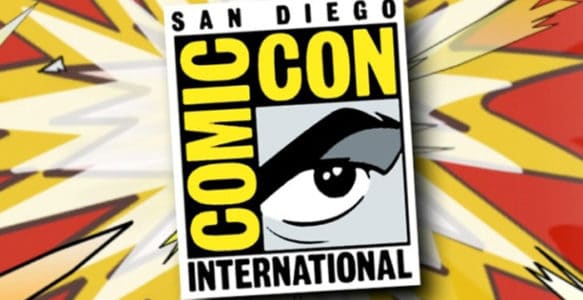 The San Diego International Comicon published the official schedule on its official website over the last couple of days. It doesn't look like anything we previously reported as happening has been cancelled. We do however have some additional TV and film panels to report.
TV.
HBO's Game of Thrones will have a panel featuring producers and cast to discuss what's possibly coming up in the next season.
Syfy is hosting another Battlestar Galactica reunion with creator Ronald D. Moore and cast members. It was such a raving success in Austin, Texas (and this writer was there), they're bringing it to SDCC!
Twin Peaks! SHOTIME! We don't know if David Lynch or Kyle MacLaughlan will be there. Organizers haven't said who is expected, but come one people it's the original show that fans obsessed over!
ScreenJunkies! All your favorite geeks from Screen Junkies: Hal Rudnick, Nick Mundy and the rest of the gang who bring you Honest Trailers and MovieFights will be there.
Once Upon a Time. Producers and cast will have plenty to discuss with both leads in this woman-driven show electing not to return.
Westworld cast panel including all the series stars will discuss where things wrapped up at the end of the last season and where the producers would possibly like to take things next season.
MST3K on Netflix. Mystery Science Theatre 3000 flies again! You loved the revival so much, Netflix is bringing it back as a show!
The X-Files: a panel with David Duchovny looks like it's more about the audiobooks than the next season of the TV show. As of now, Neither Chris Carter, Gillian Anderson, nor any of the announced producers, writers or directors will be there. Mr Duchovny is the only name associated with the panel identifiable from the show. Should still be interesting, and more talent may be added.
The Last Ship. Stars Eric Dane, Adam Baldwin, Bridget Regan, and showrunner Steven Kane are expected to be on hand to providing an exclusive sneak preview of what's yet to come this season.
Film.
Starship Troopers: Traitor of Mars writer Ed Neumeier (who wrote the original as well the first two RoboCop films) with voice talent Casper Van Dien as well as producer and director will be on hand to discuss this computer animated true sequel to the events of Paul Verhovan's classic film.
War for the Planet of the Apes panel will discuss effects and creating the epic battle scenes.
Kingsman 2
will be discussed at a 20th Century Fox studio panel, according to
Deadline
.
Warner Bros will present panelists to discuss: Ready Player One, Blade Runner 2049 and Justice League.
Ready Player One: Director Steven Spielberg along with author/co-screenwriter Ernest Cline, co-screenwriter Zak Penn and cast Tye Sheridan, Olivia Cooke and T.J. Miller.
Blade Runner 2049: Cast Ryan Gosling, Harrison Ford, Ana de Armas, Sylvia Hoeks, Robin Wright, Lennie James and Mackenzie Davis joined by writers Hampton Fancher and Michael Green and director Denis Villeneuve.
Justice League: Cast Ben Affleck, Gal Gadot, Jason Momoa, Ezra Miller and Ray Fisher; sneak peek at Aquaman expected. We know why Joss Whedon won't be there, but where's Henry Cavill?
Marvel Cinematic Universe: We know the MCU will be there, but who will be there discussing which films…still not released.
Stay tuned to TVoverMind for continued coverage of SDCC 2017.
Save