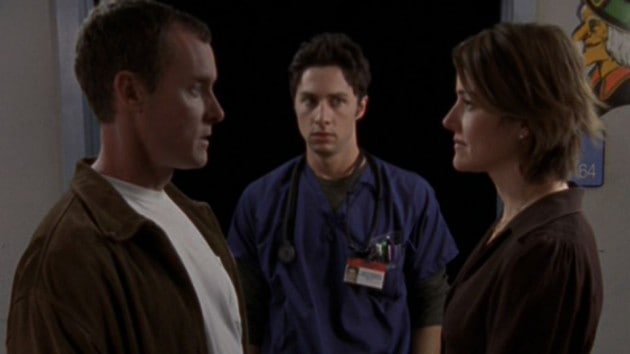 Inevitability is something doctors deal with every day; as Cox stated in Scrubs' first hour, all doctors are doing is trying to keep the game going with patients, fighting off a truth none of us can deny is coming. "My Bad" does the same thing, except with the personal lives of the doctors and nurses of Sacred Heart: Carla and her mother, J.D. with his new "secret," and Elliot, breaking down in front of a patient (with a wired jaw) who turns out to be a psychiatrist. There are certain moments in life we cannot halt; as "My Bad" points out, the only thing we can do is prepare for the inevitable fallout, and move on with our lives.
"My Bad" is really a study of two halves, the rise and the fall of our main characters during a long day at Sacred Heart. At first, the conflicts of the episode seem pretty perfunctory; Turk's dealing with Carla's overprotective, religious mother, and J.D. is trying to win back the favor of Dr. Cox, himself fighting the suspension Kelso laid on him after the climatic moments of "My Two Dads." As Scrubs is prone to do, the deeper philosophic ideals explored in the episode are subtly tucked underneath a veneer of cutaway gags (like Cox breathing fire on J.D.) and wonderfully written dialogue in Gabrielle Allan's script; at its heart, this episode is about coping mechanisms, and how we protect ourselves from the deeper, more damaging feelings we're unwilling to access.
J.D.'s constant need to be accepted or affirmed is an easy one to pick out, being the focal point of early episodes; but this spreads to other characters in "My Bad," to equally effective results. There are many examples, but the best is when Turk and Elliot have a rare heart to heart, Turk admitting to Elliot that he needed therapy to get through high school and college, struggling under the pressure of trying to make something out of his life. To cope, Turk makes jokes and pretends to act cool; it makes a nice connection to the behavior we've seen Elliot exhibit, and gives Turk some unexplored depth we hadn't seen in previous episodes (as well as his romantic side, singing "Me and Miss Jones" to Carla upon request). More superficially, it's a scene between two characters who haven't spent a lot of time together, further adding to the complex web of human connection that would come to define the genuine heart at the center of Scrubs – either way you want to view it, it's a strong scene that begins to lay the thematic foundation of the episode in a unique way.
The story itself is pretty simple: Jordan sleeps with J.D., setting the clock for J.D. and Dr. Cox to have their first real conflict (it would be awhile before it cashed in this card, but they do), adding to that aura of inevitability that defines the dramatic thrust of the episode. Cox is going to find out what happens, and there isn't anything J.D. can do to prevent that; in its own weird ways, it ties in nicely with Turk's frustrations with Carla's mother always being around, and Elliot's growing inability to cope with her stressful intern life. Every main character in this episode comes face to face with a major conflict they are going to have to deal with; and that knowledge is what turns their smiles in the cafeteria line into anxious wrinkles by the end of the episode. Be it Carla's mother, Jordan's mouth, or Elliot's emotions, there are a number of traps set to spring later this season in "My Bad" – and how effectively Scrubs is able to make these machinations feel natural in the process is a pretty impressive feat.
It's almost too subtle in places, particularly for a show this young; but anyone familiar with the entirety of the first season can see how this episode pays off later, be it little things like Kelso vs. Jordan, or larger issues like Carla and Turk's growing relationship, or J.D.'s position as Cox's reluctant protege. But for the moment, Cox's victory in the board meeting is enough – that alone sends Kelso off percolating over his loss, which gives the end of the episode a satisfying bang (Jordan's little wave to J.D. also adds to this), Cox's victory further undercut (or enhanced, depending on how you want to read it) by Jordan holding the deciding vote. Kelso's "See you in hell" to them both is less of a period sentence of some of the show's central conflicts, rather than a very brief comma, and it's that unsatisfying ending that ultimately sells the conceit of destiny here: none of these conflicts blew up in character's faces… this time. Their moments are all coming; "My Bad" revels in that, and is all the better an episode for it, a fine example of the subtle ideology that made Scrubs so heartwarming and heartbreaking – often at the same time.
Other thoughts/observations:
– "Did he call for a nurse? It looks like his eyes are screaming."
– The whip pan returns with a vengeance – but his life is slowly coming to an end. They already feel out of place with the rest of the show.
– Ted is back in a big way! His increasing presence throughout the first season is still a delight to watch.
– J.D.: "The answer is Jordan." Cox: "What are things that ruined my life? What are things that took half my money? What are things that have sharp edges?"
– Cox can't help but admit Jordan's affect on him: "She was never boring." Watching him openly regret their failed relationship is one of Cox's most empathetic moments, and John C. McGinley smartly never, ever plays up the moment, even though it's served to him on a silver platter. Masterful acting.
– All Neil Flynn has to do is say "You putz" and I'm laughing hysterically.
– Sadly, there were no high fives in this episode.
[Photo via NBC]