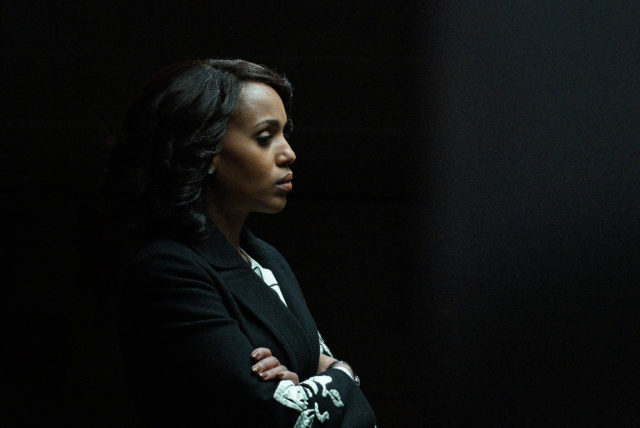 Two hour season finale recap. Let's go.
The episode opens with Fitz, David, Liv, and more watching as Jake and the Secret Service try to apprehend Maya. But of course, she's not there. That would be too easy. However, they do find Maya's plans along Mellie's inauguration route. She's her target. Liv tells Mellie not to panic. They can hold her swearing in ceremony in a private location. They can keep her safe. Meanwhile, as the new head of OPA, Quinn is officially in charge of this case. She's adapting well. Elsewhere, Jake manages to capture Maya in a hotel room. Crisis diverted, right? Locked up, she delivers a speech into a one-way mirror, knowing who is listening on the other side.
Liv goes to update Quinn on the case. She believes Maya would have hired someone else to kill Mellie. Find them. As Maya continues to talk, Rowan enters the room. They argue about Liv. Who was supposed to protect her? Whose responsibility was it? Like parents, they argue. However, they also connect and find common ground.
Quinn asks Abby about what she knows. She asks about the bank accounts. Abby is sorry for the mess she caused. She wants to help. Reluctantly, Quinn agrees. Later, Liv goes to visit Rowan. He's thoughtful. He wants to spend more time with Maya.
Meanwhile, Mellie and Fitz have their own moment. She wants his advice. What would he do? This is the moment she has dreamed of but it's not like the way she imagined it. Should she just be sworn in behind closed doors? But she also deserves her moment. Fitz reminds her he knows what it's like to get shot. But ultimately, it is her decision.
At OPA, there is a continued discussion about how much Quinn has changed the place. This leads to the realization that people are who they are. They don't change. Maya is the assassin. Liv goes to visit her and demands to know what her plan was. She's trying to help. Maya has 30 seconds to explain. After 30 seconds, Liv chokes her, and Jake has to pull her off. She's livid.
Liv goes to visit Mellie and apologizes. Mellie reminds her of how great this moment actually is. This is a big step. For her, for women, for Liv. Inspired, Liv let's Maya go, telling her that they have put a chip in her. If she comes anywhere near them, Liv will have her killed. Back at OPA, Quinn reveals to Abby that she is pregnant. But things will get even crazier. After finding out that Maya was released, Rowan demands Fitz reinstate B613. He also wants him to run it.
Later that night, whilst Liv and Fitz are in bed, Maya is found in a bar. She hands cash to a man, and after agents stop him, they find out Maya has cut out her chip.
Inauguration Day. It's finally here. Everyone is in their places, including Maya. She knocks out a guard and steals his gun. When she runs into Liv, she tells her that Mellie isn't her target. However, as Mellie is sworn in, Rowan shoots her. Maya reveals she was going to shoot whoever wanted Mellie dead.
Back at OPA, Quinn asks Abby to come over. She wants her to take over OPA. She wants to be a good parent. A normal parent. Fitz also reveals to Liv that he is going to run B613. Liv is hurt. Why? Because she can't be with him if he runs the organization that ruined her life. So, Fitz and Liv say goodbye. He turns around and heads towards the helicopter waiting for him. On his way there, Liv yells and stops him. She runs over and kisses him in front of all the reporters. Afterwards, Fitz gets on the helicopter and leaves Washington. He is no longer the President.
Elsewhere, OPA goes through all the footage from Frankie's speech. As they watch, they figure out that Luna was the one who ordered the hit. However, when Liv goes to talk to her, Luna reminds her that there is nothing else she can do. Now that she is sworn in, anything that happens will reflect on Mellie's presidency. This can't be how it starts.
Abby shows up at OPA once again. She tells Quinn to hire her, but not so that she can replace her. She wants to help. Together, they can make sure the baby will get raised right. So, Quinn does and tells Charlie about the pregnancy. He's ecstatic.
It's time for the Inauguration Ball. Cyrus is Mellie's date, whilst Jake is Liv's. They approach Luna and tell her to kill herself. She explains that all she wanted to do was create change. She wanted a bigger role, other than First Lady. Luna was trying to do the right thing. But, with Jake threatening to kill her, she takes some pills and kills herself. Later, Liv goes into Mellie's office and has her refund B613. However, Fitz won't be running it. She will.
Liv goes to find Cyrus by the Lincoln Memorial. It's like old times. She tells him to stay in town. She wants to nominate him as Vice President.
And so, season 6 of Scandal is over. With only one more to go, we look forward to seeing how this will all tie together.
Save
Tell us what's wrong with this post? How could we improve it? :)
Let us improve this post!