Episode 100 of Scandal. The highly anticipated, highly talked about, alternate reality episode. So did it live up to your expectations? The episode opens with the sneak peek we got earlier today. Jake wants to let Mellie stay in the White House and move past this. Fitz want to fight them. As he leaves, Jake tells her "I guarantee that Fitz's life would be a million times worse if you hadn't rigged that election. Yours too."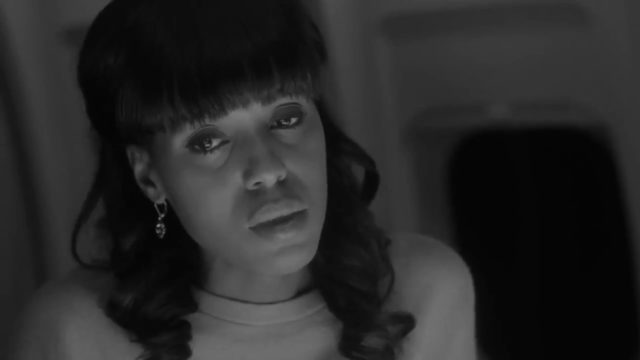 Flashback to the night they decided to rig the election. This time, Olivia says no. Fitz loses the election. As Liv tries to leave, Fitz catches up to her. He doesn't blame her. The people chose. Olivia tells her she's going to help Marcus Walker try and get a criminal justice bill passed. Fitz wishes her good luck. She leaves.
Two months later. Liv is helping Marcus Walker. Her office is modest, small, cheap. She also went on a date with Leo Bergen. That night, Fitz shows up at Olivia's apartment, telling her he left Mellie. Olivia tries to leave. Fitz tells her he came out from California to marry her. "Marry me Olivia Pope." She doesn't respond. The elevator door closes. When it opens, she happily jumps into his arms.
Outside the church where Fitz and Olivia are getting married, James and Cyrus argue about their relationship. Yes, James is alive. And Cyrus is back to keeping their relationship a secret. Angry, James walks off. Cyrus notices Mellie. He takes her to his office to get her a drink. Cyrus comforts her by telling her everything she needs to hear. Mellie kisses him.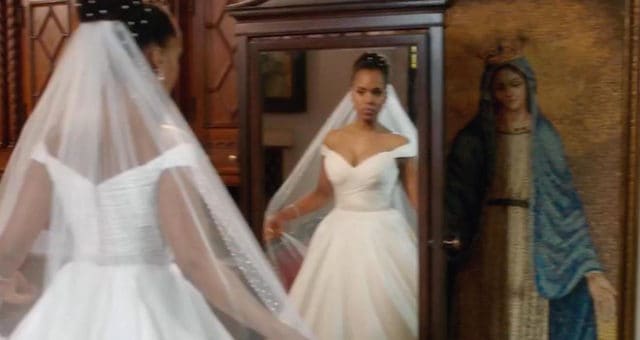 Huck walks Olivia down the aisle to the sound of Aretha Franklin. In a scene that will probably be analyzed by avid Liv and Fitz fans, they say their vows and get married. Amidst all this, Rowan leaves.
One year later, Fitz is trying to get Liv to buy a better place together. She, meanwhile, is working for the Advocates for Youth Justice. They're trying to get more bills passed, but David tells her they won't be able to, not when they're so small. "Do you have any friends in the White House?" Meanwhile, its 4pm and the TV gets turned on. It's The Grant Report. Surprised?
Elsewhere, Cyrus and Mellie are married. He thinks she should run for President. Over dinner, Fitz reveals to Jake that Liv used to look at him differently, back when there was a chance he could be President. Will he run again? Meanwhile, Huck, David, and Abby go to Liv's house to watch The Bachelor. Quinn aka Lindsey D. is a contestant. Huck is rooting for her. Abby asks Liv if Fitz is running for President again. The next day, Olivia visits the original OPA office. She rents it. Back in Cyrus and Mellie's home, James becomes the reporter writing an article about Mellie.
At the interview, after sending Mellie upstairs Cyrus reveals to James that he married Mellie for the White House. "I want one more shot." From above, Mellie overhears. In the White House, Olivia and Marcus get an appointment with the President. They wait for 4 hours, before finding out the meeting was a mistake. "Have you tried reaching out to your congressman?" is the response they get.
Back home, Liv and Fitz argue about Mellie. She's not happy with who he has become. "You used to be a big dog" she tells him. Fitz accuses Liv of sleeping with Marcus Walker. Liv calls him pathetic. She reveals she could have fixed the election. That's the only way he could have been President. Fitz tells her she should have done it.
Five months later. Fitz and Olivia no longer make out in bed. They sleep facing away from each other. Cyrus shows evidence to Mellie that Daniel Douglas (Sally's husband) is gay. How did he get it? Rowan, except he is Mr. Damascus Bainbridge once again. If they release the pictures, Mellie will get the Republican nomination for sure. Mellie won't. She reveals she knows about Cyrus' secret.
Elsewhere, The Grant Report's ratings are falling. He has resorted to booking non-political guests. Who's his next one? Quinn. After the interview, Grant is drinking once again when Quinn finds him in his dressing room. They start making out. As they do so, Fitz continues to drink and sees himself in the mirror. He is becoming his dad. He kicks her out.
Cyrus leaks the photos of Daniel Douglas. Like it or not, Cyrus and Mellie are in this together. And Rowan is involved too. Cyrus tells Mellie that she knew about who Cyrus was all along. How could she not?
At the new OPA office, Huck informs Liv that Mellie has come to visit. Mellie apologizes. Liv was right about Defiance. It would've destroyed Fitz. She feels like she helped rig her own election, and now she is trapped.
That night, Fitz comes home. He tells Liv he didn't want the election bad enough. That is why he lost. Fitz tells her he thinks Liv made the right choice. She gave him freedom. And even though he still has a lot to figure out about himself, he loves her. Liv walks up to Fitz and hands him some papers. In it are photographs of a townhouse in Georgetown. It will finally be theirs.
Back to reality. Liv runs out the Oval. She finds Fitz on the balcony. She's in.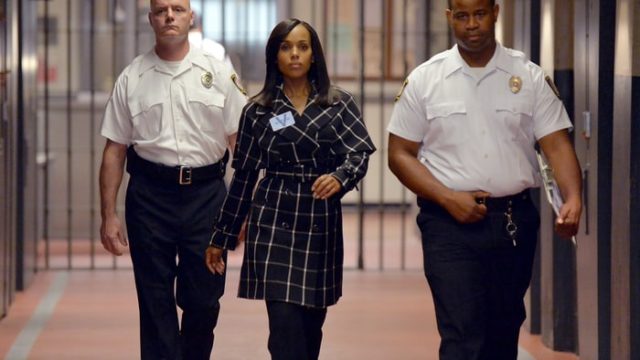 What did you think of this alternate reality? There were elements that we all knew would happen, like Olivia wishing Fitz had more power. She is a fixer in Washington in the real world after all. I did not expect Mellie and Cyrus to be married, but in a way it makes sense. He's always been hungry for the White House, and would go to extreme lengths to get there. But the biggest twist in the whole episode? Quinn being on The Bachelor. I did love how normal it was though, the idea that Abby, Huck, and David would come over and watch The Bachelor TV. In that world, Olivia Pope isn't badass, powerful Olivia Pope. She's just a normal human being like everyone else.