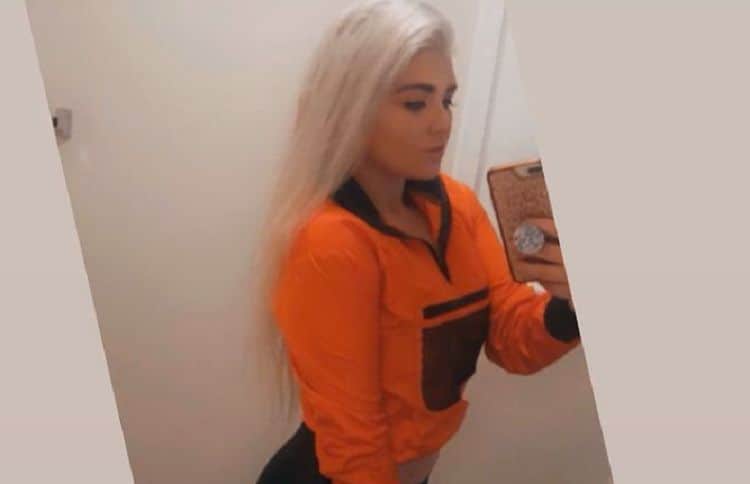 Letting go of a relationship is never easy, and this is something Sarah Simmons knows first-hand after several attempts to leave her husband and the father of her children, Michael Simmons. The couple's relationship has been heavily documented on the WE TV show's Love After Lockup and Life After Lockup. From the moment Sarah made her first reality TV appearance, it was clear that she and Michael had some very serious issues. Not only was Michael cheating on her, but it wasn't the first time and it certainly wouldn't be the last. Despite the issues they've faced, Sarah has always been willing to give Michael another chance. Keep reading to learn 10 things you didn't know about Sarah Simmons.
1. She Met Michael As A Teenager
Sarah and Michael's love story started long before the WE TV cameras came around. The two actually met while they were teenagers although the exact circumstances are a little fuzzy. They had their first child before Michael's first prison sentence and they eventually got married while he was incarcerated.
2. She's Had A Very Impressive Weight Loss Journey
People who have been watching Sarah on TV since the beginning may have noticed that she looks drastically different than she did in the beginning. Since her first season on the show she dropped about 80 pounds. She didn't share the secret to her weight loss but it was likely a combination of dieting and exercise.
3. Her Boyfriend Malcolm May Have Been An Actor
During her most recent appearance on Life After Lockup, lots of viewers were excited by the fact that Sarah was in a new and seemingly happy relationship. All of that changed once Michael started coming around, however. A big portion of her storyline focused on whether or not she was going to stay with her new boyfriend, Malcolm, or go running back to Michael. As the plot began to unfold, many people couldn't help but think that Malcolm was actually just a paid actor hired to beef up Sarah's story. While there's no concrete proof that he was hired for the show, the fact that he has a profile on Casting 360 does prove that he has always been interested in getting into the entertainment industry.
4. She's A Brand Ambassador
Now that Sarah is a reality TV star, she also has a large social media following. Thanks to her engaged fan base, she has gotten the opportunity to team up with companies to help advertise their products. She is currently a brand ambassador for Teami Blends and Flat Tummy Co.
5. She Is Single
During this season of Life After Lockup, Sarah and Michael looked like they might actually have a chance to work things out. By the end final credits, however, it was revealed that Michael had gotten back together with his ex, Maria. Based on her Instagram bio, Sarah is still single and it'll likely be some time before she gets back into a relationship.
6. Her Mother Passed Away
Even though most of us know an awful lot about Sarah's romantic relationships, information on other aspects of her personal life aren't so readily available. An Instagram post on Mother's Day in 2019 revealed that Sarah's mom had passed away although it did not provide any information on when she did.
7. WE TV Is Her First Time Being On TV
Sarah probably would've never guessed that she would eventually become a reality TV star whose story has been featured for several seasons. As far as we can tell, Love/Life After Lockup are Sarah's only TV credits and there's nothing to indicate that she has attempted to be on any other shows in the past.
8. She Doesn't Let Her Kids Watch The Show
Sarah's kids have gotten a significant amount of air time on the show, but they aren't quite old enough to realize what's going on. During an interview with The SDR Show, Sarah revealed that she doesn't really let her daughters watch the show with the exception of innocent scenes that show the girls playing or enjoying time with their parents.
9. She Doesn't Let The Haters Get To Her
Sharing personal things with the public is never easy. While there will be lots of people who want to be supportive, there will also be a lot of people who have nothing but negative things to say. During her time in the spotlight Sarah has had to deal with more than her fair share of cruel comments, but she refuses to let them bring her down.
10. She's Focused On The Future
Things in Sarah's life haven't always worked out the way she'd like, but she has no plans to keep dwelling on the past. She is focused on her future and doing everything she needs to do to give herself and her children a better life. This likely means that she is also done with Michael – at least for now.