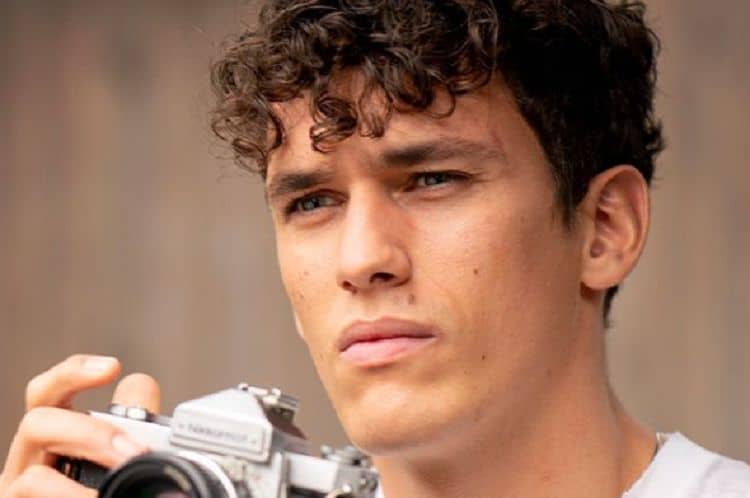 Sam Vartholomeos has only been acting professionally for a few years, but he's already ready to take the world by storm. The talented young actor has recently gotten a major break with his casting in the new Epix series Bridge and Tunnel in which he plays a character named Jimmy Farrell. The show, which takes place in the 1980s, is about a friend group of recent college graduates who are looking to establish themselves in the world while still dealing with the every day stresses of life. Even if it's been years since you graduated from college, you might still find yourself connecting with Jimmy and the rest of the characters. Here are 10 things you didn't know about Sam Vartholomeos.
1. He Is A Queens Native
Sam is a New York native who was born and raised in Queens although he's family's roots (at least on his father's side) are in Greece. Sam is the youngest of three and the only person in his family to pursue a career in the arts. During an interview with Startrek.com he shared that his sister is a teacher and his brother is a police officer and lawyer.
2. He Likes To Take Pictures In Real Life
Unlike his character in Bridge and Tunnel, Sam may not think of himself as a photographer, but based on his Instagram it does appear that he enjoys taking pictures. While traveling or on other various adventures, Sam loves to get his camera out and capture the moments.
3. He Has Theater Experience
Sam's on screen resume only has five acting credits, but that doesn't mean those are the only acting experiences he's had. He has also done some work in theater. Although the stage will always be a very special place to him, it appears that he's focusing more on his TV career at the moment.
4. He Loves A Good Adrenaline Rush
Sam is the type of person who is never afraid of stepping outside of his comfort zone and trying something new. He's always down for an exciting experience that gets his blood pumping. He loves a variety of adrenaline inducing activities and in September of 2020 he went sky diving.
5. He Is A Dog Person
Most people would agree that you can tell a lot about someone based on whether they prefer dogs or cats. For anyone out there who was wondering, Sam is a very proud dog person. He had a beloved German shepherd named Achilles (Aki) for short who passed away in 2019.
6. He Studied Psychology
Although Sam has always been drawn to the arts, he decided to study something else during his time in college. He attended City College of New York where he earned bachelor's degree in psychology and philosophy. These fields may not seem related to acting, but having a good understanding of both of these areas can definitely help when it comes to getting into character.
7. He Loves Working With Ed Burns
Ed Burns is a legendary actor, direct, writer, and producer and Sam was excited to get the chance to work alongside him. While talking to Pop Culturalist about his experience working with Burns Sam said, "It's incredible to watch this man work…He did each job so well."
8. He Was In An Episode Of Law & Order: SVU
Every actor dreams of getting the chance to be a part of a popular series. Sam is thankful to have gotten that chance so early in his career. In 2018, he appeared in an episode of the long running police series Law & Order: SVU. His role may have just been a one time thing, but it was an awesome opportunity.
9. He Is Family Oriented
So far Sam seems to be a pretty private person, but one thing that is clear about him is that family is at the top of his priority list. He has close relationships with his family members and they have been a strong support system for him throughout his career. His schedule may not allow for much free time these days, but when he goes get a break he enjoys spending time with his loved ones.
10. He Is A Producer
Currently, almost all of Sam's experience in the entertainment industry has been in front of the camera but that might not be the case for his entire career. In 2018 he earned his first producer's credit for a TV program called Night of the Pawn. There's a good chance that we might see Sam do some more behind the scenes work in the years to come.
Tell us what's wrong with this post? How could we improve it? :)
Let us improve this post!