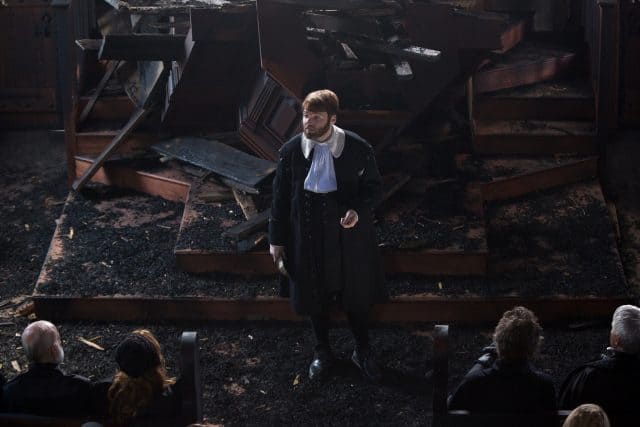 We can't exactly thank goodness for Mary's return from the dead since goodness had nothing to do with it. The Essex witches have decided to fight back against their new captor by resurrecting the only weapon which can be used against him: his flesh of a mother. Alive again, Mary returns to Salem with the intention of destroying the devil before he can hurt anyone else. This takes a special kind of double-talk that Mary is quite familiar with, and it seems the town residents have picked up a thing or two from their former first lady. Lies and deceptions rule Salem, especially within the relationships you think you can trust.
Mary isn't all that grateful to have been resurrected since it comes with a catch. Mary can never leave Salem. Her resistance stops when Tituba shows her that John will lay among the dead unless Mary acts. She truly is the only one who can stop the devil because she technically grew him inside her. Before Mary can begin her new task, she gathers strength from a reunion with John, who wasn't doing all that well after learning Mary deliberately died to save him. One romantic night together, and she's gone, leaving Tituba to explain to John their respective tasks. While Mary tries to destroy the devil from the inside, John must prepare the militia on the outside for the war ahead. John isn't just an experienced warrior, he's one of the few who knows exactly what's coming.
Isaac's life really has turned around. No longer reviled by the town, he is extremely busy fighting mysteries and wars on all fronts. He comes upon Mercy's latest victim, the pimp whose bones she broke from the inside out. And there's Marilyn Manson performing the autopsy! Isaac may have the ear of the town but Magistrate Hawthorne only listens insofar as it serves himself. He's much more interested in doing business with the new owner of the brothel than in the death of some pimp. Hawthorne strikes a lucrative deal with Mercy for 50% of the brothel. He's just a little too trusting. Mercy poisons Hawthorne, making her intentions for total dominion over him very clear.
Cotton has no good options in front of him. He's stuck in a marriage from hell with a wife who won't allow him to kill himself, or even drink himself numb. His only option to not be put through even more living pain is to serve the devil alongside his wife. Cotton is called to reassure the people of Salem so that they don't see the devil coming. Sometimes we do what we have to do to survive, and to fight back. He goes through with his sermon to butter up the town and the devil, then follows up by convincing Anne her love was his motivation. Not to worry, he has a plan up his sleeve, even if he can't tell John exactly what it is. John is less inclined to take up his role leading the militia, preferring to wallow in his drink. Then again there's only so much a man like John Alden can drink before he starts hating himself for feeling useless. Training of the militia commences. The most hopeful young recruit is the only one to bring John to his knees, but she has secrets of her own to hide; well, really only the 'she' secret.
Mary's job would be made a whole lot simpler if she didn't have the devil's brother looking over her shoulder. She has to watch herself from all sides, even from a mysterious door that has suddenly appeared in her former home. Keep an eye on that. Initially her son is thrilled to see her, and to Mary's credit she puts on a convincing performance of a mother's unconditional love. Sebastian looks like a disgustingly happy puppy looking at a sprawling meadow for the first time. The man who claims to be an extension of the devil is not pleased to see Mary, and takes great pleasure in interrogating her for hours with vile insects as torture devices. He sees within Mary's soul so she cannot hide her true intentions, ultimately trapping Mary into enacting her murderous plans. Now the devil has the upper hand.
How will Mary lie her way out of this one?
Salem Season 3 Episode 2 Review: "The Heart Is A Devil"
Summary
Mary returns to Salem to rid this world of the devil, but she's not the only one with a hidden intent.