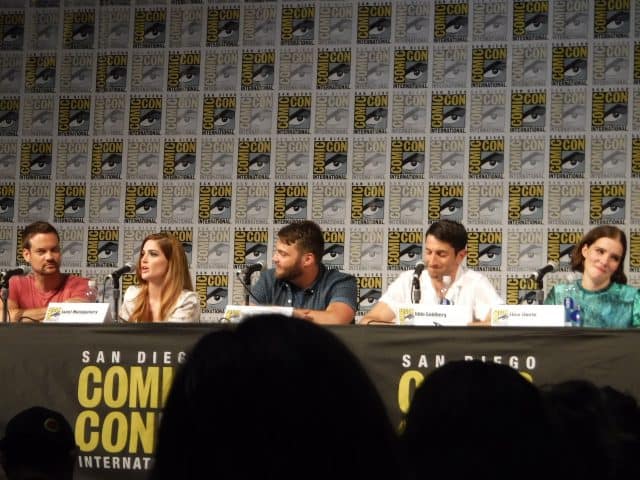 "Everything in Salem Has Gone to Hell" is the tagline for Salem's third season when it premieres tonight on WGN. A truer tagline has never been more apt. Take it figuratively, and literally. For two seasons the people of Salem have contended with witches, demons, and their own inner demonic nature. It's all been in the name of keeping the true monster at bay, and in the Season 2 finale, everyone failed. The devil has come to Salem, and he's vowed to stay. We talked with the series stars as well as Executive Producers Brannon Braga and Adam Simon this summer about the positions the Salemites will find themselves in when Season 3 returns, what threats to expect besides the devil, and the big plan to exorcise him which will bring everyone together like never before.
Season 3 picks up directly after the events of the Season 2 finale. The Mathers had a marriage made in hell, the devil broke his promise to all his loyal witches, and Mary Sibley gave her life to resurrect her love John Alden. Executive Producer Brannon Braga explains that "this is revenge for [the Devil], revenge against God. The only person who can stop him is dead, which is Mary." There will be some big callbacks to religious history and notable works this season because of the circumstances. Take note that "God has been conspicuously silent." As Braga's fellow EP Adam Simon puts it, it's important to remember that "the devil wasn't always the devil, he was an angel first. He comes back with his second in command." You can bet whoever is allied with the devil is going to be no picnic. Perhaps it's Marilyn Manson? After all the only person less scary than the devil is the demon barber, a role created just for Manson this season.
Because the only person who can stop the devil is dead, the witches have to be quick on their feet. Mary Sibley will be resurrected, but in what shape she'll return is anyone's guess. Her portrayer Janet Montgomery says that right off the bat, Mary is not happy to be resurrected. "Coming back from the dead…it's very animalistic, much more physical" than John Alden's resurrection at the beginning of Season 2. It also brings up some very difficult issues for the star-crossed couple when they do eventually reunite. Alden's alter ego Shane West does a very good job of summing up the town hero's journey. "The town of Salem keeps drawing John back. He's lost all hope at this point, he's buried the love of his life… he's given the opportunity to stay and lead the militia, then everything gets turned upside down." All that John Alden has gone through brings up the uncomfortable question of whether or not he and Mary will find their way back to each other, or if they were meant to be in the first place. Last season it was revealed that the witches planned for Mary to be impregnated so that she could sacrifice her child and join their cause. It's a troubling thought Montgomery threw out there to all John/Mary fans. "Who knows if Mary fell for John [on her own] or if Rose (one of the elder witches) put that thought there."
Speaking of free will, that's going to be something sorely lacking in the Mather marriage for Season 3. Nothing kills newlywed bliss like finding out your wife spelled you into falling in love with her, right before she shoves a rat down your throat to make you compliant. Seth Gabel knows that, at least in the beginning, "I definitely want out, of the marriage, of the spell, [of] scenes from the marriage from hell." If you're a fan of the Cotton Mather/Anne Hale pairing, don't despair. Their marriage may have hope as the season goes on. "What's interesting is that love is still there. You'll see them try to negotiate…can people actually get over these things?" Maybe they will, maybe they won't, but the newlyweds will face a threat even greater than the lies in their marriage. Prepare yourself for the Ex-factor, as Cotton Mather's ex-girlfriend Gloriana will be returning with a surprise, and a particularly unwelcome one for the new Mrs. Mather.
Everyone's got personal issues, but they'll all have to find a way to band together when facing the devil himself. "You'll find that everyone's forming alliances" from the beginning of the season onward, Montgomery previews. Might these include tenuous bonds between rivals? Elise Eberle has hinted that her character Mercy's journey from being "possessed to self-possessed" will take a turn when she finally finds love in Season 3. "You'll never guess who!" teased Iddo Goldberg (Isaac the Truthteller). Don't get too excited for an Isaac-Mercy connection prematurely. Isaac will have alot on his plate as "he gets to a point where he has the ears of all the people who used to mock him…[but] he's lead down the garden path."
Above all else, be prepared for little Oliver Bell to scare the hell out of everyone in his portrayal of the devil in the body which used to belong to John and Mary's son. His delivery of the playing the most evil creature in all existence might keep you from turning out all the lights after each episode. Check out our Comic-Con interviews below with the cast and creators for more Season 3 details.
Be prepared. Hell comes to Salem tonight.