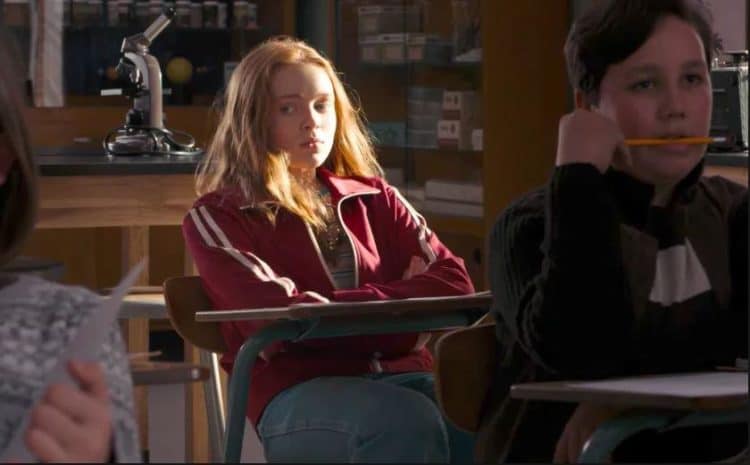 While there's no doubt that "Stranger Things" helped the young cast gain other opportunities and recognition outside of the uniquely borderline-paranormal teen drama. Sadie Sink had a somewhat established career before she joined "Stranger Things" in Season 2. Within the acting realm and outside of it, Sadie Sink has done some pretty exciting things, from acting to interacting with other celebrities and projects for others to her wealth and boyfriend history. Fans of "Stranger Things" have expected her to have a real-life relationship with the actor behind Lucas, Caleb McLaughlin, but they have been confirmed as strictly close friends. While the actress had a career before "Stranger Things," she also has a personality outside of acting that may surprise her newer fans with some personal facts about Sadie Sink, such as boyfriend history, past work, and more about the 20-year-old favorite.
Sadie Sink Has Modeled for Big Brands
Before joining the phenomenal "Stranger Things" cast, Sadie Sink may have been an unknown actress to most. Still, the actress has been known to come from across the theater, up to Broadway as Annie, and even her more minor roles across shows on Netflix, network television, and beyond. However, outside of being a now well-known actress, Sadie Sink has also been known as a model since she was about 16 and for some of the most well-known brands. Brands that Sadie Sink has modeled for on the runway include Kate Spade, Prada, Chanel, and others. Although Sadie Sink has traveled from her hometown of Texas to Paris and beyond to model these brands, unlike most older celebrities, she wasn't found to be attending such events with any sort of boyfriend or significant other.
Sadie Sink Boyfriend History
As Sadie Sink has officially turned 20, it's a little strange as Netflix has been quite vocal about their actors portraying ages that don't represent the actor themself. Still, as "Stranger Things" has taken literal years between seasons, it's understandable. As mentioned above, the actress hasn't been seen with a boyfriend or significant other at fashion events. However, the actress was in Taylor Swift's "All Too Well: The Short Film," which was likely how she met her previous boyfriend, Patrick Alwyn. Fans of Taylor Swift and Sadie Sink believe that the work on the film was how they met, as Taylor Swift has dated Patrick's older brother Joe Alwyn since 2017. However, it ended at some point, as it's been reported more recently that the actress has again been known as single. So as of right now, Sadie Sink's boyfriend's history has been more limited than public, but the actress has been famous long enough to know better than to be too public.
She Has a Surprising Net Worth
While awful to think such a way, it's hard to believe such a young actress that has modeled with large fashion brands and made such a good amount of money per episode of "Stranger Things," $150,000, that there has been such little Sad Sink boyfriend history. However, the actress appeared to be level-headed, typically expected for actors trained in theater, especially those that start in it so young. As shocking as finding out the actress was 20 years old, to the amount of money the actress has made overall from her career and per episode, she has undoubtedly had an interesting life already. Overall, Sadie Sink, due to her $150,000 Stranger Things salary per episode, it's quite a surprise she doesn't have any sort of boyfriend or significant other that she has been caught spending her money with.
Sadie Sink Has Explored the Slasher Genre
While trained in theater and on a vastly popular Netflix show, the actress has also had the opportunity to explore beyond such high-paying and high-attention ventures for a more exploratory teen perspective dive into the slasher genre. "Stranger Things" has been marked as a dark show, especially for a targeted teen audience, but one step further than "Stranger Things" into the darker genres, but still targeted toward teens, came from "Fear Street." "Fear Street," brought to life to audiences through Netflix, premiered over a three-week period and is based on the teen slasher books by R.L. Stine. Sadie Sink was one of the more known actors cast in two of the three "Fear Street" films, alongside others like Gillian Jacobs and Darrell Britt-Gibson. Overall, as dark as "Stranger Things" was, especially the last season with Sadie Sink specifically, "Fear Street" was darker in the sense of being a gore-driven thriller, or horror, but focused on teens. Most may not believe that something from R.L. Stine could be classified as actual horror or slasher, but the books and films were undoubtedly created for an older audience than "Goosebumps."
Tell us what's wrong with this post? How could we improve it? :)
Let us improve this post!