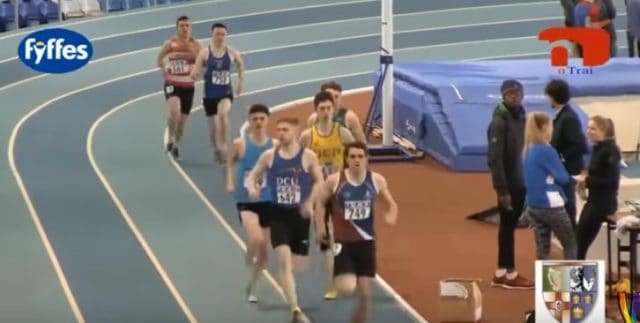 Accidents happen in every sport you can possibly imagine. But it's very rare that you see something in track and field, particularly with runners. Don't get me wrong. There are plenty of videos out there capturing blunders, false starts, people falling down, and times where runners smash into each other. However, I'm quite certain you've never seen something like this before. According to the Independent
Runner Aengus Meldon was denied victory at an Irish university athletics event after a freak accident with a pole vault bar. Meldon, a student at NUI Galway, was leading in the final straight of his 800m qualifier at the Irish Indoor Intervarsities meet in Athlone when he suddenly got entangled in an elastic bar dislodged by a nearby pole vaulter during their warm-up. "Oh… oh, my God. We have the bloody pole from the… he will have to go through to the final based on that. I have never seen that in athletics," he continues in astonishment as the bar drops round Meldon's ankles and he's forced to waddle to the finish line while being overtaken by opponents. "He was tied up like Spider Man threw something at him. Spider Man attacked him… Despite the freak accident costing Meldon victory, he was given a bye into the final as a result. Sadly he couldn't replicate his semi-final form and finished down in eighth place.
You really have to see this video to believe it:
https://www.youtube.com/watch?v=oqb-LoHNz3k
While seeing people face plant at the finish line will make me laugh out loud, not matter how many times I replay this video, I can't stop laughing. I'm just glad the kid is OK.