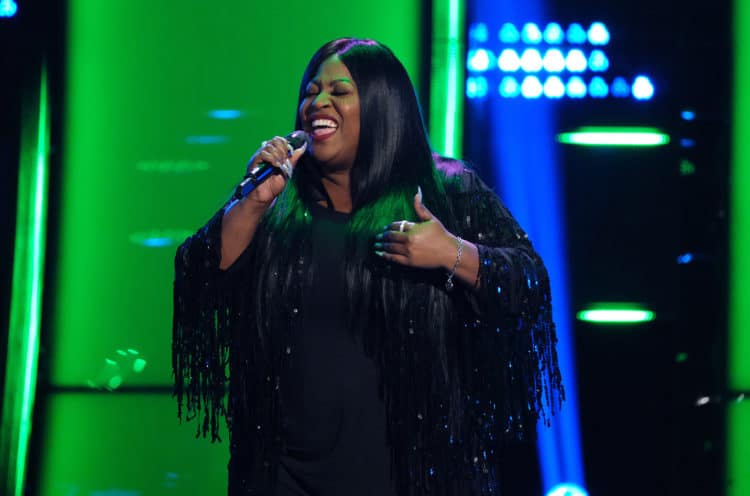 Rose Short is a singer who recently became famous for her appearance on the singing competition "The Voice." The show is nationally televised and she competed against some of the best amateur acts in the country to win the coveted position of first place in the final knockout round. She's a talented singer who has an interesting life story. We learned some things about her on the show, but fans are interested in hearing more about the lady who took the prize. Here are 10 things you probably didn't know about Rose Short.
1. She began singing when she was five years old
Rose Short is certainly not a novice when it comes to singing. She has been doing it since she was just a little girl of five years old. She performed at community events at an early age so it's not hard for her to get up in front of a crowd. This was a good experience for her to get such an early start to avoid stage fright as an adult. It is obvious that she is a born entertainer.
2. She lived in Germany when she was young
Rose and her parents lived in Germany for a period of time. Her dad was in the military and this is the country that he was stationed at when Rose was a little girl. She sang at events that were held on the base. When his stint in Germany was over, the family moved back to the United States to the town of Killeen, Texas. This is where Rose grew up after returning to America.
3. She had an interest in the performing arts
Rose had a natural talent for singing and a great love for music. When she was living in Texas, she got involved in a choir as well as in the theater. Although she couldn't make enough money at the time to pay the bills with her singing, it was a passion that never died. She had to move on to other things to take care of the practical matters of life.
4. Rose was a corrections officer
Rose Short had to put her career in music on hold for a period of time. She needed to find a job that would allow her to make enough money to pay the bills and support herself. She accepted a position at a maximum-security prison for males. Her official title was a corrections officer. She had spent a total of eight years of her life in this job, but when the time came when she could afford to quit her job to return full-time to pursue her passion for writing and performing her own music she did and it's what she is doing now.
5. The job at the prison helped in her performances
Short wasn't singing to the inmates at the prison where she worked for 8 years, but she did gain some valuable experience there. It was a job that put every ounce of her confidence to the test, she admitted. Being a female officer at a male prison exposed Rose to a lot of negativity including name-calling. She shared that the job helped her to have a great deal of self-confidence. This positive psychological state has carried over into her music career and she also has confidence in her abilities as a performer on the stage.
6. She has strong beliefs and faith in God
Rose Short talked about her faith in God. Although she isn't a preachy person, they acknowledged that she felt that "God" told her to quit her job. This took a big leap of faith on her part because she didn't have anything else lined up. She felt strongly enough about it to go for it. She made the money that she had saved from her job run for a full year. It wasn't long before she got paying singing gigs to help her out along with way.
7. She is also a stage actress
Rose also had an interest in the theater and in stage acting. She had done a bit of it prior to becoming a corrections officer. After she quit her job, she performed in plays in the Killeen, Texas area while she was grappling with the decisions about whether or not to go after a career as a singer.
8. She was hesitant to audition for "The Voice"
Rose explained that a friend of hers recommended that she audition for "The Voice." This wasn't something that Rose wanted to do and she made it plain to her friend. There was even an audition being held in Austin, but she flatly refused to go. Her friend kept bugging her about it and wouldn't let up. She even found another audition session in Miami, Florida for her friend and she finally wore Rose down. She agreed and went to the audition.
9. Short wants to be an inspiration to others
People have a lot of different reasons for doing the things that they do. Even musicians all have their own reasons for wanting to sing and perform. Some love the attention, others have a message to deliver and then there are some like Rose Short, who are in it to touch someone's life. She shared that she wants to give someone the inspiration that will help them pull through hard times through her music.
10. Rose Short is a rising star
Short has a voice that is phenomenal. Although she's been singing all of her life, this is the first time that she's had the opportunity to show the world what she is capable of. She's already beginning to amass a huge fan base, thanks to her competition and stellar performance on "The Voice." Finally, Rose is getting the exposure that will get her music out there because the talent has been there all the time, it's just that the right people had to hear her sing. We wish her the best of success in her new career as a professional singer and songwriter.
Tell us what's wrong with this post? How could we improve it? :)
Let us improve this post!