Robin Wright is sometimes known as Robin Wright Penn, and she is arguably one of the most beautiful women in the world. She became famous in the 1980s when she starred in the famous soap opera Santa Barbara. However, it was her lead role in the film The Princess Bride that made the name Robin Wright a household one. She'd go on to star in hit films such as Forrest Gump, Moneyball, and The Girl with the Dragon Tattoo, and she'd even take on a starring role in a Netflix series. She made House of Cards what it was, and the world recognizes her talent. However, it's often her relationship status that the world wants to know more about. Robin Wright was famously married to Sean Penn, but did you know he's not the only man she's been married to?
Robin Wright's First Husband
Perhaps Robin Wright's marriage to Sean Penn is her most famous, but did you know it's not her first? She was married long before she even met Sean Penn. Her first husband was an actor by the name of Dane Witherspoon. The two worked together on their 80s soap opera. They got married in 1986, but their marriage did not last long as their divorce was finalized in 1988.
Robin Wright's Second Husband
A year after her divorce from Witherspoon, Robin Wright met a man also freshly divorced. His name is Sean Penn. He was in the middle of his exceptionally famous divorce from singer Madonna. Their marriage did not last much longer than Robin Wright's first marriage. Madonna and Penn married in 1985, and their divorce was finalized in 1989. Wright and Penn began dating in 1989, and they chose to make their relationship officially official by marrying in 1996.
Their road to marriage was not smooth, however. They dated for nearly seven years before tying the knot, but they also ended their relationship during those seven years. She also had two babies at that time – both belonging to Penn, of course – that caused her to turn down substantial roles in movies that would go on to do quite well. Daughter Dylan was born in 1991, and son Hopper was born in 1993. These pregnancies resulted in Wright missing out on starring in Robin Hood: Prince of Thieves and The Firm.
Their 1996 marriage seemed to go well for the couple. However, things turned around for them after eleven years of marriage. Robin Wright Penn and Sean Penn spoke together about their impending divorce in 2007. Their divorce was never finalized, however. They asked to have the petition withdrawn in 2008. Penn filed again in 2009 and withdrew a month later in May. In August 2009, Wright filed again, and this time they decided to follow through. However, it would be mid-summer 2010 before their divorce was even finalized.
Robin Wright's Third Engagement (Note: We Didn't Say Third Husband
Following her highly publicized divorce from actor Sean Penn in 2010, Robin Wright moved right along. She was not gun shy about finding love, and she was engaged to an actor by the name of Ben Foster in 2014 after nearly two years of dating. Before 2014 was over, however, they'd ended their engagement. They became re-engaged in 2015, and they ended their relationship again in the summer of 2015. They did not reunite, nor did they ever get married.
Robin Wright's Third Husband
Clement Giraudet is not a name many people recognize unless they pay close attention to designer fashion houses such as Saint Laurent. The YSL exec began dating Wright in 2017. Because he's not nearly as famous as some of her exes, the world did not pay as much attention, which is why these two were able to get married without anyone knowing in 2018. Their secret French wedding screamed romantic, but it was not romantic enough. Why is that? Because Wright filed paperwork seeking a divorce from her third husband in the fall of 2022.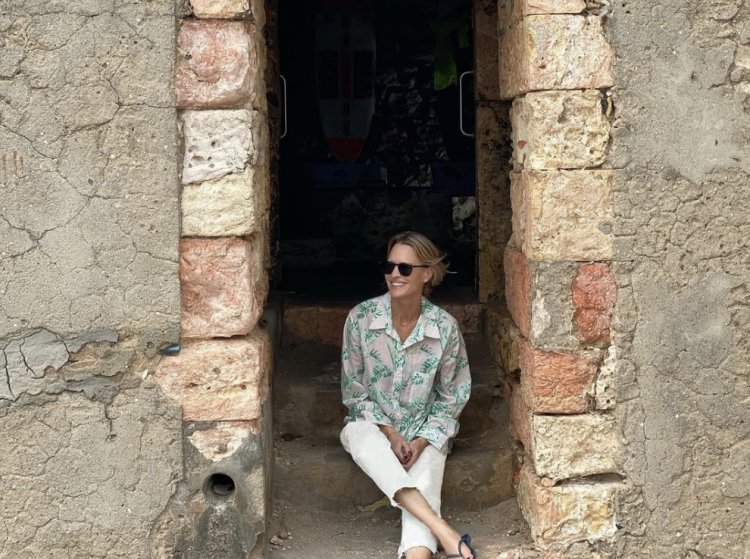 Robin Wright on Her Past Marriages
Here's the thing about Robin Wright – she's not talking about her past marriages. She's lived, loved, and learned from all of them. She's welcomed two kids she adores with Sean Penn and refuses to say a negative word about him to anyone. He is the father of her children, and she'll not go that route. However, we have learned from Robin Wright's marriages and engagements, too; We learned she is extraordinarily classy. She says nothing negative, even when prodded.
"I'm not in the business of talking about what 'isn't,'" she said of her past relationships. If you were hoping for some gossip or some inner look at her marriages and the famous men she's been with, you're not getting it from her. She's keeping those details to herself, and we have so much respect for the fact that she won't even share a minor detail.