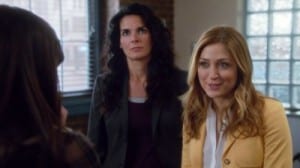 Remember the family drama I mentioned last week? Man, oh man is it ever back with a vengeance. When your father is an Irish mobster and your mother spent your entire life thinking you were dead, what happens when that all comes to a head? Add a new boss for Frankie who has a bad blood with Jane and a nice young girl pop up in the serf and you have an intense hour leaving you guessing what might come out next.
We start with our homicide detectives fighting for jurisdiction for a body. Why can't we all just get along!? Of course, Jane gets the body and we find that she died from drowning. Well, duh! She was found in the oceans serf, open and close. The catch, however, is that she hadn't aspirate sea water but rain water and that is…weird.
Joining Boston PD as the Lieutenant of the drug division is Rafael Martinez (Amaury Nolasco, Prison Break). You can feel the animosity between Martinez and Jane, and that bleeds over into how the new Lieutenant treats Frankie, who he calls "Other Rizzoli" for the remainder of the episode. Its done with no sarcasm, completely serious, and the delivery is unintentionally hilarious. We are shown a flashback of Jane and Martinez as partners in Vice from 8 years ago where they get their CI killed. They each blame the other, but Jane takes the brunt of the guilt. Because it's Jane and she has that bleeding heart.
Learning that our DB was trying to uncover a big drug ring at her university, she is an investigative journalist student, leads us back to Martinez. She got killed trying to break the story and had Martinez's card hid in the butt of a stuffed bear(like you do). She wasn't an official CI, but Martinez had used her to try and bust open a ring. Of course this jumps back to the CI that was killed 8 years ago and we get a nice little argument between Jane and Martinez. In order to squelch some animosity for the sake of her brother, Jane invites Martinez along to arrest the killer. Frankie gets held at gunpoint and impresses them all with a nice take down. Everyone is happy!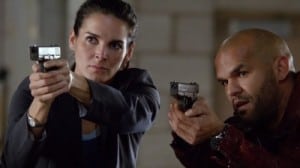 Except, not really. The B line of the episode goes back to Maura, her father Paddy, mom Hope, and the sister, Cailin. Cailin finds Maura at work to tell her she over heard her mom arguing with some men at home and was pretty freaked out by it. Jane and Maura question Hope, but gets a lot of "oh, its nothing. Haha, silly kids." Shortly after leaving Jane notices men tailing Maura. Assuming they are Paddy's men they question the gangster, but it's really the Feds. What do the Feds want with Maura and Hope? Hope's charity clinic, MEND, got a nice 2.1 million dollar donation to get up and running back when Paddy was at large. If the money came from such a nefarious backer, that puts the clinic that is saving poor women and children, at risk of investigation and being shut down. Not to mention Hope could go to jail. Maura has nothing to do with the situation, but because shes related she gets the short end of the stick.
Where is Casey!? We get one episode of them together but there's not so much as a mention to him being gone or of his and Jane's relationship. Instead we get a hint of history between Jane and Martinez( its mentioned but we never really know for sure if their was "something" there) and we get the tail end of what Jane calls an "awkward" conversation with her ex, Agent Dean, as they try to find out why the Feds are tailing Maura. It would have been nice to hear that awkward phone call because uncomfortable Jane is the best!
There's no resolution to the Maura/Paddy/Hope story line- yet. There's a build up to the trial and I'm sure more skeletons will come out as we lead up to some sort of closure to those issues. We've had 2 seasons of Paddy getting sprinkled in here and there and whatever happens we can be sure it will be shocking and explosive. And awesome.