Rizzoli & Isles starts the episode 'This Is How The Heart Breaks'off with a bang, literally. Unfortunately for homeless vet, Bernard Avery (Port Charles/General Hospital's Kiko Ellsworth), the explosions and gunfire are in his head. Avery suffers from PTSD and is homeless. If you missed this powerful episode, it re-airs today and again on Tuesday.
Although the gravity of returning veterans and the plight of the homeless are centerpieces of this episode, there is plenty of comedy to offset the heartbreak of war and its aftermath. The show takes the opportunity to define further the complexity of the personalities of Rizzoli & Isles and exploits some raucous comedy to expand on the duo's character differences, played beautifully by Angie Harmon and Sasha Alexander, respectively. Eddie Cibrian is a nude sculptor (with an unusual interpretation of the phrase).
In this episode, the homeless vet, Bernard Avery, is butchered by a military-issued 'tactical tomahawk'. Avery's murder takes Rizzoli (Angie Harmon) and Detective Korsak (Bruce Mcgill) to a nearby veterans rehab center where they learn that there was bad blood between Avery and his unit.
During his third deployment to Afghanistan, Avery had run point on a mission with his buddies, but found himself unable to shoot a child/suicide bomber. His inability to kill a child caused six of his battalion members to be killed and put one in a wheelchair. Korsak and Rizzoli learn from Avery's wife that he suffered delusions about the war, going so far as to threaten their young son. Shortly after that incident, Avery and his tactical tomahawk disappeared into homelessness.
At the veterans'center, Jane runs into her former love, Colonel Casey Jones (Chris Vance), who dropped out of her life with no explanation, breaking her heart. Without divulging the reason to Jane, Casey dismisses her after answering her questions about the homicide, leaving her heart-broken again.
Rizzoli, Korsak and Detective Frost (Lee Thompson Young) team up with their confidential informant, Rondo (Darryl Alan Reed), a homeless, savvy humanitarian, to investigate. Rizzoli interviews Avery's friend, Corporal Justin Brown. Brown, also suffering from PTSD as a result of the suicide bombing, takes refuge in the same alley as Avery. Brown gives Rondo a piece of evidence that Jane dismisses, but Rondo keeps. The evidence later leads to finding the murderer, but not in time to prevent the murder of Corporal Brown.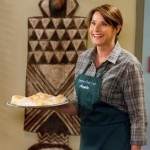 Jane meets with Rondo and his friend, Sour Grapes, at her mom's diner. Angela (Lorraine Bracco) recognizes Rondo as a famous jazz musician and reveals that Rondo may be the reason that Jane has brothers. It also gives Harmon, Bracco and Reed the opportunity to blend a superb display of comedy, pathos and timing.
In the mix of suspects are a homeless-hater who resembles Pope Paul II (a lead from Sour Grapes), the vet in a wheelchair and an artist. Maura considers the artist's work as 'contemporary street art'while Jane tells Frankie to arrest him for defacing public property. The anti-homeless vigilante attacks Rondo as part of a "neighborhood cleanup campaign" and ends up arrested for assault and battery.
The most unusual subplot involves Eddie Cibrian as Dennis, a sculptor who works in the nude. Dennis's body is rolled into autopsy, and Rizzoli & Isles discover that he is quite alive in a most unusual way. Dennis and Maura go out on a date that results in Frankie (Jordan Bridges) writing the couple an arrest citation when he catches Maura and Dennis painting graffiti on a wall.
Writers David Gould and Sal Calleros craft a respectful balance between those who are forgotten and brokenhearted with the comedic situations peppered throughout the episode. This episode, 'This Is How The Heart Breaks'(a play on a Rob Thomas song) easily could have been named 'Last Full Measure of Devotion'(from The Gettysburg Address) for its recognition of those who have served.
The fun-fan promotion continues this week, asking viewers to vote for Jane's favorite snack food and can be found at http://www.tntdrama.com/series/rizzoliandisles/poll/. Rizzoli & Isles airs on TNT on Tuesdays at 9pm ET.