This season has been so scattered, I feel. The closing of arcs, the revamping of others, but nothing actually new. It has been feeling like the same joke told over and over; though I will say there have been a few good episodes here and there.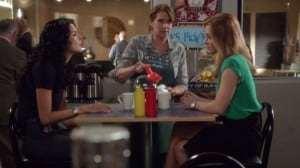 Angela's tax hiccup came to a close. As she is gathering cans and hocking her baked goods trying to make ends meet. When she owes twenty-seven thousand to the IRS, it's not going to come out of baked goods. She's a sweet older woman, got that Italian Boston mom thing going on. Her husband left her for some hussy younger than all three of his kids, and she lost the house and had to move in with Maura. That's a tough hand and honesty I find it very believable. It's not uncommon in this world for exactly such things to happen to a good person.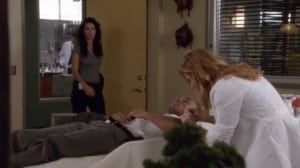 What isn't so believable is the sudden resurrection of a story line from last year's finale which saw Frost and Tommy with his newborn son trapped in a shoddy concrete parking garage. Now, this was not mentioned again for the entirety of the first part of this season, so using this all of a sudden as a magical fix for Angela's tax issue was just too much for me. We see Tommy trying to make his family trust his judgment (which follows the much too used trope of the screw up younger son) who has hired a lawyer with Shark in his logo. Supposedly he was looking at six figures, which isn't too outrageous, but only if he went with a good lawyer and waited for the courts for a year. We are told through this little side story that he has made a horrible mistake by choosing this lawyer and has just screwed up all chances of getting a settlement. Also involved with this is Frost, who injured his wrist in the incident, suddenly can't stop rubbing it and saying how much it irritates him. We have gone ten episodes without so much as a peep about his injuries, and he's had a couple of good scuffles with perps, so it bothers me. It's irritating to watch that all of a sudden this random tiny arc about Angela is briefly mentioned and then solved by the miracle of a settlement that we didn't know was coming. Tommy did the right thing and paid his mother's IRS debt off, but in no stretch of the imagination would he have ever received the money that fast.
The case was just "muh." Nothing very interesting at all, but I think the theme of this season is people who are angels who right wrongs and do good deeds get nothing in return but death. Lots of death.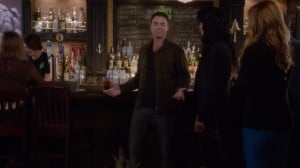 A judge gets killed because she was trying to fix a privatized prison who was harshly abusing the system. She was trying to help rehabilitate petty criminals but no one likes it when someone meddles in the affairs of millionaires.
Next week is the last episode before their hiatus. I have a bet with my gecko that Casey proposes and Jane says no.