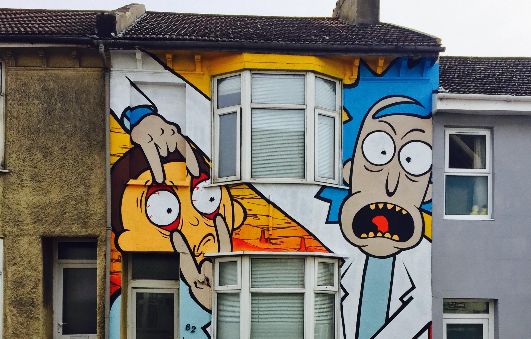 Rick and Morty fans are still waiting for a release date of season 3 but we did get this little nugget last week. Fans are getting antsy and rightfully so. The most information we have about this year's release date is the following phrase: "sometime in 2017." So yeah, that could mean December 31st, 2017 for all we know. But in the meantime there's nothing wrong with rehashing stories about seasons 1 and 2 and continuing the hype about how great season 3 will be.
Speaking of hype, I'm not 100% sure when this "project" was done but the people of Brighton, England are officially my favorite people of the weekend. Rather than sitting around and doing nothing all day, they got up, went outside, and painted the entire front of their house Rick and Morty style.
And it's not like this is some crappy piece of work. This animated quality is close to that of the show itself. There's no real info on who the residents of this home are but it's bound to come out and when it does we'd like to buy these people a beer. There's only one issue with this house.
While I like it, I'm not sure I could have the eyes being stretched like that on my house, it just would make me feel uncomfortable every time I looked at it.