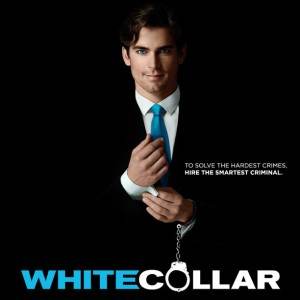 The USA Network has done it once again, taking an old idea and making it slick, sexy, fun, and serious all at the same time. If you think I'm talking about Burn Notice or Psych or even Royal Pains, you'd be wrong. I'm talking about the new series from USA called White Collar that stars, amongst others, Matt Bomer, known from Chuck as Bryce Larkin, and Tim DeKay, best known from both Tell Me You Love Me and Carnivale. With stellar acting and strong characters White Collar is no doubt the next hit for USA, that fits seamlessly into their network brand of original programming.
White Collar, put simply, is kind of like a cross between the first Lethal Weapon movie and Catch Me If You Can, which is to say that its a caper-type, solve-the-crime, buddy series where the characters form an unlikely partnership. The set up is simple, with Bomer playing Neal Caffrey, a charming, good-looking, elusive white collar criminal, or con man to be more precise. Tim DeKay's character, Peter Burke, is an FBI agent that works in white collar crime and spent three years on Caffrey's trail before he caught him and put him in prison. The pilot opens with Caffrey breaking out of prison in pure, suave, con man style in all of about 5 minutes, and all for the love of his life, who's decided to leave him high and dry. Burke is forced to help find him, once again, which surprising doesn't take that long, and ends up setting up the basis for the rest of the series. You see, Caffrey is smart, real smart, and he knows the crimes and criminals that Burke is hunting unlike anyone else. Caffrey convinces Burke to allow him to help solve his toughest case since…well, himself. If you're like me, you're thinking, haven't we seen this in just about every buddy cop movie that was made during the eighties and ninties? While the setup is the same classic formula that has worked time and again, White Collar manages to pull it off with its own unique style and voice that sets this series apart from similar stories.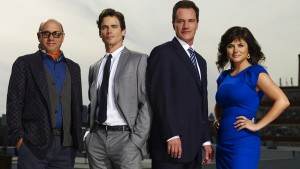 The show also stars Willie Garson from Sex and the City in the role of Mozzie, a guy who helps Caffrey out on the street and has a conspiracy theorist nature about him. As always Garson is fantastic, and plays a paranoid know-it-all with precision. Thiffani Theissen also stars as Elizabeth, Peter's wife on the show. Her character represented the only flaw I saw in the pilot episode. Her chemistry with Tim DeKay wasn't entirely convincing to me, and she seemed to have a better connection with Matt Bomer. I'm also unclear how exactly her character is going to fit in each week. They certainly didn't seem to have much for her to do in the pilot, other than be a catalyst for Peter to realize that Cafferty's talents could be useful outside of his caseload, and in his bedroom. However, I can't imagine that they'd cast someone like Theissen in this role without a plan to have her more involved and with her own character arch, so for now I'll refrain from further judgement and have faith in the writers
In closing I'll say that White Collar works for me, and I think it will work for a lot of people. I can't imagine this show not finding success on USA. While it fits right in with other shows on the network, like Monk, Burn Notice, and Psych, its not a carbon copy of any of them. White Collar also succeeds in something that many other shows fail to achieve. It gives us fantastic characters that we can actually sympathize with, and understand their motivations. We can relate to Caffrey's con man criminal because he's a romantic at heart, searching for his lost love. Elements like this aren't lost on us, no matter how slick and cool the rest of the show is. It all fits together nicely, giving us something we can watch and enjoy week after week, and that is, I think, the whole point to all of this. I'll be watching, that's for sure.
White Collar premieres on USA Network on Friday, October 23 at 10 PM (ET).
Tell us what's wrong with this post? How could we improve it? :)
Let us improve this post!