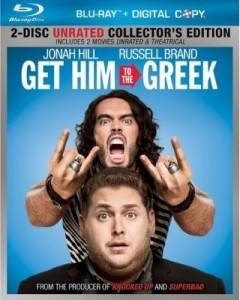 Special treat for you this Sunday, readers: an advance look at Universal's September 28 release of Get Him To The Greek, starring Jonah Hill and Russell Brand. Let's take a look inside the two-disc Blu-Ray release.
The Movie
Comedy is a very, very subjective thing. Whereas drama has universal themes that most people can identify with, what someone finds funny, someone else will totally not get. Ask anyone who's seen Monty Python's Flying Circus. Some of us think it's probably one of the funniest things in the history of the world, and some of us have no clue why dead parrots are hilarious.
That said, this spinoff of Forgetting Sarah Marshall is not my kind of funny, largely because it runs in the vein of comedies where adult content is a large part of the movie (which seems to be a lot of them these days). I'm by no means a prude, but this one's filled with sexual content, profanity and drug use, and that to me just isn't funny. Most of it comes in the person of over the top rock star Aldous Snow (Russell Brand, whom I've also never found my kind of funny), who is a pain in the behind to Aaron Green (Jonah Hill), the record label employee assigned to drag him from London to L.A.'s Greek Theater at whatever cost. I had the same thought here that I did while watching Strange Wilderness: somebody probably finds this hilarious, but that person is not me.
There are some things even I appreciated here, though. Firstly, Jonah Hill plays a great straight man. He's got the facial expression to pull off some amazing looks, and he's not just a total doormat – he has a sense of humor and an ability to laugh at himself. It's really hard to be the straight man in comedy, especially absurd comedy, and he does that very well. The movie also has some great appearances from people TV fans will know, a lot of them out of their element, which is neat. Some of my favorites included Rose Byrne (Damages) as the apparent love of Aldous's life, Elisabeth Moss (The West Wing, Mad Men) as Aaron's girlfriend, Colm Meaney (Star Trek: The Next Generation), and Sean "P. Diddy" Combs, who is not just another rapper thinking he can act. (If you didn't think he could act, you haven't seen him in Made.)
Furthermore, while I may not be a fan of Russell Brand as a comedian, he's a good musician, and the movie has some great music that's honestly catchy. It goes to great lengths to really create the fictional band Infant Sorrow – not just in the movie, but in the special features – and Brand recorded sixteen songs for the movie alone. It's as submersive an experience as the fictional band created in That Thing You Do! but even better because we know Brand isn't just lip-synching. I give him a lot of credit for that. (If you're looking for the soundtrack, it's here.)
The disc contains both the theatrical and unrated versions of the film. Having watched the theatrical cut, I can only speculate as to how raunchy the unrated version gets, but considering the original version is not The Sound of Music to begin with, it's not too hard to guess. However, according to the press release, it only adds a mere five minutes onto the movie anyway.
The Blu-Ray Discs
First off, I have a minor gripe with not just this disc, but almost every disc in the Blu-Ray/DVD market these days: the words "collector's edition" are now commonplace. I remember a time when a collector's edition was something special (anyone else remember the Ultimate Edition DVD release of Terminator 2? Now that was worthy of the title). Now everything is a collector's edition, or limited edition, or some variation thereof. It's even more annoying when you know that it's essentially a lie for some titles, because there will be a double-dip release later on anyway that will be called some other wonderful name.
Rant aside, technically, here's what you get: 1:85:1 widescreen video, with three audio tracks (English DTS-HD 5.1/Dolby Digital 2.0, and both French and Spanish DTS Surround 5.1), English SDH subtitles, and French and Spanish standard subtitles. That's a big mouthful to say that basically, no matter what your setup, you're going to be supported here. The video is bright and popping (especially on the menus, which are easy to navigate) and the sound is clear. It's a great transfer, and if I had a bigger TV (say, a 2000″ TV), I could play this as if it were in a movie theater and I wouldn't be disappointed.
As this is a Blu-Ray release, there are no packaging issues to discuss.
The Special Features
This movie is loaded. The only way it gets more loaded is if they'd sent the cast to hand-deliver it to you. Having said that, if you're going to buy this movie, Blu-Ray is the way to go here. There are pretty good special features which are exclusive to the Blu-Ray version. While the DVD version doesn't skimp, you'll still miss out. Let me explain:
Blu-Ray Exclusives
BD-Live and pocket Blu functionality for Internet and mobile devices. This is similar to what Universal used for The Office: Season Six and House: Season Six. It's not a big loss unless you stream movie content to your mobile device. There's also social Blu, which is some sort of social networking thing.
A bonus movie (Uncle Buck, Dazed & Confused, or Life). Unfortunately, you can only get these through BD-Live or a smartphone, so it's not the same thing as owning a physical copy.
Additional and extended scenes not included in the DVD selection
Musical performances from appearances on Today and VH1 Storytellers. (Wait, VH1 still has something to do with music?)
Auditions for Rose Byrne, Elisabeth Moss, Nick Kroll, Aziz Ansari and T.J. Miller
Karaoke. In my opinion this is the best bonus on the set, because I love karaoke. I will do karaoke for absolutely no reason. While sober. This feature gives you 15 songs from the movie to sing to. It's not quite as cool as the Family Guy karaoke included on Volume Eight of that series, but it's still pretty great. However, when looking for it, be aware that it's not on the bonus disc, but the feature disc.
Available for both Blu-Ray and DVD
Gag reel. This is a pretty damn good one, for all of the following reasons: A) it's so huge that it was separated into two parts; B) it includes pretty much everyone (including Meredith Vieira even), C) it's not just people laughing at other people the entire time, and D) they didn't bleep it either. This is some good stuff. However, like the movie itself, parts of it are very adult.
Line-O-Rama: various actors giving different readings of various lines or in some cases, just riffing in no discernible direction. It almost seems like this would have all belonged on the gag reel if it wouldn't have made it even longer. I'm still giggling over the phrase "colonic suitcase," but some of it just goes on too long as people have about a dozen different renditions of some lines, and some things fall flat.
Promo for Sarah Marshall's new series, Blind Medicine. This is focusing on the Kristen Bell character from the eponymous film Forgetting Sarah Marshall. It's pretty darn funny.
Commentary with director Nicholas Stoller and cast members Jonah Hill, Russell Brand, Rose Byrne, Elisabeth Moss and producer Rodney Rothman. As you can imagine, this is an uncensored, no holds barred, sometimes off the wall listen. Like the gag reel, the humor isn't much different from the film itself.
Three documentaries: "Getting To Get Him To The Greek," "Getting In Tune With The Greek," and "The Making of African Child."
Five complete music videos.
Musical performances from Infant Sorrow's 1999 Greek Theater concert and 2002 comeback, plus looks at their world tour and 2002 London concert. As I've said before, the creative minds really put a lot of effort into this band, and it shows.
Deleted, extended and alternate scenes including a different intro and ending. At least half the alternate ending is credits, so unless you really like the music, you're going to be stuck staring at credits for awhile (see below note).
Digital copy
Frustratingly, once you're into a special feature (at least some of them, such as the Line-O-Rama) there's no way out. I hit every menu button on my remote, and none of them would take me back to the main disc menu. I had to hit stop and wait for the entire disc to restart. Considering some of these features are quite long, it's a major deficiency.
The Bottom Line
Even though I didn't find the movie itself particularly funny, the qualiy of Get Him To The Greek's home release is outstanding, so I have to strongly recommend it to anyone who even sort of liked the movie. Universal really loaded this one up. It wasn't my kind of movie, but if you enjoyed it, you're going to have even more fun with the Blu-Ray version, frustrating navigation aside. Even I had too much fun with the karaoke. You can pre-order your copy from Amazon by clicking on the box art at the top of the article.