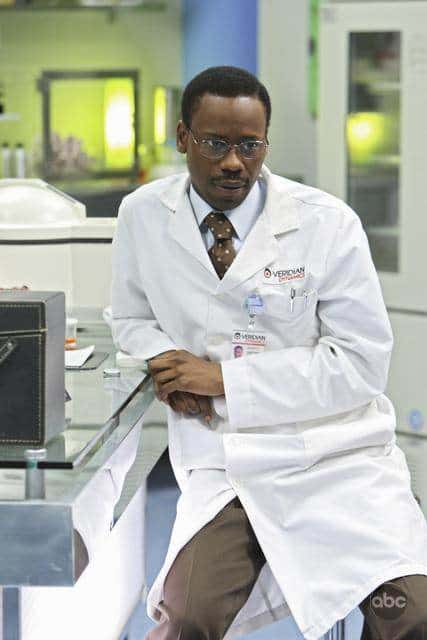 This coming Wednesday, Better Off Ted will air it's fourth episode of the season, entitled "Racial Sensitivity". Many of you may remember that after watching the first two episodes of this new series, I felt that it had some great potential, but still needed some time to grow into its own. It wasn't that it wasn't funny, original, or quirky enough, because it had all of those elements. All it was lacking, for me, was the deep down belly laugh factor. I know that many of you disagree, and have already let me know how funny you found the first episode, and I say great! Keep watching and telling your friends, too, because this show is not doing well as far as the ratings go. But with "Racial Sensitivity", Better Off Ted has jumped out of the "still needs to grow" category, and has landed on my list of favorite new comedy series.
The episode's mood is set with a Veridian Dynamics commercial at the beginning that is about diversity, and includes lines such as "Just the thought of it makes these white people smile," and "At Veridian we're committed to a multi-cultural workplace," only the video on-screen shows only white people. It ends with the phrase, "Diversity, Good for us!" as it shows two white hands shake. Perhaps it has to do with my many years in Human Resources, but I was on the floor laughing at the commercial.
To give you a brief rundown, without giving too much of the episode away, Veridian Dynamics have replaced their old motion sensors in the building with a new state of the art system that's going to save money as part of Veridian's "Going Green" campaign. It works by detecting light reflected off of a person's skin. There's just one minor flaw that apparently the Exec's at Veridian didn't seem to think was a big deal…the new sensors don't detect black people. As obvious as it is that this is a type of racism, Veridian's position is that it's actually the opposite of racism, because its not targeting black people, its simply ignoring them. At the worst, the new system is simply indifferent.
The remainder of the episode follows the crusade of the quiet, black researcher, Lem, as he attempts to right this injustice at Veridian, and stand up for himself, and his ethnicity, for the first time in his life. I could go on and on about how hilarious this episode is, as I was almost laughing the entire time, but I really don't want to ruin this for anyone who plans to watch it. All I can say is, even if you never plan to watch another episode of this series, you should check out this one, as it could go down in history as one of the funnier half hours on television, ever. As you watch, you almost won't believe some of the places that they end up taking this episode, and you'll be even more surprised when you find yourself laughing at them. I thoroughly enjoyed this episode, and I hope that the genius of creator Victor Fresco makes it through this season and gets a shot to find a larger audience next season.
In addition to the hilarious plot mentioned above, there is also a subplot where Linda brings her boyfriend to work to meet Ted in an effort to make him jealous. This subplot was mildly amusing, but didn't compare to the humor in the rest of the episode, and was therefore hardly noticeable, in my opinion. I really hope that this show finds new and creative ways to be funny, without relying to heavily on the strange almost-relationship that Linda and Ted have going on. You can catch "Racial Sensitivity" on Wednesday, April 8 at 8:30/7:30 Central on ABC.