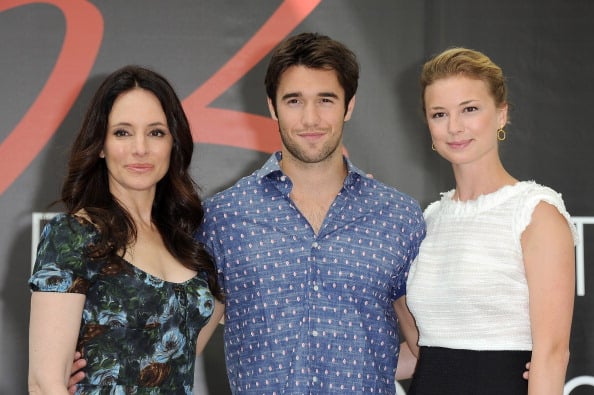 Revenge is off to a good start this television season. The fourth season has seen the return of David Clarke (James Tupper) and a small surge in viewers. After a shaky (and confusing) season 3, the show was a possibility for cancellation when viewership dropped from 8 million viewers in September 2013 to only 4.87 million by the time the season finale aired in May 2014. The six episodes that have aired so far this season have averaged 5 million viewers. Once this season has concluded, there will be enough episodes made to send Revenge into syndication, which means big bucks for ABC. So that could be one reason the alphabet network has kept the drama around.
Another reason the series has remained on the air is because of the likable cast. You may remember most of the faces you see every week wreaking havoc in the Hamptons from past television projects. We at TV Overmind decided to open up the television vault and relive some of our favorite roles the Revenge cast had before starring on the mystery thriller.
Emily VanCamp "Emily Thorne"
Chances are you are pretty familiar with Emily VanCamp's television past. Prior to signing on to the Revenge cast, VanCamp starred on three television series. The first was Glory Days, where she played the character Sam Dolan. The horror series was created by Kevin Williamson (Dawson's Creek, Stalker) and was about an author who returns to his home town, though the residents are not happy about his return. The series only lasted for nine episodes in 2002. That same year, VanCamp scored the role of Amy Abbott on the family drama Everwood. The series was created by Greg Berlanti and would last for for seasons. Around that same time Everwood ended, Berlanti was working on the show Brothers and Sisters. He would cast VanCamp in the role of Rebecca, a character who everyone thought was the deceased patriarch's love child. VanCamp would stay with the drama for four seasons.
Madeline Stowe "Victoria Grayson"
Madeline Stowe's career began back in 1978 when she made a guest star appearance on a 4th season episode of the Robert Blake crime drama Baretta. She would continue to make appearances on popular television shows in the 80's including Little House on the Prairie, Trapper John M.D., and Barnaby Jones. Coincidentally, Stowe starred in the crime drama film Revenge in 1990 alongside Kevin Costner and Anthony Quinn. She would continue to star in movies over the next decade. In the 2000's, Stowe starred in four television movies: The Magnificent Ambersons, Saving Milly, Southern Comfort, and The Christmas Hope. She also starred in the short-lived 2007 television series Raines with Jeff Goldblum.
Nick Wechsler "Jack Porter"
Before joining the Revenge cast in 2011, Nick Wechsler starred in two television series. The first series Wechsler starred in was Team Knight Rider, which aired from 1997-1998. It was a revamped version of the original Knight Rider that starred David Hasselhoff. The series lasted a total of 22 episodes. The second show Wechsler starred in was Roswell where he would play Kyle Valenti for all three seasons and 61 episodes the series remained on the air. The show also starred Katherine Hiegl, Brendan Fehr, and Shiri Appleby. Wechsler also made notable guest appearances on Malcolm in the Middle, Cold Case, Crossing Jordan, Without a Trace, and It's Always Sunny in Philadelphia.
Gabriel Mann "Nolan Ross"
Gabriel Mann's acting career began in the early 90's, which was also around the time he began modeling. His first experiences on TV were appearing in a 1997 episode of ER and a 1999 episode of Fantasy Island. Mann also starred in several television movies. The first was Harvest of Fire in 1996. It was about an FBI agent who visits an Amish community in order to investigate a case of arson. The second movie came in 1997 and was entitled Heart Full of Rain. The premise focuses on a young man who returns to his family's farm after being gone for six years. One year before joining the Revenge cast, Mann appeared in four season two episodes of Mad Men as Arthur Case.
Josh Bowman "Daniel Grayson"
Josh Bowman has only been appearing in television and film roles since 2007. That is just two years before he joined the Revenge cast as Daniel Grayson. His first role was appearing in two episodes of the comedy Genie in the House. The show was about a dad who moves himself and his two young daughters into a house that contains a genie lamp. Surprisingly, this show was on the air for three whole seasons. Bowman starred on two additional series while working on Revenge. The first was the UK drama Holby City. The show has been on since 1999 and is about the lives of the doctors working in the cardiac unit of Holby City General Hospital. Bowman guest starred on nine episodes of the series. In 2011, Bowman would appear on the ABC Family drama Make It or Break It, which also starred Candace Cameron Bure.
Christa Allen "Charlotte Grayson/Clarke"
Like Josh Bowman, Christa Allen's career began only a few years prior to joining the Revenge cast. Her first role was playing the younger version of Jennifer Garner's character in the 2004 romantic comedy 13 Going On 30. Two years later, Allen would make her first appearance on television appearing on a season three episode of Medium. That same year, Allen would play the title character in the teen show Cake. The family show was about a teen-aged Martha Stewart type who hosted her own how to show. She even had her own signature line which was, "You can't buy individuality, but you can make it." The series lasted for 13 episodes. Over the next three years, Allen would guest star on Cory in the House, The Suite Life on Deck, Grey's Anatomy, CSI, and The Wizards of Waverly Place. She would once again play a younger version of Jennifer Garner in the 2009 romantic comedy Ghosts of Girlfriends Past which also starred Matthew McConaughey.
Which past role is your favorite from the Revenge cast? Let us know in the comments below.
Photo by Pascal Le Segretain/Getty Images
Tell us what's wrong with this post? How could we improve it? :)
Let us improve this post!