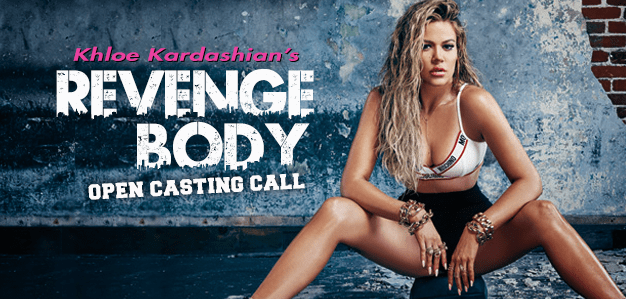 The Kardashians have dominated the media for years now. This family that is famous for being, well, famous. TV, magazines, social media; everywhere you look you are sure to see the name Kardashian. And with so many of them in the clan, you can bet at least one of them will be in the news at any given time. One Kardashian that has had her share of publicity is Khloe Kardashian. Born June 27, 1984, Khloe has had a long string of career moves as a TV personality and entrepreneur. Khloe, along with her many brothers and sisters; natural, half and step, have all marked their place in pop culture with the popular reality TV show, Keeping up with the Kardashians. Now, Khloe is trying to make a go of her own TV show, Revenge Body with Khloe Kardashian.
Keeping up with the Kardashians
Keeping up with the Kardashians first aired October 14, 2007. It followed the mixed Kardashian and Jenner clan of the mother, Kris and (then) Bruce, now Caitlyn Jenner, three sisters, Kim, Kourtney and Khloe, half-sisters, Kylie and Kendall Jenner, and their brother Rob. Other members of the family made appearances as well as significant others, of some of the daughters. The show was a hit with viewers from the beginning, although critics were not as impressed, stating that the Kardashians made up storylines and they just wanted to be famous. Simply following the former Olympian and his socialite family through their day-to-day life, seemed to intrigue people and E! Network continued to pick up the show season-after-season and it continues to run, today.
Over the years, some of the family members branched out to do other projects. A few spin-offs were created, including: Kourtney and Kim take Miami, Kourtney and Kim Take New York, Kourtney and Kim Take the Hamptons, Khloe and Lamar, Dash Dolls and Rob and Chyna. Other broadcast events that featured some members of the Kardashians were specials that aired on E!.
Kocktails with Khloe
Khloe's first spin-off show that was hers alone, was set to air in December, 2015 but was pushed back until January of 2015 on the network, FYI. The network ordered eight, one-hour episodes that would feature Khloe as a talk show host who would interview and chat with celebrity guests in a casual environment while sipping on cocktails. Hence the name, "Kocktails."
Everyone was excited about the show, the network, magazines, People Magazine got on board, and especially Khloe. She was very excited to have her own show and invite more people into her life and world, and this time, talk with celebrity friends on-air and get the scoop on their lives for her fans. As excited as everyone was and for as much as the show was advertised and pumped-up before it aired, the show wound-up being a bust.
Kocktails with Khloe ended for a few reasons. In the beginning, the ratings were high but shortly thereafter, they began to drop fairly harshly. The show quickly lost its momentum and was already becoming stale. Other reasons why the show didn't last is there was talk that there were a lot of disagreements between Khloe and those behind the scenes, on which direction the show should go. The constant disagreements wound up playing a role in the show going, nowhere and it was soon pulled from the network's lineup.
Revenge Body with Khloe Kardashian
So what is this big, new idea Khloe has for a hit show? Khloe says that she understands the battle of the bulge. She was heavy as a kid and had to fight with her weight most of her younger years. Today, recognized as one of the most beautiful people in the public eye, Khloe wants to help others achieve their goals in not only losing weight for health purposes, but their goals of learning to love themselves and see themselves for the person they are.
Khloe has enlisted the help of celebrity trainers and fitness gurus to help train and inspire 16 participants push themselves beyond what they thought they could do to lose weight. The show follows the progress of these participants through their ups and downs with the struggle to shed the pounds and not only redefine their bodies, but their body images. Khloe tells them that it's not all about the weight number, but how they view themselves and she wants them to focus on the haters and do it for them. Show them they can do it, no matter who what.
During the transformation process, some will make it and some will not, whether they walk off the show themselves or they are cut because they simply aren't willing to put in the effort required to achieve their goals. However it happens, Khloe must find a replacement participant who wants their chance at a complete body makeover.
The celebrity trainers and fitness gurus that will be working with the participants include: Gunnar Peterson, Luke Milton, Harley Pasternak, Corey Calliet, Latreal Mitchell, Simone De La Rue, Jorge Cruise and Lacey Stone. Khloe will be there to offer advice and inspire the participants and to remind them what they are there for. She will play a big role in transforming the participant's body and mind. She will be there encouraging them so that they walk away with a new outlook on life and new body image. In the end, the participants get a total pampered makeover from head-to-toe for their big reveal to their families and friends.
Will this show work?
There seems to be more substance to this show compared to her last, Kocktails with Khloe. Viewers like to watch shows that have a purpose, a meaningful message and plot and this one seems to have it; participants who all have regular life struggles like the rest of us and they are struggling to make a change. The show definitely takes on the same theme as The Biggest Loser, which was a huge hit and went on for many seasons, so this new show with Khloe just might have a chance. It is scheduled to air January 12, 2017 at 8 PM on E! Watch it and you be the judge on whether you think Khloe finally got it right for her own personal spin-off show.
Tell us what's wrong with this post? How could we improve it? :)
Let us improve this post!