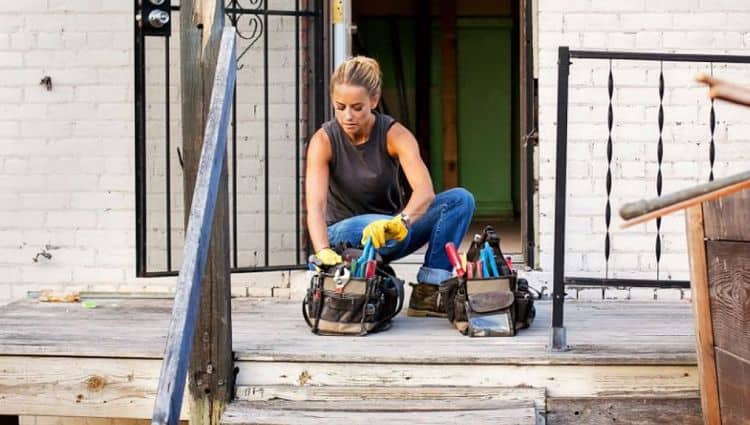 If there's one thing HGTV knows how to do, it's find a new way to spin a home renovation show so it feels like something you've never seen before. That's exactly what they've done with the new series Rehab Addict Rescue. During each episode, the show's host, Nicole Curtis, will work with overwhelmed homeowners to who have gotten in over their heads trying to do their own home renovation projects. Nicole's expertise will not only help them see where they've gone wrong, but work with them to do what needs to be done to get back on track. Whether you've got your own DIY home project to finish or simply love watching transformations, this could be a great show to keep you entertained. Keep reading for 10 things you didn't know about Rehab Addict Rescue.
1. Season 1 Will Have 8 Episodes
Now that we're all used to being able to binge watch our favorite shows, it's always nice to know how many episodes a series will have before diving into it. For those who were wondering, Rehab Addict Rescue will have 8 episodes during the first season. Each episode will last for 30 minutes.
2. The Show Is Somewhat Of A Spin-Off
If the title of the show sounds vaguely familiar to you, that's because the show isn't entirely new. The show is a spin-off of Rehab Addict: Detroit and Rehab Addict which were also hosted by Nicole Curtis. In those shows however, Nicole was doing the renovation projects herself.
3. The Show Is Also Available On Discovery +
If you don't have cable, it can feel impossible to catch up on your favorite shows. Fortunately, I have some good news for the people out there who don't have access to HGTV. The show is also available on the Discovery Channel's new streaming service, Discovery +.
4. Nicole Also Points Out Other Updates/Fixes The Home Needs
Nicole's main goal when visiting homes is to help homeowners fix the problems they've already created during their DIY renovations. She will also, however, point out some other things that need to be fixed such as electrical wiring, plumbing, and structural issues.
5. The Show Is Nicole's First Time On TV In New Years
Nicole Curtis certainly isn't new to the world of home renovation shows, but Rehab Addict Rescue is the first time she's done a show in a while. What made Nicole take a two year hiatus from TV? She told Fox News, " I was wearing way too many hats. I had worked hard and I put every single ounce of effort I had into the show and into the brand and of course, raising my son. But I was working more than seven days a week and we only have seven days a week."
6. The Show Focuses On Historic Homes
Rehab Addict Rescue won't just be focusing on any kind of homes. Nicole and her crew will specifically be working with people who own historic homes. This adds an interesting layer to the show because Nicole will also have to help the home owners maintain the property's historic character.
7. Viewers Will Get Free Advice
Of course it's not possible for everyone in the world to be featured on the show, but just because you can't be on TV doesn't mean you can't still learn something from House Rehab Addict. Viewers will be able to get some free game that they can utilize when working on their own home projects.
8. Nicole Is Also The Show's Executive Producer
Nicole isn't just the host of House Rehab Addict, she's also the executive producer. According to Master Class, "A television executive producer is usually the creator, writer, and showrunner of the series, meaning that they not only created the show, they help write the script, and run the day-to-day production operations."
9. There Hasn't Been A Renewal Announcement Yet
Rehab Addict Rescue is still fairly early on in its first season, so the fact that there hasn't been a renewal announcement isn't too surprising. With that said, viewers can rest assured that there is a good chance the show will get brought back for a second season. After all, Rehab Addict aired from 2010 to 2018.
10. The Show Has Its Own Hashtag
Unfortunately for all of the people who were hoping to follow the show on social media, Rehab Addict Rescue doesn't have any of its own accounts. Viewers can still keep up with the show, however, by using the hashtag #RehabAddictRescue on Instagram and Twitter. By using the hashtag, fans may be able to find some additional content.
Tell us what's wrong with this post? How could we improve it? :)
Let us improve this post!