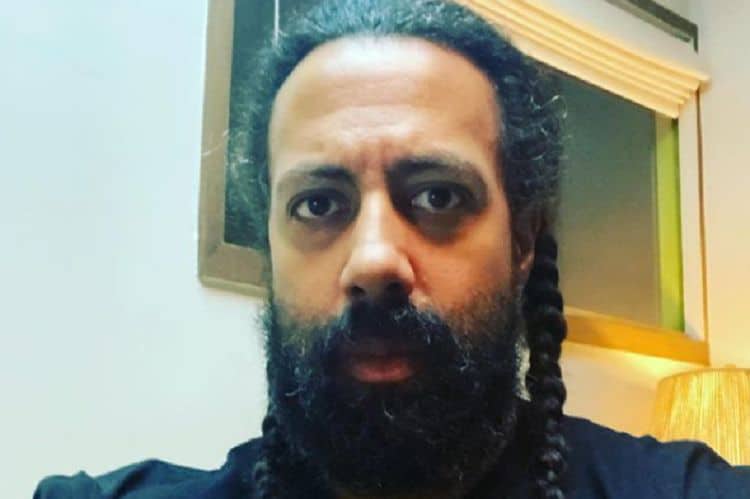 Reggie Watts has been making people laugh and keeping them entertained for most of his life, and he's been sharing his talent with the world for more than 25 years. Well-known as a comedian and an actor, Watts' career has been as much a show of talent as it has been of versatility. His creative genius mixed with his comedic timing has proven to be an unstoppable combination. Over the course of his career, Reggie has also collaborated with other well-known comedians such as Amy Schumer, Key and Peele, and James Corden. At this point, if you haven't seen any of Watts' stuff, you're missing out. Keep reading for 10 things you didn't know about Reggie Watts.
1. He Was Born In Germany
Reggie is American, but he was actually born on a military base in Germany. He spent the early years of his life moving around a lot and he lived in several countries including Italy, France, and Spain before his family settle down in Montana which is where he grew up.
2. He's A Musician
Reggie has loved music all of his life. He began learning to play instruments at an early age, and music eventually became more than a hobby to him. In the mid 90s, he became a founding member of the band, Maktub. The group has released five albums throughout the years.
3. He's Had To Deal With Discrimination
Reggie is biracial. His mother was white and his father was black. Although his parents did their best to shield him from the harsh realities of racism, Reggie has still come face to face with discrimination many times throughout his life. He opened up about some experiences while talking to James Corden, and it was clear that Corden was incredibly moved by the details of Reggie's story.
4. He's Related to Alice Walker
Being extremely creative is something that runs in Reggie's bloodline. His second cousin is the legendary author, Alice Walker. Walker is best-known for her 1982 novel, The Color Purple. The book was made into a film in 1985 which starred Whoopi Goldberg and Oprah Winfrey.
5. He Considers Himself An Improviser
Reggie is good at so many things that some people may have a hard time trying to find the perfect box to put him in. However, Reggie knows exactly where he puts himself. He said, " I would just say that for me, I call myself an improviser, which means I like to do that in any medium whether it's a drawing or another art form or theater or music, videos of all kinds, just all the associated ways you make art…So I guess as an improviser, I just want to show the flexibility of creativity, so that you don't have to be limited."
6. He's A Big Sci-Fi Fan
Throughout his career, Reggie has worked on quite a few science fiction projects. However, working in this particular genre isn't just about work, Reggie is a big sci-fan in his personal life. He told Esquire, "Since I was a little kid, I've been interested in all things science fiction and anything that deals with the possibilities of the future, or just understanding nature. That's exciting for me."
7. He Believes In Ghosts
On top of being a science fiction fan, Reggie also believes in the paranormal. During an interview with the AV Club, he revealed that he does believe in ghosts, but he added, "But I believe in them more in a science-y, kind of way, where I believe that they are essentially a temporal anomaly."
8. His Dream Job Was To Become A Gigolo
Do you remember what your dream job was when you were a kid? Reggie remembers exactly what he wanted to be and it couldn't be any further from what he does today. While talking with the AV Club, he said that his ideal job was to become a gigolo. Apparently, Reggie was girl crazy and felt that working as a gigolo would give him the chance to "treat them really well".
9. He's Not Ashamed Of His Drug Use
Reggie has experimented with drugs throughout the years, and he has no problem sharing his experiences. He told Vulture, "I had many incredible experiences on psychedelics — LSD and mushrooms — and a lot of amazing experiences on Robitussin. And marijuana of course. Not so much with the synthetics. I tried a little bit of cocaine, but I was like, Eh, it's like doing a bunch of shots of espresso." Ultimately, Reggie has decided that marijuana is his drug of choice.
10. He Enjoys Going On Adventures
Even though Reggie loves his job and spends a lot of time working, he also enjoys having fun in his free time. Reggie is an adventurous person who tries to get out and make the most of life. He likes doing things like traveling, going to the firing range, and going hiking.