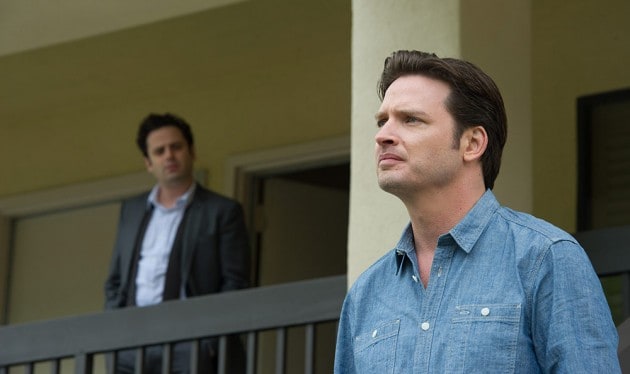 I don't come out of season finales very often feeling optimistic. While there's plenty of darkness left to explore before this series ends, Rectify came forward with a surprisingly optimistic finale. For once, Daniel didn't feel like a victim. It wonderfully explored the beauty of our world, and life, and symmetrically created a story about just desserts and the truth. This series is constantly showing the beauty of every day life in things like reconciliation and family, and "The Source" painted a beautiful portrait of what is hopefully plenty more Rectify to come. I'm so sad that this was the season finale, but as season finales go, I've rarely been more excited about what the future holds.
This week, on Rectify: Daniel's relocation results in a multitude of changes for those around him. A fire is reignited within Jon Stern because of the Trey Willis/George Melton investigation. Trey is backed into a corner and comes clean, but it might not be enough to save him. Daniel takes a road trip with his mother before ending up at the Canaan Project house in Nashville. Tawney moves back into the house and Teddy moves out.
There was so much beauty in this episode, both physically and emotionally. The imagery used, particularly on the road trip with Janet and Daniel, was absolutely stunning. The shots of Daniel in front of the prison in which he lost 18 years of his life were just remarkable. So much about the scenes with Janet and Daniel said that Daniel is on the outside of his old life. There have been fewer and fewer flashbacks to death row, which (to me) signifies Daniel's will and ability to move on. The ocean washing over him, the scene with the child on the beach, all of it pointed to Daniel losing the fog and becoming a human being, which he honestly hasn't always acted like. This part of the episode coupled two of the strongest actors on the show (Aden Young and J. Smith Cameron) and was one of the most hopeful segments Rectify has put forward.
Part of the reason that everything surrounding Daniel felt so hopeful was everything happening around and because of it. I (almost) felt bad to be delighted at Trey Willis' arrest. As a viewer from outside the fourth wall, I KNOW that George Melton killed himself. But I know, as Sheriff Daggett and Jon Stern seem to, that it's not whether Trey killed George,it's why George is dead that matters. If the statute of limitations were up on rape, then what did George have to worry about? Why did Trey cover up his death and try to frame Daniel? Though I have some friends who disagree, I firmly believe that Daniel did not commit any crimes against Hanna Dean. It was so refreshing to see Daniel enjoying life's beauty and Trey facing just desserts for being an obvious snake. As I said last week, I won't mind seeing Trey go down for George's murder because it seems like it's coming to him.
I don't think the beauty of this episode was limited to Daniel's hope or Trey's justice, either. There were so many beautiful moments. I look back on the scene between Jon Stern and Amantha as one of the more beautiful things I've seen on television this year. It didn't click as it occurred, but later that Jon did not step back from Amantha because of her, but to be able to clearly focus on the case and bring the Senator down. In turn, the scene with Jon and the Senator was deliciously satisfying, because you know (well, I do) that the Senator is dirty. His stroke earlier in the season was a brilliant move, if for no other reason than it created more of that incredibly well used silence that Rectify is known for. I actually visibly grinned during Jon's conversation with the (mostly) incapacitated lawman.
The other beautiful moments I want to briefly talk about are the dinner and cards with Amantha, Teddy and Jared, and the scene following with Teddy and Ted. Both painted beautiful pictures of honestly and family love. Teddy and Amantha have seemed to never get along, but when circumstances changed, they were sympathetic to one another. Ted reached out to Teddy in love to express his own humanity in hopes of helping Teddy save his marriage. I am always blown away by the pictures that Rectify paints of family dynamics and love. This show is simply humans being real in a fictional world, and I can't get enough of the wonderful, beautiful, true to life pictures that it paints.
It's been a pleasure to cover this season of Rectify and discuss it with everyone. Hopefully you are all looking forward to Season 4 as much as I am!
What did you guys think of the season finale? Let us know in the comments!
[Photo via SundanceTV]
Tell us what's wrong with this post? How could we improve it? :)
Let us improve this post!