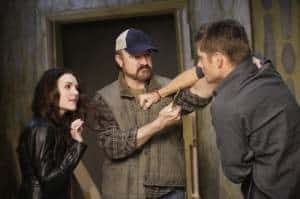 Supernatural kicked off its hotly anticipated fifth season in top form tonight with the episode 'Sympathy For The Devil.'More than just an homage to that classic '˜Stones tune, this episode handedly spelled out the overarching plot for Supernatural's fifth — and perhaps last — season while proving that it's heart of goofy demonic fun was beating as strong as ever. Let's recap Supernatural, 'Sympathy For The Devil.'
Teaser
Okay, less of a teaser than usual — Sympathy For The Devil begins exactly where season 4 of Supernatural ended. Dean (Jensen Ackles) and Sam (Jared Padalecki) are trapped in a chamber as an entry way to another dimension, one that just so happens to house Lucifer, sears itself into the weathered stone floor. The brothers are overcome by a shrill blast of sound as the entry way nears completion when suddenly – they are on a plane.
Through the window they can see the shaft of light emitted by the portal reaching up from the ground, suddenly the plane is in jeopardy. We've seen this little bit from the preview, Dean cramming an oxygen mask to his face as the plane plummets, then — abruptly — we are in a rental car as Sam and Dean surf the radio airwaves, which are awash with tales of various calamitous happenings all over the world. The cut to the car was so quick I thought it was another teleportation at first, probably the only flaw in the entire episode though as things got much clearer as we moved into the episode proper.
Tell us what's wrong with this post? How could we improve it? :)
Let us improve this post!