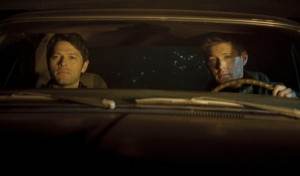 A curious thing has happened to Supernatural. However you may feel about Sera Gamble as a showrunner and however you may feel about the season-long arcs (which, admittedly, I have had a few problems with lately), the truth is that Ms. Gamble has emerged as one of the strongest writers on the show. Together with Ben Edlund, Gamble has, this season, delivered (in my humble opinion) three consistently solid episodes. Episodes that not only do justice to the Winchesters, but also to the other two characters that make up the core of Supernatural: Castiel and Bobby.
This week's episode, "The Born-Again Identity", not only re-introduced Castiel and Misha Collins to the show, but it also reminded me why I love Supernatural. For all of the frustration that some fans may have on both sides of the Castiel argument, the truth is that he has become an important character on this show. When used properly – as he was in this episode – he doesn't detract from the core of the Winchesters, he just fits.
So a Crazy Guy Walks Into an Alley…
Sam has been suffering since "Repo Men". Lucifer is relentless in his torment of the younger Winchester brother and his constant attempts to interact with Sam have resulted in four sleepless days and nights. When Dean passed out, Sam went hunting for some drugs to help himself. But Lucifer is always there…always waiting to bait or goad or bother Sam. When Sam once again tried to outrun his own mind, he gets hit by a car.
Dean managed to track him down, but he hasn't been properly briefed on Sam's condition. While his brother is suffering from a broken rib and some lacerations, the doctors are far more concerned about Sam's mental state. His lack of sleep and the hallucinations have landed him in the mental ward. Dean went to visit Sam who is, clearly, running out of options. He'll die if Lucifer doesn't allow him to sleep and he simply doesn't know what they can do to fix this situation. Referencing the season 1 episode "Faith" (which bore many similarities to this episode), Sam acknowledged that finding someone who can legitimately heal him will be difficult, if not down-right impossible.
Never Give Up, Never Surrender
Dean wasn't prepared to hear that, so he set out for Rufus' cabin in order to find a friend of Bobby's who could help him. Leaving messages for every hunter he could reach didn't yield results. Not until a card mysteriously fell out of Bobby's journal…one that very well could have been pulled out by Ghost Bobby. Fortunately, this led him to a hunter that referred him to a healer who appeared to be legitimate: a man named Emmanuel.
Dean headed off immediately. Arriving at Emmanuel's house, he encountered the first of many demons who have decided to ignore Crowley's "hands off the Winchesters" order because they sure haven't done anything for the King of Hell lately. Dean managed to kill the demon that had taken Emmanuel's wife hostage and then up stepped the man he's been looking for: Castiel (er…Emmanuel).
You see, as we later learn, Cas emerged from that lake months ago – naked, natch – and stumbled upon Daphne, a lovely woman who took him in without question and helps nurture his gift of healing. Dean was gobsmacked, because he doesn't entirely seem to believe Castiel's amnesia and he certainly doesn't know how to act around his former friend and ally turned enemy (?).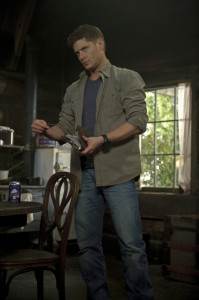 Blast from the Past
Dean was keeping quiet about Castiel's true identity, but he did clue him in on what happened to Sam. He admited that someone did this to his brother – broke him – and that he can't just shake off this kind of betrayal. Dean has been scarred many times over by the people he loves: his father, Sam, and Cas. His hesitation to trust – to forgive – is nothing but understandable. As Castiel so eloquently put it, Dean is not a machine, he's just human. Supernatural struck the right balance with Dean in this episode. He wasn't too proud not to ask for Castiel's help and he certainly wasn't going to up and kill him, but that doesn't mean he could welcome him back with open arms.
While stopping for some food, Dean once again came upon some demons, who continued to be out in full force. Ruby's knife continued to prove itself handy, but when he got into a bind it was Meg (guest star Rachel Miner) who saved the day. She admitted that she had been following for a while and was also shocked about Castiel since, to the best of her knowledge, he was supposed to be dead. Still on Crowley's "bad" list, Meg wanted to team up with Dean, hoping that maybe Castiel might come in handy. He agreed to let her tag along, but he ordered her to keep quiet about Cas' past.
Castiel – who could see the true face of demons – was shocked about Meg's addition to the car ride, but quickly sucked it up.
Concluded on next page…